Articles in order of date – most recent at the top
Please email us with relevant news articles or petition
********************
Living in Nigeria as a gay man: One person's story
Nov 20 2014 | The News
Ethan Regal, not real name, is a gay living in Nigeria. He tells a personal story of isolation, danger & fear as homophobia is stirred by politicians, priests, papers & the public
When I was a young boy in Lagos, Nigeria, I had a mysterious, unexplainable tingling sensation whenever I saw an attractive guy. The stories I heard regarding romance involved a boy and girl. So I thought to myself: maybe I'm a girl deep down. That seemed like the only explanation for my attraction.
Understanding Witchcraft Accusations in Africa
10/24/2014 | By Leo Igwe
Skeptical activist Leo Igwe explains the developments that led to the situation in Africa where "witches" are still regularly persecuted and even murdered.
The first major witchcraft persecution in Scotland in late 16th century when the ship of King James VI ran into some terrible storms on its way from Denmark. The wife of a Danish official, who had insulted a member of the escorting team, was accused of trying to sink the King's ship through witchcraft. The King believed that the storm was not natural but an act of malevolent magic by those who wanted to kill him. The necessary machinery was put in place to fish out the criminals. Several people were arrested, implicated, tortured, and made to confess in the massive witch-hunts that ensued. Agnes Sampson, John Fian and others were convicted of using witchcraft to send the storm against the ship.
Tackling Witch Hunts in Tanzania: A Proactive Approach
10/13/2014 | By Leo Igwe
Seven villagers of Murufiti in western Tanzania were murdered last week. The media reported the arrests of 23 people charged with the murders, which was how the crimes came to international attention.
Witnesses report that the victims were suspected to be witches and were attacked with machetes and their homes burned.
The elderly, albinos and even children have been attacked and often killed in the name of witchcraft in Africa as the belief in occult powers remains strong. What can be done?
First conviction for homosexuality in Burundi
Written by Nihehe Editor | October 9, 2014
A Vietnamese man was arrested last month and accused of homosexual practice. It was the first time someone was convicted under the country's anti-gay law, which came into effect in 2009.-By Lorraine Josiane Manishatse
DiongHoai G., 32 years old, is a Vietnamese citizen, working in Burundi .He was arrested on 2 September 2014, at Karuzi Province, Bugenyuzi Commune.After spending three days in jail and paying a fine of BIF 100 000, the young man was released. "Homosexuality is punished by the Burundi law", the prosecutor states. "The Vietnamese should be punished according to the law."
Read more
What Should Guide Africans In The Fight Against Ebola: Religion Or Science?
By Leo Igwe | OCT 08, 2014
Religion pays a key role in the health care decisions. And this should not be the case. Health care management is so tied and entangled with religion and superstitious notions like the belief in witchcraft. Many Africans still think that prayers can cure them when they get sick or that people can make other ill through witchcraft. Unfortunately, there is no evidence for a 'therapeutic' prayer. Disease carry witches are imaginary. But many Africans still hold tenaciously to these medically dangerous opinions.
The outbreak of Ebola offers an ample opportunity for Africans to re-examine the public health care system and disease control mechanisms, and then take urgent measures to beef up their medical infrastructure. We need to seize this opportunity and get our health care acts together. In fact the spread of Ebola presents us a chance to re-think our policies and improve our medical institutions. Africans need to take a clear stand on what should be the guide in matters concerning public health management. Is it religion or science? Is it the church(mosque, shrine or temple) or the laboratories and research institutes?
Museveni calls for fresh debate on homosexuality
Publish Date: Oct 03, 2014 | By Vision Reporter
President Yoweri Museveni has advised that the issue of homosexuality should be resolved in a manner that serves the best interests of the country, taking into account its foreign trade ties.
Museveni urged Uganda not open up wars with its trade partners recklessly over the issue of homosexuality, saying this would be irresponsible.
Museveni made the comments in the current issue of Andrew Mwenda's Independent Magazine this week in a paper titled: The way forward on homosexuality. Should we involve Uganda in endless wars with our trade partners on account of this?
Uganda Nullifies the Anti-Homosexuality Act and Backs Away from the Pursuit of Similar Legislation
posted on: Monday, August 25, 2014
On August 1, 2014, Uganda's Constitutional Court overturned the Anti-Homosexuality Act (AHA) on procedural grounds, holding that the Act's passing was unconstitutional because the necessary quorum of lawmakers was not present in parliament to vote on the bill. This controversial legislation, which was passed on February 24, 2014, imposed a life sentence for certain homosexual conduct and criminalized the "promotion," "aiding," and "abetting" of homosexuality. The Act's harsh penalties elicited strong international criticism, U.S. sanctions, and the withholding of over $120 million in assistance funds by Western donors. The Constitutional Court's uncharacteristic speed in reaching a ruling concerning the AHA may reflect the considerable diplomatic controversy and economic consequences that resulted from the Act's severe provisions.
Uganda court declares anti-gay laws 'null and void'
August 1, 2014
Kampala: Uganda's constitutional court has overturned tough new anti-gay laws that had been branded draconian by rights groups, saying they had been wrongly passed by parliament.
The law was "null and void", the presiding judge told the court, saying the process had breached the constitution because it had been passed in December without the necessary quorum of MPs.
"Justice prevailed. We won," said lawyer Nicholas Opiyo, who led the challenge in the constitutional court.
Uganda's new Anti-Homosexuality law overturned by constitutional court
By iheuadmin+ On 2014-08-01
The new Anti-Homosexuality law in Uganda has been declared "null and void" by the constitutional court, ruling on a challenge brought by experts and LGBTI activists.
However, the ruling was made on the basis of a failure in parliamentary proceeding, as opposed to the persecutory nature of the law, and previous prohibitions against homosexuality remain in force.
The Anti-Homosexuality Act, which in early drafts had proposed a death penalty for those found guilty of 'homosexuality' on more than one occasion, took several years to reach a parliamentary vote. It was passed earlier this year and ratified by President Yoweri Museveni in February.
Court nullifies the Anti-Homosexuality law
Friday, August 1 2014
The constitutional court in Kampala has declared the passing of the anti homosexuality bill into an act as null and void. On Friday, a panel of five judges including , the Acting Deputy Chief Justice Steven Kavuma, Justices, Augustine Nshimye, Eldad Mwangusya, Solomy Balungi Bossa and Rubby Aweri Opio unanimously nullified the Anti-Homosexuality Act on grounds that the same was passed without the required quorum and that speaker, Rebecca Kadaga was warned by three people including Premier Amama Mbabazi but she ignored. Court also awarded the petitioners 50% of the costs of the suit.
'Kadaga ignored Mbabazi's warning on passing gays Bill without quorum'
By ANTHONY WESAKA | Posted Thursday, July 31 2014
KAMPALA- The Speaker of Parliament ignored the Prime Minister's caution against passing the Anti-Homosexuality Bill into law without quorum, a lawyer representing pro-gay activists told the Constitutional Court yesterday.
Mr Nicholas Opiyo told court that Speaker Rebecca Kadaga ignored a warning raised by the leader of government business in Parliament Amama Mbabazi on December 20 last year and passed the Anti-Homosexuality Bill into law without the required two-thirds of MPs present in the House to vote on any matter.
Uganda clarifies on homosexual law
Publish Date: Jul 07, 2014 | By Vision reporter
The government of Uganda has clarified its position on the anti-homosexuality Act.
In a statement released this afternoon the Government said the Act was misrepresented.
"…its enactment has been misinterpreted as a piece of legislation intended to punish and discriminate against people of a "homosexual orientation", especially by our development partners." The statement read in part
'She had too much ABCD': the tale of one divorced Nigerian girl
June 29, 2014 | Michelle Faul
Kaduna, Nigeria: By the time she ran away, Maimuna bore the scars of a short but brutal marriage.
Her battered face swelled so much that doctors feared her husband had dislocated her jaw. Her back and arms bristled with angry welts from the whipping her father gave her for fleeing to him. She was gaunt from hunger, dressed in filthy rags. And barely a year after her wedding, she was divorced.
It would be a tragic story for a woman of any age. But for Maimuna Abdullahi, it all happened by the time she was 14.
How the Separation of Church/Mosque and State Will Benefit Africa
Leo Igwe | Ethical Technology | June 25, 2014
To most politicians across Africa, separating religion and state presents a very difficult challenge. Secularism is viewed with suspicion, and sometimes with opposition. Many countries across the region have the principle of separation enshrined in their constitutions. But this constitutional principle is hardly translated into reality because of enormous influence of religious establishments on politics and governance.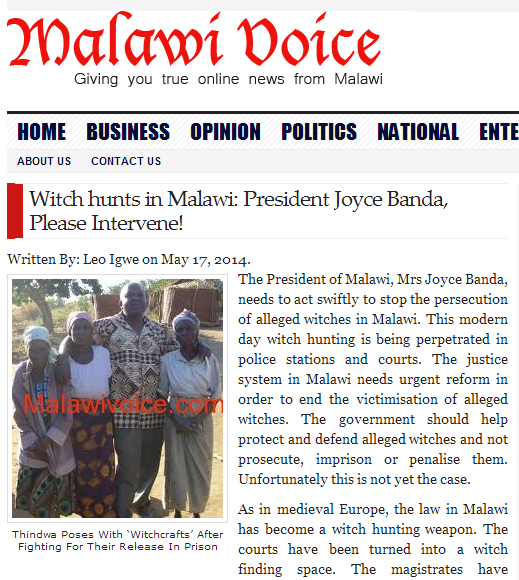 Nigerian militants Boko Haram holding more than 200 kidnapped school girls
May 3, 2014 | Sydney Morning Herald
Kano: Nigerian police say Boko Haram militants are holding 223 girls of the 276 seized from their school in the country's north east, revising upwards the number of youngsters abducted.
School and government officials in the northeastern state of Borno had previously given lower figures on the numbers being held since the mass abduction nearly three weeks ago in the town of Chibok.
Saving Witch Children In Nigeria
Posted: 04/17/2014 | Tihomir Kukolja
In Nigeria beautiful, innocent children, as young as two years of age, are tortured, abandoned and killed by their own parents, family and community members. In a land stricken by poverty and illiteracy self-styled deliverance pastors and prophets have over the years branded thousands of children as witches. Leonardo Rocha Dos Santos, cofounder and director of the Brazilian organization Way to the Nations, leads an orphanage in Nigeria that provides a safe place for the rescued children. In this interview he graphically illustrates the disturbing darkness that blankets the country of Nigeria.
Tihomir: Since 2009, when some UK media extensively covered the Nigerian tragedy, not much has been written or covered by the international press until recently. Has the problem diminished over the years?
I'm ready for Gay fight – Museveni
By RICHARD WANAMBWA | Posted Monday, March 31 2014
KAMPALA.
President Museveni yesterday told a rally of supporters of the Anti-Homosexuality Act that he endorsed the law to reaffirm Uganda's sovereignty. The President said he did not approve of agitation by foreign powers against the new law.
Mr Museveni said the West have a wrong justification of homosexuality. He explained that besides the Bible being against the act, even long ago among African cultures homosexuals were referred to as ekifiire (walking dead).
I am a gay Ugandan about to go home. This law will tyrannise my life
Frank Mugisha | The Guardian, Friday 21 March 2014
A day after the anti-homosexuality act was passed, a tabloid listed me as a 'homo'. This hatred is new to my country, and driven by US evangelicals.
Growing up in Uganda, homosexuality was not something we talked about much. I knew I was gay from a young age, and I came out to those close to me when I was a teenager in the early 90s. Some in my family accepted it, while others refused to acknowledge it. Homosexuality wasn't always accepted but it was, largely, ignored.
There were characters from my youth whom I remember as openly gay, such as a local barber – everybody in our close-knit neighbourhood knew them for who they were. There were snide comments and rude names – it was far from social equality – but I did not experience hatred. To be gay in Uganda back then was a fairly unremarkable thing.
CCAP Nkhoma Synod Tips Followers on who to Vote For
Written by Winston Mwale | Sunday, 16 March 2014
The CCAP Church of the Nkhoma Synod on Sunday issued a pastoral letter, advising its followers on qualities of a good leader ahead of the May 20 elections.
"The Church continues to note with great concern the levels at which moral values are being eroded in the name of civilization, human and minority rights."
"Cases of lack of respect for the elders, lack of decency in the dressing, promotion of secular humanism, homosexuality, abortion, prostitution and pornography are all acts that our Lord does not condone."
The Untold Story Of Africa's Secular Tradition
Leo Igwe | VOL. XXXV—NO. 1 2014
UNLIKE IN EUROPE AND IN other parts of the Western world, secularism has not succeeded in defining the political landscape in Africa.
In fact, the secularization of Africa has been marked by contrasts and contradictions, false starts and setbacks, misconceptions and misrepresentations, dilemmas and ambiguities due to the complex interplay of religion and politics in the region. The process of separating religion and state has been under siege due to the powerful influence of Christian churches—including support from the Vatican and American evangelical groups—and Islamic organizations Funded and backed by Saudi Arabia, Iran and other Organization of Islamic Cooperation (OIC) countries. The major challenge is that the notion of secularization is largely misrepresented by politicians in Africa, who are bent on sustaining the image of a "religious continent" to further their own interests.
Anti-gay laws violate global pacts-UN rights chief
Source: Reuters – Fri, 14 Mar 2014 | By Robert Evans
GENEVA, March 14 (Reuters) – A legal ban on same-sex marriage in Nigeria, Africa's largest country, violates international accords and could bring mob law against gays onto its streets, the United Nations' human rights chief Navi Pillay said on Friday.
The comments in the Nigerian capital Abuja from the outspoken Pillay, a former top judge in South Africa, came as in Geneva Russia and Islamic countries urged more global focus on protecting traditional family life.
Civil society petition court over Anti-Homosexual Act
By Agatha Ayebazibwe | Posted Tuesday, March 11 2014
A coalition of fifty civil society organisations on Human rights today filed a petition in the constitutional court challenging the legality of Law on Homosexuality.
The activists argue that the Anti Homosexuality Act violates Ugandans' Constitutionally guaranteed right to: privacy, to be free from discrimination, dignity, to be free from cruel, inhuman and degrading treatment, to the freedoms of expression, thought, assembly and association; to the presumption of innocence, and to the right to civic participation.
HERE IS WHY UGANDA's ANTI HOMOSEXUALITY LAW IS WINK IN THE DARK
by Kato Mukasa | 5 March 2014
Kato Mukasa is a Humanist, Human Rights Activist, and Lawyer in training based in Kampala Uganda.
Email: katomukasa@yahoo.co.uk

Nothing has given Uganda so much International publicity than the passing of the Anti Homosexuality Bill by our Parliament and then its televised signing by President Museveni. The immediate cutting of Aid from Uganda's strong allies; Norway, Netherlands, Denmark and the sharp criticism from President Obama, the World Bank and the United Kingdom should make people ask whether there is not something seriously wrong with this law. Yes, the law strongly undermines fundamental rights and freedoms of several people including homosexuals but it is not a solution to the problem to cut Aid to Uganda as people of all sexual orientations are directly affected.
The law defines homosexuality in a very ambiguous manner and in the same measure, the punishments given are equally ambiguous. Think about it; if you touch someone with intent to commit a homosexual act, then you have committed a homosexual act! Surely, this is a weird way of punishing one for being a homosexual. How then do you determine intent? Just consider, this law will punish you if someone brings a case against you saying that you, being a person of the same sex, had homosexual intent by reason of a mere touch on their body with anything.
9 moves to roll back Uganda's anti-gay law
Posted on February 28, 2014 by Colin Stewart
Supporters of LGBT rights are starting to respond to Uganda's harsh new Anti-Homosexuality Law, which calls for up to seven years in prison for anyone convicted of "promoting homosexuality" and a life sentence for anyone who "touches another person with the intention of committing the act of homosexuality." (For more info, see "Draconian details of Uganda's misguided new anti-gay law.")
Here are nine measures aimed at convincing Ugandan politicians to repeal the law:
Read more
Email from Uganda on the erosion of LGBTI human rights
24 February 2014 | Kato Mukasa
Dear all:
SAD DAY to many of us indeed, already the red pepper today has published names of 200 people it has called ' homosexuals and their sympathizers', many of us are going to be victims of this blackmail and surely, this is worrying. With a law signed, we can only challenge it legally through courts of law, this is what UHASSO is planning to do. It appears it is the only option left. However, we need to note that UHASSO itself is struggling to raise finances and legal battles can be costly, we therefore need support from corners that can help.
For us who have openly associated with LGBTI Community, we are equally in grave danger and I am must confess, this development worries me personally SINCE I have been all and out about gay rights for some time; but I must also let you know that the blackmail will not stop me from talking about LGBTI issues though I surely know that the consequences will never be good BUT, yes, we all saw this coming and we tried our best to stop this happening but we lost the battle hopefully not the war yet! We only need to remain strong and look at the good side of speaking out the truth that many others find hard to bear.
Regards,
Kato Mukasa
Spokesperson, UHASSO
Executive Director, HALEA Youth Support Centre
http://www.haleauganda.org/
http://humanistuganda.wordpress.com/
http://teenswithoutboarders.wordpress.com/
http://forgottenmothersuganda.wordpress.com/
http://haleaentertainment.wordpress.com/
"One Generation Plants a Tree, Another Generation Gets a Shade"
Activists In Uganda Prepare For Fallout Of Anti-LGBT Law
posted on February 24, 2014 | Miriam Berger
The world begins to react. But the U.S. has yet to detail what it will do.
Ugandan LGBT activist Claire Byarygaba decided to lock her door and avoid work today after Uganda's president signed into law a harsh anti-gay bill that Western countries have strongly condemned and LGBT rights groups say calls for a review of Uganda's international agreements and aid programs.
"We are very worried about our safety," Byarygaba, who works at the Civil Society Coalition on Human Rights and Constitutional Law, told BuzzFeed by phone from Kampala. "It's one thing for people to threaten you, and it's another thing to have a law that discriminates against you and prosecutes you."
"The president has basically declared war with the West," she added.
LGBT HUMANISTS CONDEMN UGANDA's ANTI-GAY LEGISLATION AND BLAME MALIGN RELIGIOUS INFLUENCE
NEWS RELEASE Pink Triangle Trust | 24 February 2014
The UK LGBT Humanist charity the Pink Triangle Trust (PTT) has roundly condemned the Draconian anti-gay legislation introduced in Uganda and blamed the malign religious influence on parliamentarians and the population as a whole for bringing this about.
The PTT's Secretary George Broadhead said: "Much has been made of the influence of American Evangelical Christians in bringing about this legislation, but other malign religious influences seem to have been totally ignored.
"When the legislation was first mooted in 2012, the Uganda Joint Christian Council, which includes Catholic, Anglican, and Orthodox bishops, called on parliament to move it forward. Top religious leaders from across the country asked Parliament to speed-up the process of enacting it to prevent what they called 'an attack on the Bible and the institution of marriage'. Speaking after their annual conference organised by the Uganda Joint Christian Council an ecumenical body which brings together the Anglican, Catholic and Orthodox churches, the bishops resolved that the parliamentary committee on Gender should be tasked 'to engage the House on the Bill which was now at committee level'.
"At the end of December 2013, the Anglican Archbishop of Uganda, the Most Rev Stanley Ntagali, said 'In Uganda, there are so many injustices like child sacrifice, domestic violence, drug abuse which are now a big issue in our schools…I want to thank Parliament for passing the Anti-Homosexuality Bill. I want the world to understand what we are saying. Can you imagine your son brings another man at home for introduction?' Bishop Wilberforce Kityo Luwalira commended MPs for passing the Anti-Homosexual Bill, but asked them to object the proposed law to legalise abortion describing it as murder. The Bishop of Mbale, the Rt Rev Patrick Gidudu, asked Ugandans and political leaders who are against the Bill 'to seek God, repent and renew fellowship to save the country from God's wrath'.
"Significantly, Ugandan scientists reported that people did not choose their sexual orientation, that homosexuality was not an abnormality, that homosexuals had always existed in Africa and that current attitudes to homosexuality in Africa were largely a result of Muslim and Christian missionaries and colonial powers."
Ends
Issued by:
The Pink Triangle Trust, Spring House, 34 Spring Lane, Kenilworth, Warwickshire CV8 2HB, United Kingdom
Tel. 44 (0)1926 858450
https://thepinktriangletrust.com/
FRANK MUGISHA SPEAKS ABOUT INCREASED VIOLENCE IN UGANDA DUE TO THE ANTI-GAY BILL
By Melanie Nathan, January 29, 2014.
Frank Mugisha, Executive Director of Sexual Minorities Uganda (SMUG) and the award winning LGBT human rights defender from Uganda, who together with other Ugandan Kuchus has fought the uphill battle against hate and persecution, gives Michele Meow of Swirl Radio and KOFYTV20Cable13, a profound interview about the effects of the controversial Anti-Homosexuality Bill, which has rocked the lives of LGBT Ugandans, with increases in reports of violence, and unjust arrests.
Read more
Museveni now takes gays Bill to scientists
By John Tugume | Posted Sunday, January 26 2014
KAMPALA
President Museveni has said he will only sign the Anti-Homosexuality Bill after scientists have proved to him that it is a normal behaviour.
Sources in the NRM Caucus meeting on Friday told Sunday Monitor that Mr Museveni agreed with the MPs that people who promote and recruit others into homosexuality should be prosecuted.
The Bill was passed in December but awaits the President's signature before it becomes law. However, the President wrote to the Speaker of Parliament, expressing disappointment over what he called "elements who insisted and passed the Bill even without quorum of Parliament".
Museveni sets terms for signing gay bill
SUNDAY, 26 JANUARY 2014 | BY SADAB KITATTA KAAYA
Museveni says he will only sign the bill if scientists prove that gays are just made and not born
Caught in a controversy that won't seem to die soon, President Museveni surprised his ruling NRM MPs on Friday when he said he would only sign the Anti-Homosexuality Bill into law, if he gets scientific proof that homosexuals are made and not born.
His declaration stirred an angry response from the NRM caucus meeting at State House on that day.
Sources at inside the meeting said MPs nearly turned rowdy as they faced off with the combative Museveni, who arrived two hours late for the 10am meeting.
Call for the release of Alaa Abd El Fattah and all those unjustly detained in Egypt
1:00am | 23 January 2014 | by Katherine Maher,
The military "interim government" in Egypt is cracking down on any meaningful form of assembly, association, or opposition.
Following the passage of a November 2013 law banning peaceful protest, dozens of activists and organizers have been sent to prison. Among them is Alaa Abd El Fattah, software guru, blogger and political activist.
Court orders deportation of Briton in gay sex case
Wednesday, January 22  2014
KAMPALA- A retired British man at the centre of a gay sex case in Uganda will be deported Wednesday, a court ruled.
"The court orders immediate deportation within 12 hours," of Mr Bernard Randall, Judge Hellen Ajio said.  An earlier charge of "trafficking obscene publications" against Randall was dropped.
An official from the prosecutor's office gave no reason for the change, but said Randall was being deported because he had "kept on corrupting Uganda's youth" and had not renewed his visa on time.
In Kenya, Bloggers Say New Media Bill Makes Them Vulnerable to Prosecution
BY NEELAM VERJEE | Tuesday, January 21 2014
Kenyan bloggers have sounded a warning that "draconian" media legislation introduced late last year among a storm of controversy could stifle the country's vibrant online community.
Bloggers and writers have expressed concerns about what they called "ambiguous" definitions of the term "journalist" and "journalism" in the Media Council of Kenya Bill 2013, saying that it marked the latest in a string of attempts to crack down on the country's outspoken virtual community.
Anti-Gay Law Fallout: Canadian Government Cancels Nigerian President Jonathan's State Visit
Posted: Jan, 18 2014, 5:01PM | By Sahara Reporters, New York
A state visit being planned by Nigerian President Goodluck Jonathan to Canada for February has been canceled by the Canadian Government.
The cancelation happened in the same week it was revealed the President secretly signed a controversial law banning gays, lesbians, and sexual minorities in Nigeria.
Stand Up for Gay Rights in Nigeria: Oppose the Anti-Gay Marriage Law
Leo Igwe | Posted by African ExaminerArticles/OpinionThursday | 16th January 2014
Bob Marley in one of his famous songs urged the people of his country to stand up for their rights. He appealed to them not to give up the fight to exercise and enjoy basic human freedoms . At this critical time in the history of human rights in Nigeria, I am sending the Bob Marley message to human rights campaigners in the country and beyond. Let us all stand up for the rights of gay people in the country. Let's not give up the fight against the anti gay marriage law and other expressions and manifestations of gay hatred and intolerance. Let us not give up the fight against state or religion sanctioned homophobia.
Mozambique: Chissano Calls for No Discrimination Against Gays
15 JANUARY 2014 | All Africa
Maputo — Former Mozambican President Joaquim Chissano, in his capacity as joint chairperson of the High Level Task Force for the International Conference on Population and Development (ICPD), has sent an open letter to African leaders, calling for an end to all forms of discrimination – including on the basis of sexual orientation and gender identity.
The High Level Task Force, whose other co-chair is former Finnish President Tarja Halonen, describes itself as "an independent body of 25 distinguished leaders with a record of service as heads of state, ministers and parliamentarians, civil society, private sector and philanthropic leaders". Its purpose is "to advance sexual and reproductive health and rights, gender equality and the empowerment of women and young people".
Read more
Over 42, 000 South Sudanese refugees registered in Uganda
Publish Date: Jan 12, 2014, By Dennis Ojwee
THE police have confirmed that despite the drop in number of South Sudanese refugees' influx into Uganda of late, over 58, 230 Ugandans and non-Ugandan nationals have so far been registered at Elegu borders from December 16 to January 11.
By last week, about 42, 000 South Sudanese refugees alone had been received in all the three established refugees camps in Adjumani, Arua and Kiryandongo districts by the UNHCR and office of the prime minister (OPM) in Uganda since December 18, 2013 to January 11.
Gay 'prisoner of conscience' dies in Cameroon
12 JANUARY 2014 | BY TIM HEAP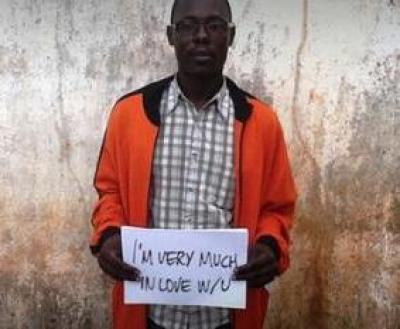 A Cameroonian man who was jailed for sending a text message to another man saying 'I'm very much in love with you' and labeled a 'curse' by his family has died
Gay Cameroonian Roger Jean-Claude Mbédé dies
Roger Jean-Claude Mbédé, 34, died on Friday (10 January) in Cameroon after his family removed him from hospital where he was seeking treatment for a hernia, according to a lawyer who worked on his case.
Mbédé was arrested in March 2011 after texting another man with the message 'I'm very much in love with you'. He was convicted the following month and sentenced to three years in jail under a Cameroonian law that imposes up to five years in prison for homosexual acts.
Friendly neighbours do not isolate refugees
By Vincent Buruga, posted Friday, January 10 2014
Wilson Abinikua's comments about the need to settle refugees in camps, published in yesterday's Daily Monitor, capture important issues. While I conquer with him on security matters, I disagree on some of the points he advanced about settlement of refugees.
Fro instance, great caution must be taken on settlement of the refugees, especially checking them at the entry for weapons and ammunition. Also, I believe it is safer to settle the Dinka and Nuer ethnic groups in different camps. We cannot ignore the ethnic tension, especially with the development that some of the refugees are crossing to Uganda with bullets and army uniforms.
Fear Pulses Through Crowded South Sudan Refugee Camp
Published On: Mon, Dec 30th, 2013 WORLD | By DailyMail
UBA, South Sudan (AP) — The women and girls leave the main United Nations refugee camp here during the day. The men do not. To exit is to risk death, they say.
Whether true or not, such claims show the level of fear that pulses through the main U.N. camp for internally displaced people here two weeks after violence broke out in Juba, the capital of South Sudan, and a spiraling series of ethnically-based attacks coursed through the nation, killing at least 1,000 people.
Save S. Sudan from genocide
Posted Friday, December 27 2013
IN SUMMARY
This is just one indicator of the tragic stories of death, despair and hopelessness the war-weary people of South Sudan are going through after a long-running political strain between the young nation's President Salva Kiir and his former deputy Riek Machar recently escalated into violence in the capital Juba.
A report in the New York Times documents harrowing tales of how security forces in South Sudan, according to survivors, "went house to house, rounding up civilians by the dozens and binding the wrists of some with wire… Some were summarily shot in the street, while others were hauled off to crowded cells. Bodies of the executed were tossed into shallow graves".
Museveni To Review Anti-Homosexuality Bill
By: Red Pepper Uganda, published: December 26, 2013
President Yoweri Museveni has said he will not sign the Anti-Homosexuality Bill into law if he is not satisfied with it.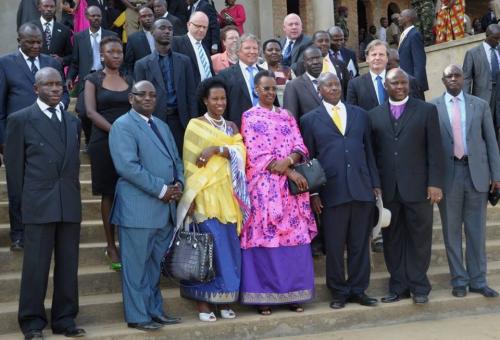 President Museveni with wife Janet at function held in Mbarara
President Museveni made the remarks at a Christmas celebration ceremony at Daystar Pentecostal church in Mbarara on Christmas day.
Museveni said he, "will first go through the bill and if it is right, he will sign it into law but if he finds it not right, he will send it back to parliament".
Parliament last week on Thursday passed the anti-homosexuality bill which criminalises homosexual acts with a maximum punishment of life imprisonment.
Uganda anti-gay bill violates constitution
Posted by Peter Tatchell, Friday 20th December 2013
Symptomatic of Museveni repression & wider attack on civil rights
"The new anti-gay law violates Article 21 of the Ugandan constitution and Articles 2 and 3 of the African Charter on Human and People's Rights – both of which guarantee equal treatment and non-discrimination to all people," said human rights campaigner, Peter Tatchell, Director of the Peter Tatchell Foundation.
"It is part of a broader attack on civil society and is symptomatic of Uganda's drift to Mugabe-style authoritarianism. This wider repression includes a clamp down on protests, strikes, the media and opposition activists."
Ugandan MPs pass life in jail anti-homosexual law
BBC News Africa, 20 December 2013
Gay rights campaigner Claire Byarugaba: "We would rather stay and fight but we know that people in power are way too powerful"
Uganda's parliament has passed a bill to toughen the punishment for homosexual acts to include life imprisonment in some cases.
The anti-homosexuality bill also makes it a crime punishable by a prison sentence not to report gay people.
The prime minister opposed the vote, saying not enough MPs were present.
The bill has been condemned by world leaders since it was mooted in 2009 – US President Barack Obama called it "odious".
What To Do With All The "Witches"?
By Leo Igwe | 19 December 2013
There is a great problem brewing in Ghana – What to do with all the witches? The government has decided to eradicate witchcraft. The plan is to close down the safe camps where those accused of witchcraft fled to get away from their accusers. The victims are to be sent back to their accusers who will kill them in all likelihood.
Witchcraft is big business in Ghana. Soothsayers, priests and chiefs wield great power over largely helpless people through the threat of exposing common people as witches. Once accused, the "Witch" is usually killed or expelled from the village. The accused witches that escape with their lives end up in witch camps where they are protected from execution.
MPs pass Bill against miniskirts
By Yasiin Mugerwa & Nelson Wesonga, posted Thursday, December 19 2013 at 22:00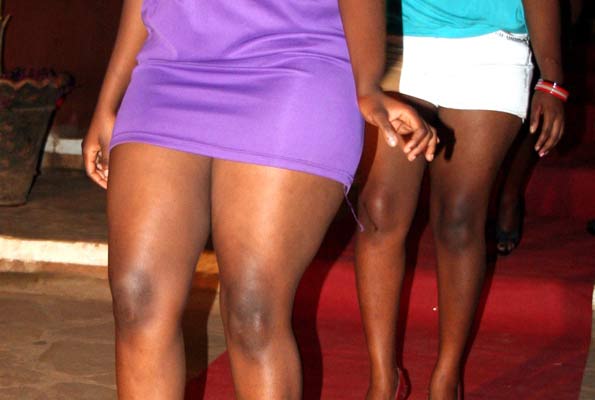 The new legislation outlaws wearing such outfits.
IN SUMMARY
The Bill defines pornography as any cultural practice, form of behaviour or form of communication or speech or information or literature or publication in whole or in part or news story or entertainment or stage play or broadcast or music or dance or art or graphic or picture or photography or video recording or leisure activity or show or exhibition.
Nelson Mandela supported LGBT rights but failed on HIV & Mugabe
Peter Tatchell, London – 6 December 2013
Liberation hero. Pioneer of forgiveness and reconciliation
Icon of freedom, alongside Mohandas Gandhi & Martin Luther King
"Nelson Mandela was an African liberation hero and a supporter of LGBT human rights. He continued the liberation struggle pioneered by Kwame Nkrumah and ranks with Mohandas Gandhi and Martin Luther King as one of the world's great humanitarians. His government supported LGBT equality and ended legal discrimination against LGBT people. But Mandela was not without his shortcomings. His presidency did not do enough to tackle poverty and HIV. He failed to speak out against Mugabe's tyranny and homophobia in Zimbabwe," said human rights campaigner Peter Tatchell.
Uganda: no country for gay men
Patience Akumu, The Observer, Sunday 24 November 2013
Briton Bernard Randall and his partner Albert Cheptoyek could be jailed for being homosexual, the latest victims of church-encouraged homophobia
Bernard Randall, the British gay man charged with homosexuality-related offences in a Ugandan court, glances up sceptically when I walk into his lawyer's chambers. His Ugandan partner, Albert Cheptoyek, sits protectively in front of him, closer to the door, on a rickety wooden bench. Cheptoyek's white shirt illuminates his dark sweaty skin, while Randall's oversize dull-coloured clothes match his face, making him almost invisible.
Malawi High Court to Review Sodomy Laws
November 4, 2013, All Africa, By Richard Lee
In a surprising – and potentially game-changing – step, the Malawi High Court has decided to review the constitutionality of the country's 'sodomy' laws, which criminalise consensual sexual activity between individuals of the same sex.
Read more
Thank you Leo Igwe for sending us this article!
I am happy I'm an atheist, says Seun Kuti
By Seun Kuti, Vanguard, 29th July 2013
"The only religion in Africa with a unified doctrine is the traditional african religion and yet it is the evil one. The imported religion do not even accept among themselves what their god says to do or don't do and they're the good guys. I am happy I am an atheist!"
Uganda Has Lost HIV/Aids Fight – UN
May 17, 2013 by haleauganda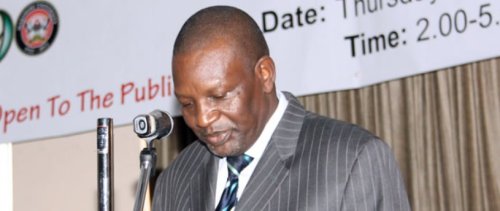 Mr Musa Bungudu UNAIDS Country Coordinator
A top UNAIDS official in Uganda has said the country is losing the fight against HIV/Aids, with the infection rates steadily rising.
Musa Bungudu, the UNAIDS Country Director, says Uganda is the only country in the Eastern and Southern Africa with rising HIV/AIDS infection rates. Up to 145,000 new infections are recorded each year.
According to the 2011 National HIV Indicator Survey, the prevalence rates among Ugandans between the ages of 15 to 19 are going up. It now stands at 7.3 percent and even higher in women at 8.3 percent up from 6.4 percent in the 2004-2005 survey.
Bungudu says he is disheartened that it was Uganda that was at the forefront of managing, planning, implementing and monitoring HIV/Aids for almost two decades, but is now taking lessons from other countries.
Kasese flood victims turn misfortune into treasure
By Thembo Kahungu Misairi & Enid Ninsiima, Saturday, May 18 2013
IN SUMMARY
Nyakasanga, a suburb of Kasese Town, has for the last two weeks become a centre of salt trade as residents sell the raw salt which was brought along with other sediments from the Rwenzori Mountain.
When floods hit Kasese District on May 1 and destroyed property worth millions of shillings and claimed at least six lives, all was gloom and the people mourned.
But the residents have in a space of two weeks, turned ruins into wealth.
A section of the about 10,000 people affected by the flash floods, are heaping sand which was washed from the Rwenzori Mountain as River Nyamwamba burst its banks and trading at higher prices.
Nigeria declares state of emergency after Islamist attacks
Examiner, MAY 14, 2013, BY: MICHAEL STONE
After a series of deadly attacks by Islamist militant groups demanding strict Shariah law for all of Nigeria's 160 million people, Nigerian President Goodluck Jonathan has declared a state of emergency in three states in the Northeast section of the country.
Jonathon made his declaration in a televised address broadcast on Tuesday, May 14. The following is an excerpt from Jonathon's remarks:
I declare a state of emergency in Borno, Yobe and Adamawa states. Accordingly the chief of defense staff has been directed to immediately deploy more troops to these states.
UK to compensate Kenyan victims of sexual sadism
Peter Tatchell, London – 7 May 2013
The UK government is holding confidential talks to agree a settlement with Kenyan men – and some women – who were sexually abused and tortured by British forces, during the 1950s independence struggle.
"Male Kenyan nationalists were stripped naked and subjected rape, castration and forcible sodomisation with truncheons and sticks by British colonial police, soldiers and prison warders. Sexual sadism was used as a weapon of war, to deliberately humiliate, degrade and dehumanise men who supported Kenyan self-rule. These abuses pandered to homophobic prejudice and the fear of demasculinisation," said Peter Tatchell, Director of the human rights organisation, the Peter Tatchell Foundation.
Read more
Ethiopia to introduce death penalty for gays soon, say religious groups
01 MAY 2013 | BY DAN LITTAUER, GayStarNews
Evangelical groups are spreading anti-gay hate in Ethiopia causing a climate of moral panic and forcing the LGBT community to flee the country.
A death penalty against homosexuality may be introduced soon in Ethiopia, according to anti-gay organizations that ran a recent workshop on the topic.
The workshop, dealt with the social 'evils' and 'disastrous' effects of homosexuality in Ethiopia, and was led by United for Life Ethiopia, a Western Evangelical organization with local representation.
George Thindwa, witchdoctors and development in Malawi
By Edge Kanyongolo, April 28, 2013, Nyasa Times
The other day, I read a newspaper article that made me chuckle.  The gist of the article was that some witchdoctors had expressed their wish to seek the permission of the courts to allow them to "take action" against George Thindwa, presumably by bewitching him so he could die or have some misfortune befall him.
Court in Malawi saves alleged Witch from village eviction
By Nyasa Times Reporter, April 28, 2013
The High Court in Mzuzu has restrained Village Headman Green Mwafongo and his Wanyambala (Indunas) from evicting or chasing Winston Sikamba from his home village Donald Village, Traditional Authority Kyungu in Karonga district following allegations that he was killing people in the area through witchcraft.
Witchcraft And Death in Uganda By Leo Igwe
April 10, 2013, By Leo Igwe
Attacks and killings of people suspected of witchcraft and malevolent magic continue unabated in different parts of Africa. A local newspaper in Uganda, the Daily Monitor, has just reported the brutal murder of a man 'accused of being a witch' in a local village. The man, Siraje Kayondo, was waylaid on his way from the garden by machete-wielding persons. They tied him up and beheaded him. According to the report, they threw his head into a bush and dumped his body on the roadside.
Government tables Bill to outlaw miniskirts
Daily Monitor (Uganda) by YASIIN MUGERWA, 5 April 2013
Wearing of miniskirts could soon land one in jail or attract heavy fines if Parliament approves a new piece of legislation that seeks to further clarify the offence of pornography in Uganda's laws.
The government is riding on its view that pornography has become such an "insidious social problem" to get the Bill through Parliament.
It also argues that because there has been an "increase in pornographic materials in the Ugandan mass media and nude dancing in the entertainment world", there is need to establish a legal framework to regulate such vices."
No country for Nigerian 'unbelievers'
APRIL 4, 2013 BY ABIMBOLA ADELAKUN, Punch (Nigeria)
In my national youth corps year, I got a job offer with a woman who was a magistrate but also ran a private school by the side. One day, she asked me to show up for an interview with her but when I did, it turned out to be a chat. Actually, she did the talking and I, not sure if I was being tested, listened. She narrated stories that ranged from crime cases she had dealt with to marital infidelity. She asked which church I worshipped. I told her.
"That church?" She said. "The pastor lives in South Africa and his wife somewhere else. What does he do when he has to have sex?"
I responded that I had no way of knowing. She provided the answer herself, saying she knows what men do even when their wives were around. She went on criticising churches, including the one she attended, in really strong words. When it was time to thank her for offering me the job, I asked why she still goes to church despite her antagonisms.
Read more
Pierced ears save Gulu girls from ritual sacrifice
By MOSES AKENA, Daily Monitor (Uganda), Tuesday, April 2 2013
You could say death has knocked on Rose Ongom's door, twice. And twice, she has been lucky. Last Saturday, Ongom's daughter survived being sacrificed, after she was snatched from among her friends as they were collecting water in a nearby well in Gulu Municipality.
It was at 11am that the six-year-old, Lilly Adong was kidnapped. After she heard that her child was missing, Ongom was prompted to send boda boda cyclists as far as Pabbo Sub-county in Amuru District in search of the missing child. The journey is 25 kilometres.
Bishop says sorry to sexual abuse victims
By TABU BUTAGIRA, Daily Monitor (Uganda), Monday, April 1 2013
Some Catholic priests in Uganda are involved in sexual liaisons contrary to their celibacy vow and others have in the process secretly begotten children, a senior church official has admitted.
Speaking on Holy Saturday, Kampala Archbishop Cyprian Lwanga, who about a fortnight ago suspended Fr Anthony Musaala for expressing similar sentiments, unequivocally apologised to the victims.
Man's head cut off over 'witchcraft'
By Fred Muzaale, Daily Monitor (Uganda), Tuesday, March 26 2013
Police in Kayunga District are hunting for a group of residents in Tangoye Village over allegedly beheading of their colleague, whom they accused of being a witch.
The district's officer in-charge of investigations, Mr Gally Turyatunga, said Siraje Kayondo was attacked on Saturday evening at about 7pm as he returned from his garden with a friend.
He said the farmer was waylaid by a machete-wielding group and tied up before he was beheaded.
"After cutting off his head, they threw it in a nearby bush and ran away, leaving the body on the roadside," the police said, adding that his friend was not touched.
The letter that got Father Musaala into trouble
24 March 2013, Sunday Monitor (Uganda)
IN SUMMARY
To the faithful. On Tuesday, as Pope Francis was being inaugurated in Rome, something else was happening in Uganda: A critical letter written by a Catholic priest was leaked to the media, causing his suspension from the church he has served for years. We bring you the full letter that brought trouble to Fr Anthony Musaala.
===============
I am also helping to set up a Victims Support Group, independent of the church for obvious reasons, with guidance and help from similar groups in Europe and the States.
I have also engaged a human rights lawyer to advise on the wider implications of clergy abuse on the basic human rights of individuals, especially women.
Kenya condom advert pulled after religious complaints
BBC News Africa: Kenya, 20 March 2013
A TV advertisement promoting condom use in Kenya has been withdrawn after an outcry by religious leaders, health official Peter Cherutich has said.
Christian and Muslim clerics said the advert encouraged infidelity, rather than safe sex to curb HIV/Aids.
In the government-sponsored advert, a woman in an extra-marital affair is advised to use condoms.
Dr Cherutich told the BBC the advert had been launched because up to 30% of married couples had other partners.
Around 1.6 million people out of Kenya's population of 41.6 million are living with HIV, according to the UN.
Archbishop Lwanga sacks Fr Musaala over sex claims
Daily Monitor (Uganda), Wednesday, March 20 2013
(Background: a catholic father who was sexually abused while at a Seminary and who has been sympathetic to the gay community is calling for the same and he is being forcefully silenced by the head of the catholic church, please read on.)
If one fails to comply with this discipline, he does it on his own and not on behalf of the Church. Consequently personal failure in this regard is not an offence sanctioned by the Church. However we as Bishops deeply regret such failures and seek forgiveness from those who have been victims.
I indeed applaud all the many religious men and women who have remained faithful to this promise and there is nothing we can offer but our prayers for them.
It is very unfortunate that the author of the published document stands to call for suspension of this discipline through his proposed forum that has no Church legitimacy and yet the Church's legislation and practice is clear on this point. None-the-less we are going to investigate into the allegations in the article with people concerned together with certainty of the author of this document.
As per now, after the acceptance of Fr. Musaala that he authored this document, the law prescribed by the Church in can. 1369 takes its course. This law states that: "A person is to be punished with a just penalty, who, at a public event or assembly, or in a published writing, or by otherwise using the means of social communication, utters blasphemy, or gravely harms public morals, or rails at or excites hatred of or contempt for religion or the Church."
Museveni speaks out on homosexuality
Mar 19, 2013, New Vision (Uganda)
President Yoweri Museveni has said the issue of homosexuality and lesbianism has been totally distorted leading to wrong public debate.
"In our society, there were a few homosexuals. There was no persecution, no killings and no marginalization of these people but they were regarded as deviants. Sex among Africans including heterosexuals is confidential," Museveni said.
"If am to kiss my wife in public, I would lose an election in Uganda. Western people exhibit sexual acts in public which we don't do here," he said, adding that, Africans do even punish heterosexuals who publically expose their sexual acts.
The president said what is new is the way Europeans and other Western people handle the issue of sexuality in general, including public flaunting which is a problem and luring young people into acts of homosexuality for money.
Witchcraft based violence in Malawi
Email from George Thindwa, 19th March 2013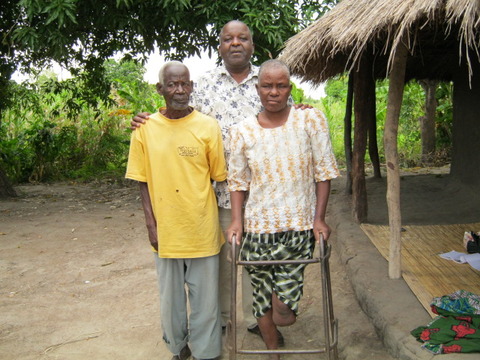 Dear Colleagues.
We are very concerned about Witchcraft based violence in Malawi. Here is the story that should make you very disturbed. The attached two photos is that of Margaret. One where she is alone and of course on the second photo I am there standing with her.
Margaret Wisele (50) who has her leg chopped off with a machete because she was accused of witchcraft. This happened on 21st January 2013. The local hospital had to finally amputate her on 25th January 2013. This was done at Zomba Hospital.
She was hacked on 21st Jan 2013 by three boys from her village. She was accused of being a witch. On this day, there was a funeral of a grandson to Margaret`s sister. And the village blamed her for the sudden death. And these three boys picked themselves out of the group at the funeral to go and kill Margaret. Since the incidence in January the local police did not arrest the perpetrators for reasons best known to themselves.
However, with our influence the perpetrators have now been arrested now. The arrest was made yesterday, on 18th March 2013-one and half months after the event. We went to see Margaret on Monday 18th March, 2013 at her village.
We should be buying her walking clutches or artificial leg in the near future. Margaret is well. Except that she feels some pain on her amputated leg sometimes.
My regards to all.
George Thindwa
Story update:
Dear Colleagues,
You will recall that I informed you about the case of Margaret Wesele- the woman who had her leg chopped off because of accusation of witchcraft.
Latest positive developments is that Wesele has an artificial leg now.  She able to walk and stand upright.  I will send u her photo in due course.
Last Friday, the Magistrate passed judgment on the two boys that were involved in this gruesome act.  They received 8 years IHL each.
This judgment pleased us as we worked tirelessly to have these boys prosecuted for the crime!
George
Malawi humanist Thindwa confronts man who threatened to bewitch him: Herbalist refuses to avail himself
Malawi News Agency, March 8, 2013
A traditional medical practitioner in the central region district of Dedza who declared his capabilities to bewitch Association for Secular Humanism (ASH) Executive Director, George Thindwa, had his soft belly exposed when he shunned him this week.
Thindwa challenges that witchcraft does not exist. He pledged a reward of K1 million to anyone who will prove its existence by bewitching him.
Last week, herbalist Masiyambuyo Njolomole who is also president for Dedza Herbalists Association, expressed his interest to bewitch Thindwa.
Igwe: Death and humanist funerals in Nigeria
Friday, 8th March 2013, Leo Igwe, Opinion The Guardian (Nigeria)
ON February 9, 2013, the former Chairman of the Nigerian Humanist Movement, Eze Ebisike died after a brief illness. On March 2, he was buried in his hometown, Okpokume, Mpam, Ekwerazu Ahiazu Mbiase in Imo State. Ebisike was an ex-Catholic priest and an atheist. He was buried after a short humanist funeral ceremony in the compound. The ceremony was a historic event because it was the first time, in that part of the country that someone who was an atheist was given a non-religious funeral.
Funerals constitute a vital part of the local culture and tradition. Most people attach a lot of importance to rites marking the end of life. Some people plan for their own funerals even though they know they won't be there to celebrate it! People devote time, energy and resources to mourning the dead and paying their last respects.
Kakenya Ntaiya: A girl who demanded school
TED Talks: Published on 7 Mar 2013
Kakenya Ntaiya made a deal with her father: She would undergo the traditional Maasai rite of passage of female circumcision if he would let her go to high school. Ntaiya tells the fearless story of continuing on to college, and of working with her village elders to build a school for girls in her community. It's the educational journey of one that altered the destiny of 125 young women. (Filmed at TEDxMidAtlantic.)
Arranged marriage
Females denied ownership of property
Female genital mutilation (3 million girls facing FGM in Africa right now)
The higher value of men over women
Getting an education
Rape of girls and pregnancy blamed on mothers
Saved 125 girls from FGM, arranged marriage and domestic violence
"Be the first because people will follow you – be bold – make a difference"
Group Launches Campaign to Help Suspected Witches in Malawi
VOA, Lameck Masina, March 06, 2013
BLANTYRE, MALAWI — Malawi has no law outlawing witchcraft, and no legal definition of witchcraft, yet there is continuing persecution of those denounced as witches.
Scores of people — most of them women, children or the elderly — have been imprisoned after being pressured or beaten into "confessing" they were involved in witchcraft. However, a new public campaign is under way to help victims ward off such accusations.
The three-year campaign was recommended in a recent study about witchcraft in Malawi that showed the biggest problem is an increase in violence targeting suspected witches.
ELA GANDHI: PEACE ACTIVIST
Radio National: Tuesday 26 February 2013, 9:05 AM
Her grandfather is a household name in India, the man who helped to win independence with non-violent protest. Ela Gandhi is in Australia to talk about the philosophy of Mahatma Gandhi and its relevance to contemporary social problems.
Anglicans Warn Against Gay Marriage
25 February, 2013, Naij (Nigeria)
Primate of Church of Nigeria, Anglican Communion, Most Reverend Nicholas Okoh, Sunday called on Nigerians especially Church of Nigeria, Anglican Communion not to embrace the culture of gay marriage now rampant in Europe.
Speaking during the consecration service of Very Reverend Simon Borokini, Venerable Geoffery Okoroafor and Venerable James Odedeji as Bishops of Akure, Egbu and Lagos West respectively, at the Cathedral of St. Jude, Ebute Metta, Lagos, Okoh described homosexuality, lesbianism and gay marriage as great evils that must neither be condoned nor allowed to exist in Nigerian society.
Three North Korean doctors killed by suspected Islamists in Nigeria
guardian.co.uk, Sunday 10 February 2013
Boko Haram believed to be behind attack on medics in Potsikum, beheading one, week after nurses murdered in Kano
Nigeria's president Goodluck Jonathan has pledged to step up security measures against Islamist terrorists. Photograph: Eric Piermont/AFP/Getty Images
Assailants in north-eastern Nigeria have killed three North Korean doctors, beheading one of the physicians, in the latest attack on health workers in a nation under assault by a radical Islamic sect, officials said on Sunday.
The deaths on Saturday night of the doctors in Potiskum, a town in Yobe state, comes after gunmen killed at least nine women administering polio vaccines in Kano, the major city of Nigeria's predominantly Muslim north.
The two attacks raise questions over whether an extremist, sect Boko Haram, has picked a new soft target in its guerrilla campaign of shootings and bombings across the country. The sect has carried out a number of attacks in Yobe in the past 18 months.
GAY HUMANISTS "APPALLED" TO LEARN THAT UGANDA'S ANTI-HOMOSEXUALITY BILL IS TO BECOME LAW
News Release – 12 November 2012 | The Pink Triangle Trust
KENILWORTH, 12 NOVEMBER 2012 — The UK gay humanist charity the Pink Triangle Trust (PTT) is appalled to learn that Uganda's Anti-Homosexuality Bill will become law by the end of 2012.
The Anti-Homosexuality Bill was first introduced as a private member's bill by MP David Bahati in October 2009. Bahati is an evangelical Christian and a member of the Fellowship Foundation, also known as the Family, a US-based Christian and political organisation which arranges the annual prestigious National Prayer Breakfast in Washington.
The law will broaden the criminalisation of same-sex relationships by dividing homosexuality into two categories: aggravated homosexuality and the offence of homosexuality.
"Aggravated homosexuality" is defined as gay acts committed by parents or authority figures, HIV-positive people, paedophiles and repeat offenders. If convicted, they will face the death penalty.
Disclaimer: we have links on our website that we think will be of interest to our members but we do not necessarily endorse the views and opinions expressed on those linked web-pages.