Articles in order of date – most recent at the top
Please email us with relevant news articles or petitions
****************
Anglican priest shames climate change "hypocrites" after witnessing sinking Solomon Islands
105.7 ABC Darwin By Emilia Terzon
The Anglican Dean of Darwin, Keith Joseph, was living and working on the Solomon Islands when he realised the world was slowly drowning.
"In that time, I could see with my own eyes the damage being done," he said.
"And I could also see the effect [climate change] was having on my friends, their lives, and indeed their culture and futures."
Great Barrier Reef protection plan 'ignores the threat of climate change'
Oliver Milman | theguardian.com, Tuesday 28 October 2014
Scientists warn the government's strategy is likely to prove ineffectual as 'unless Australia cuts back on carbon dioxide emissions we won't have much of a Great Barrier Reef left'
The Australian government's multimillion dollar plan to halt the worrying decline of the Great Barrier Reef does nothing to address the leading threat of climate change and is likely to prove largely ineffectual, scientists have warned.
How family planning could be part of the answer to climate change
10 October 2014 | David Hodgkinson | Rebecca Johnston
You've changed your lightbulbs, you recycle, you've retrofitted your house, cycle when you can, and drive an electric car when you can't. You're doing your bit to reduce your carbon emissions and prevent dangerous climate change.
But if you have two children, your legacy of carbon emissions could be 40-times higher than those you saved through lifestyle changes.
The oceans are full of our plastic – here's what we can do about it
15 September 2014 | Britta Denise Hardesty | Chris Wilcox
By 2050, 95% of seabirds will have plastic in their gut. That is just one finding from our national marine debris research project, the largest sample of marine debris data ever collected anywhere in the world.
The statistic is just one prediction of what's in store if we don't come to grips with the growing problem of rubbish at sea.
CSIRO almost 100% sure humans causing temperatures to rise
September 4, 2014 | Peter Hannam
What are the chances the world could clock up 353 consecutive months with average temperatures higher than the norm of the 20th century without humans being responsible?
CSIRO's now-defunct climate adaptation flagship crunched the numbers and found the chances were less than one in 100,000.
Abbot Point dredging debate needs to be reopened: experts
3 September 2014 | James Whitmore
Approval for dumping dredge spoil within the Great Barrier Reef Marine Park at Abbot Point could be reopened, with port developers reportedly considering storing dredge material on land.
According to the Australian Financial Review, developers at Abbot Point — who had received federal approval to dump 3 million cubic metres of dredged material at sea — will resubmit to the federal environment department a proposal to store dredge spoil on land.
Redrawing the map could reveal ocean garbage patch culprits
3 September 2014 | Erik van Sebille | Gary Froyland
Most of us have littered at one time or another, and in the process we probably contributed to the enormous of amounts of plastic that enter the ocean every year, eventually ending up in one of the five so-called ocean garbage patches.
This plastic marine debris lingers for centuries, posing a (sometimes deadly) threat to marine life, and accumulating in growing quantities up the food chain. Yet there is very little data about where the plastic we find in our ocean comes from, and our new research redraws some of the conventional boundaries between the oceans, suggesting that litter doesn't always go into its "local" garbage patch.
Renewable Energy Target review confirms influence of coal and climate sceptics
Rosemary Lyster | 2 September 2014
The release of the Renewable Energy Target review last week is yet another indication of the disproportionate influence of the fossil fuel industry and climate sceptics on governments in Australia.
Many experts have said that, if the recommendations are implemented, they would have a serious impact on the renewable energy sector.
Coalition's environmental one-stop shop is falling apart
28 August 2014 | Chris McGrath
The Palmer United Party (PUP) has added to the Coalition's headaches in the Senate by announcing this week it would seek to remove the so-called "water trigger" from the government's "one-stop shop" for environmental approvals.
"We will amend the bill so the water trigger stays in federal hands," PUP's Western Australian senator Dio Wang said.
Mounting evidence shows dredge spoil threat to the Great Barrier Reef
18 August 2014 | Terry Hughes | Federation Fellow, ARC Centre of Excellence for Coral Reef Studies at James Cook University
Tonight's Four Corners on ABC investigates dredging at ports on the Great Barrier Reef, including claims that the federal government is reportedly seeking alternatives to dumping dredge spoil at sea at Abbot Point.
Proponents for the huge expansion of coal ports along the coast of Queensland, including at Abbot Point, have asserted that dredging and dumping of dredge spoil at sea won't harm the Great Barrier Reef. But this runs counter to the growing weight of scientific evidence.
Finding new nests for birds threatened by climate change
11 August 2014 | Stephen Garnett | Kerstin Zander
Rufous Scrub-birds have been calling loudly from the mountains of eastern Australia ever since Australia parted from Gondwana 65 million years ago. They are still there today – as noisy as ever, though incredibly difficult to see – but perhaps not for much longer.
Models predict that the climate of places like the Lamington Plateau in southeast Queensland will change to something quite unlike what is there at the moment. That is one of the scenarios described in the Climate Change Adaptation Plan for Australian Birds.
Tony Abbott under pressure to put climate change on G20 meeting agenda
Oliver Milman | theguardian.com, Sunday 10 August 2014
Leading medical scientists call on Australia to take a 'strong lead' in reducing emissions or risk major impact on public health
Tony Abbott has come under fresh pressure to put climate change on the agenda at the upcoming G20 gathering, with a group of medical scientists led by the Nobel laureate Prof. Peter Doherty warning Australians face "serious health risks" if the issue isn't urgently tackled.
In an open letter to the prime minister, a group of 12 of Australia's leading medical scientists call on Australia to take a "strong lead" in reducing carbon emissions or risk a major impact on public health.
"Adverse health outcomes related to climate change are already evident in many regions of the world," the letter states.
Burnoff policies could be damaging habitats for 100 years
8 August 2014 | Dale Nimmo | Andrew Bennett | Michael Clarke
The smell of smoke in the autumn and spring air is an increasingly familiar one to many Australians. It signifies that time of year when land management agencies in southern Australia feverishly try to meet their burning targets.
But what are the consequences for biodiversity of setting such targets in Australia's ecosystems? In recent research conducted in south-eastern Australia's Murray Mallee region, our team (the Mallee Fire and Biodiversity Team) found that such policies can set in motion changes that persist for over 100 years.
We mustn't waste water while taking action on climate change
7 August 2014 | Philip Wallis | Jamie Pittock | Michael Ward
Should we pick and choose our climate strategies based on how water-wise they are?
As our new research published in Climatic Change shows, some activities aimed at tackling greenhouse emissions can also consume large amounts of water. In a water-poor country like Australia, this can make a real difference in the relative economic attractiveness of these strategies.
In particular, wide-scale planting of trees to store carbon can be very water-intensive, and we should therefore consider carefully where we do it.
What climate tipping points should we be looking out for?
14 July 2014 | Andrew Glikson | Earth and paleo-climate scientist at Australian National University
The concept of a "tipping point" – a threshold beyond which a system shifts to a new state – is becoming a familiar one in discussions of the climate.
Examples of tipping points are everywhere: a glass falling off a table upon tilting; a bacterial population hitting a level where it pushes your body into fever; the boiling point of water, or a cube of ice being thrown into warm water, where it rapidly melts.
The ice cube is a poignant example, because scientists now fear that West Antarctica's ice sheets are also heading towards irreversible melting.
Renewables still have a long way to go to compete with fossil fuels
10 July 2014 | Frank Larkins | Professor Emeritus and Former Deputy Vice Chancellor at University of Melbourne
Australia has some fairly ambitious goals for green energy: a renewable energy target (currently under review) of 20% of electricity from renewables by 2020, and a forecast to get 51% of electricity from renewables by 2050.
But in setting these targets, not enough consideration is being given to the difficulty of getting the job done – in terms of generating enough renewable energy, and of storing it so it can be supplied 24 hours a day.
Renewable energy sources, mainly hydroelectric and wind with a smaller amount of solar, currently provide around 13% of Australia's power; the rest comes from fossil fuels. Increasing renewable sources to and beyond 20% will depend on being able to generate power at the right locations, and building enough storage infrastructure too.
The budget shows we're now flying blind on climate change
21 May 2014 | Michael Raupach
The word "climate" was conspicuously absent from Joe Hockey's first budget speech as treasurer. It's not hard to guess why – the full budget sets out major cuts to climate research, and strong moves against renewable energy programs, such as scrapping the Australian Renewable Energy Authority.
Together, these moves send the strong signal that we are weakening our capacities for both climate knowledge and responses to climate change. As a result, we are increasingly flying blind.
US military strategists warn that climate is a 'catalyst for conflict'
21 May 2014 | David Hodgkinson | Rebecca Johnston
Warnings about the dangers of climate change are coming from some new and not so new places. Military, security and foreign policy advisors, financial marketeers, the White House – all have recently set out the risks in stark terms.
It is difficult to imagine a more influential set of voices – particularly among military strategists – than the ones that are now speaking out.
Let's dump Great Barrier Reef dredging myths: authority chief
3 March 2014 | Russell Reichelt | Chairman and Chief Executive of the Great Barrier Reef Marine Park Authority; Adjunct Professor at James Cook University
The Great Barrier Reef Marine Park Authority's recent decision to allow 3 million cubic metres of dredge material to be disposed of 25 kilometres off Abbot Point in north Queensland has attracted passionate commentary around the world.
Millions of people from Australia and overseas have a fierce desire to protect one of the world's most beautiful natural wonders. As the independent body managing the Great Barrier Reef for future generations, all of us at the Authority understand and share that desire: it's what makes us want to come to work every day.
Killer climate: tens of thousands of flying foxes dead in a day
25 February 2014 | Authors:
Justin Welbergen, Senior Lecturer at University of Western Sydney
Carol Booth, Science writer & Editor of Wildlife Australia; casual academic at University of Queensland
John Martin, Ecologist, Royal Botanic Gardens & Domain Trust, Sydney
This summer we have seen one of the most dramatic animal die-offs ever recorded in Australia: at least 45,500 flying foxes dead on just one extremely hot day in southeast Queensland, according to our new research.
While flying foxes are often portrayed as noisy pests, they are protected native species, and declines in their populations have significant environmental ramifications as they spread seeds and pollinate native trees.
The mounting toll from repeated mass die-offs across eastern Australia is also significant because of what it tells us about the growing dangers we face from extreme heat.
Sea turtles will feel the heat from climate change
31 January 2014, 6.47am AEST
Last year was Australia's hottest on record and this year started with heatwaves. Animals feel the heat too – so how will they cope and adapt as the climate changes?
Take, for example, sea turtles. These large reptiles have swum the oceans for more than 150 million years and survived numerous climatic changes, from warmings to ice ages. Yet human-induced climate change may lead to their downfall.
Ocean acidification leaving fish in the dark: study
30 January 2014, 10.16am AEST
Increasing carbon dioxide in the world's oceans could hamper fishes' eyesight, slowing their reaction times and leaving them vulnerable to predators or unable to hunt, new research has shown.
Experts say it adds to the existing evidence that ocean acidification will be bad for marine ecosystems and possibly fisheries.
Climate and vaccine deniers are the same: beyond persuasion
The Conversation | 28 January 2014
Governments are worried. Vaccination rates are falling under the influence of a campaign of misinformation by a small minority of fanatics.
Scientifically there is no debate about immunisation, with every relevant health authority strongly endorsing vaccination. But anti-vaccination activists refuse to accept the evidence, claiming that "every issue has two sides".
SENATOR BOSWELL WELCOMES MARINE PARK ANNOUNCEMENT: "A PROMISE HONOURED"
Wednesday, 18 December 2013
QUEENSLAND Senator Ron Boswell has welcomed the announcement that fishing bans scheduled to lock out fishing from at least 1.3 million square kilometres of ocean round Australia have been scrapped.
"Labor's management plans – including massive bans on recreational and commercial fishing – now will not be implemented on July 1 next year," Senator Boswell said. "Recreational and commercial fishers can continue fishing everywhere they do now.
"In the meantime, an expert scientific panel will look closely at the science supporting the marine reserves and bioregional advisory panels will improve consultation with stakeholders. We are going to take a sensible, truly scientific look at what's needed in the marine parks and make sure recreational and commercial fishers and other stakeholders are involved in genuine consultation."
Senator Boswell said the announcement from Environment Minister Greg Hunt and Agriculture Parliamentary Secretary Richard Colbeck that the management plans for new marine parks had been scrapped had honoured a Coalition election promise.
Read more
Time to forget global tipping points
11 March 2013 by Erle C. Ellis
The idea that Earth is approaching a point of no return is probably untrue and almost certainly unhelpful
HOW much can our poor Earth take? We've already transformed most of the biosphere beyond anything our early ancestors could have imagined, clearing, ploughing, burning, building, damming, domesticating, driving to extinction, dousing with chemicals and even changing the climate. Surely at some point, the biosphere will simply collapse in the face of such a massive and unrelenting onslaught.
Did Climate Change Cause Typhoon Haiyan?
Scientific America, by Quirin Schiermeier and Nature magazine
As the Philippines assesses the havoc caused by super-typhoon Haiyan, which according to some reports killed as many as 10,000 people, speculation is heating up as to whether the disaster might be a manifestation of climate change. Speaking today at the first day of UN climate talks in Warsaw, the head of the Philippines delegation, Yeb Sano, said he will stop eating until negotiators make "meaningful" progress.
Environment scientist David Suzuki criticises Australian decision to scrap Climate Commission
September 20, 2013, Presenter: Phil Kafcaloudes, Speaker: David Suzuki, scientist, environmentalist and broadcaster – ABC Radio Australia
A new report by the Intergovernmental Panel on Climate Change indicates that sea levels could rise a metre by the end of the century but the rate of global warming has slowed.
The report is yet to be officially released but its final draft version comes just hours after the Australian government froze funding to renewable energy projects and scrapped the Climate Commission, which was created to explain climate change to Australians.
Internationally recognised environmental scientist, David Suzuki, is angry with the Australian government's decisions, saying there is no incentive for big countries like China and India to move towards renewable energy if countries like Australia don't set an example.
Mr Suzuki says the axed Climate Commission was the one group set up so Australians can make informed choices about climate change.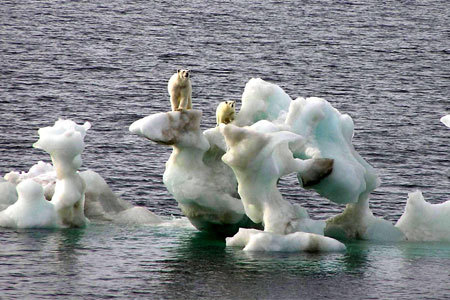 Polar Bears stranded due to melting ice in the Arctic
Allan Savory: How to green the world's deserts and reverse climate change
4 Mar 2013, TED Talks – YouTube
"Desertification is a fancy word for land that is turning to desert," begins Allan Savory in this quietly powerful talk. And terrifyingly, it's happening to about two-thirds of the world's grasslands, accelerating climate change and causing traditional grazing societies to descend into social chaos. Savory has devoted his life to stopping it. He now believes — and his work so far shows — that a surprising factor can protect grasslands and even reclaim degraded land that was once desert.
Do Religion and Climate Change Mix?
26 Feb. 2013, Scientific America: by Elizabeth Harball and ClimateWire
A priest strikes sparks among faithful using climate change
When it comes to linking power politics, religion and climate change, the Rev. Sally Bingham does not hold back.
Hanging prominently in the office of her organization, Interfaith Power and Light (IPL), in San Francisco, is a photo of her being arrested at a 2001 protest against drilling in the Arctic National Wildlife Refuge. Kneeling in prayer, she and 21 other demonstrators blocked the doorway to the Department of Energy. In the photo, Bingham stares straight at the camera as a police officer handcuffs her. She later described the moment as a "religious experience."
Keep Australia Beautiful – Where Does Your Rubbish Go?
Published on 26 Apr 2012 | Clemenger BBDO
Each year millions of items of litter make their way into our oceans and rivers through storm water drains. Our Keep Australia Beautiful campaign of posters, print ads and an ambient stunt reinforced the link between litter on the street and the damage it does to our waterways.
Brown Revolution Brings New Hope
By Busani Bafana, VICTORIA FALLS, Jan 10 2012 (IPS)
Picking spots for cattle to graze could reverse desertification and even do its bit to retard climate change, new experiments in Zimbabwe have shown. It's what is coming to be called the Brown Revolution.
Cattle are an important tool in land restoration. Credit: Busani Bafana/IPS
Planned grazing of livestock is helping restore formally degraded lands close to Zimbabwe's Victoria Falls world heritage site. It is a miracle that ecologist Allan Savory of the Savory Institute calls the brown revolution – and at the least it could reverse the declining fortunes of agriculture in Zimbabwe.
The U.S.-based Savory Institute and its partner organisation, the Africa Centre for Holistic Management (ACHM), have regenerated land, wildlife and water on land that was turning into a desert after livestock numbers increased by 400 percent on their 2,900-hectare ranch in the Dimbangombe area, 36 km from the town of Victoria Falls. The land healing miracle is thanks to a practice known as holistic management.
Disclaimer: we have links on our website that we think will be of interest to our members but we do not necessarily endorse the views and opinions expressed on those linked web-pages.