Articles in order of date – most recent at the top
Please email us with relevant news articles or petitions
---
Posted 25th July 2017
Protest the Catholic Church's abuses of human rights.
Atheists will be joining with others outside the Melbourne Magistrates Court in the morning, Wednesday, 26th July 2017.
Some people with signs will be there from 8am.
If you want to find us contact us on 0438 043 050.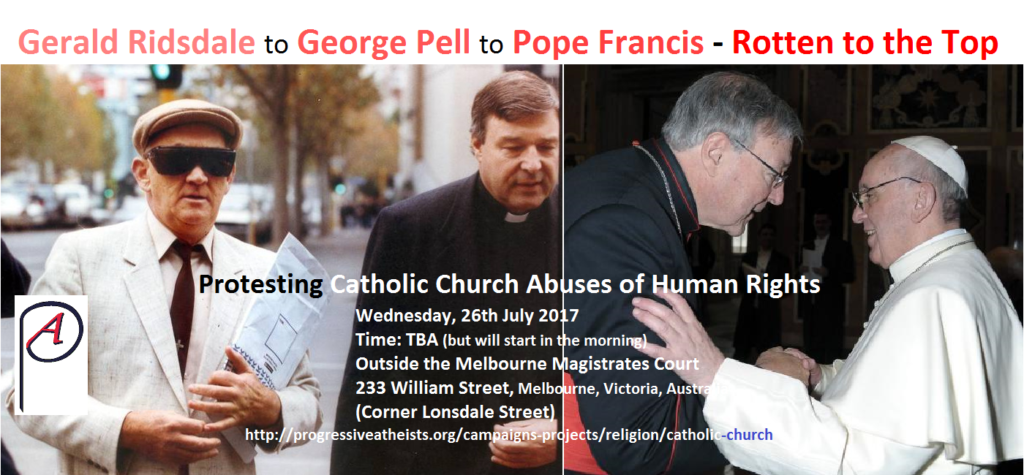 ---
*****************
Pope opens synod with call for bishops to stop in-fighting
Reuters | October 06, 2014
Vatican City: Pope Francis opened a global Roman Catholic assembly on Sunday showing his apparent irritation with Church leaders who have waged a sometimes bitter public battle between progressives and conservatives on family issues.
The synod is the first since Francis's election 19 months ago with a mandate to turn around an institution hit by declining membership in many countries and scandals including the sexual abuse of children by priests and irregularities in Vatican finances. It is seen as a test case for the pontiff's vision of a Church he wants to be closer to the poor and suffering and not obsessed by issues such as homosexuality, abortion and contraception.
Melbourne sex abuse priest Mato Krizanac returns to church in Bosnian parish
September 7, 2014 | Cameron Houston and Chris Vedelago
A Catholic priest expelled from the Melbourne diocese for sexual abuse has been allowed to resume his duties in an overseas parish despite an explicit warning from Archbishop Denis Hart to the church hierarchy in Bosnia.
The decision to assign Father Mato Krizanac to a parish in Bosnia raises further questions about the church's resolve to clamp down on clerical sex offenders and dismantle its entrenched culture of protecting abusers.
Allowing priests to marry won't solve the paedophile problem
Catherine Pepinster | theguardian.com | Tuesday 15 July 2014
It's good Pope Francis is talking about the church's sex abuse problem and letting clergy marry, but they are separate issues
As an Argentinian, Pope Francis probably doesn't know about English diminutives. But he really ought to be called Pope Frank. This is not a man who minces words, as his recent comments about the sex abuse of children by priests makes clear. In a recent meeting with victims of such abuse he talked of the sacrilegious crimes committed by the sons and daughters of the church, and in an interview with La Repubblica this weekend he reportedly talked of abuse as a leprosy and as "the most terrible and unclean thing imaginable" (although it should be noted that the Vatican has since described the quotes as a "product of [the journalist's] memory … not the precise transcription of a recording").
Pope begs forgiveness for "sacrilegious cult" of church sexual abuse
July 8, 2014 | First Post
VATICAN CITY (Reuters) – Pope Francis told victims of sexual abuse by Roman Catholic clerics the Church should "weep and make reparation" for crimes he said had taken on the dimensions of a sacrilegious cult.
"For some time now I have felt in my heart deep pain and suffering," he said in his strongest comments yet on the crimes, delivered in the homily of a Mass with adult victims on Monday. "So much time hidden, camouflaged with a complicity that cannot be explained until someone realised that Jesus was looking."
Irish Archdiocese Official Reacts to 800 Children's Skeletons in a Sewage Tank: "We Can't Judge the Past"
June 6, 2014 By Terry Firma
I just learned that in Ireland, Father Fintan Monaghan, a Catholic Church official in whose archdiocese the skeletal remains of almost 800 children were found in a septic tank, weighed in with an opinion on the matter.
The bones, if you'll recall, are those of babies who were born to unwed mothers, and who died under the awful neglect of Bon Secours nuns between 1925 and 1961. The child mortality rate in Irish Catholic institutions for "fallen women" was reportedly as high as fifty percent.
Vatican unveils figures on its punishment of child abusers
Posted: Wed, 07 May 2014 17:24
Vatican unveils figures on its punishment of child abusers
The Vatican has, for the first time, revealed how it has disciplined priests accused of raping and molesting children.
According to the Holy See's UN ambassador in Geneva, Archbishop Silvano Tomasi, over the past decade, the Vatican has defrocked 848 priests who were believed to have raped or molested children, and sanctioned a further 2,572 priests for lesser offences. Sanctions included "a life of prayer and penitence."
Overall all, according to its officials, the Vatican handled more than 3,400 cases of sexual abuse since 2004.
Dutch Catholic bishop was child molester, says church commission
April 13, 2014 | Tom Heneghan
Paris: The Dutch Catholic Church, in a rare admission of guilt among senior clergy, has confirmed that a bishop who died last year had sexually abused two boys decades earlier. The diocese of Roermond said a church commission had found that accusations against former bishop Johannes Gijsen, dating back to his time as chaplain at a minor seminary from 1958 to 1961, were "well founded".
The admission came on Friday, the same day that Pope Francis made his first public plea for forgiveness for "all the evil" committed by priests who molested children, and said the Church had to do more to discipline wayward clerics.
Pope Francis asks victims of clerical sex abuse for forgiveness
By Tom Kington | April 11, 2014
ROME — Pope Francis on Friday made his first public plea for forgiveness on behalf of priests who have abused children.
"I feel compelled to personally take on all the evil which some priests — quite a few in number, [although] obviously not compared to the number of all priests — to personally ask for forgiveness for the damage they have done for having sexually abused children," the pope said in a strongly worded, unscripted speech.
The apology marked a change of tone by the pope, who has been criticized for paying scant attention to the clerical sex-abuse scandal rocking the Roman Catholic Church. Only last month Francis angered many victims groups by lashing back at a United Nations panel that accused senior prelates of covering up for abusive priests.
The Catholic Church Must Unite Against Homophobia
Frank Mugisha | Executive Director Sexual Minorities Uganda | 03/26/2014
The remarks about Uganda's Anti-Homosexuality Law made by Cardinal Peter Turkson of Ghana at a recent conference on human rights organized by the Vatican are a welcome intervention in a debate that has become dangerously overheated. Calling for the Law signed by President Yoweri Museveni in February to be repealed, the Cardinal said that "homosexuals are not criminals" and shouldn't be sentenced to life in prison.
Family seek disclosure from Catholic Church
By JOANNE McCARTHY | March 20, 2014
IN a nursing home bed, a former Hunter nun, who was a priest's sexual partner from the age of 15, spends her days in the silences of advanced dementia while her brother demands the truth from the Catholic Church.
The priest, Father Noel Geraghty of the Catholic order Oblates of Mary Immaculate, died in 2005 without the long-term relationship being acknowledged in public by the Church, although it has confirmed it in writing to the nun's family.
Persuasive power of priests
By JOANNE McCARTHY | March 14, 2014,
IN 1989 a couple travelled to an isolated farmhouse in the southern highlands for time alone.
The mood was strained.
For the previous year the woman had been recovering from major surgery to correct a serious physical disability involving her hips and legs.
The man was distracted and aloof. Although that had been a feature of their relationship since he first suddenly and forcefully kissed her in her parents' house in 1976 when she was 22 and he was 30, and a few months later had sex with her, the woman sensed there was something more as they settled in for their four-day getaway.
Claim over secret sex with priest
By JOANNE McCARTHY | March 7, 2014
A WOMAN taking ground-breaking legal action against the Catholic Church after a 14-year sexual relationship with a priest hopes it opens the doors for other women struggling after secret relationships with clergy.
Jennifer Herrick, 60, was 19, sexually naive and had a severe physical disability when Father Tom Knowles, then 27, suddenly grabbed her in her parents' home and kissed her after a church event. She was 22 when he initiated sex.
Vatican 'must immediately remove' child abusers – UN
5 February 2014 | BBC News Europe
Kirsten Sandberg from the UN Committee on the Rights of the Child (CRC) said a "code of silence" had been imposed on children
The UN has said that the Vatican should "immediately remove" all clergy who are known or suspected child abusers.
The UN watchdog for children's rights denounced the Holy See for adopting policies which allowed priests to sexually abuse thousands of children.
In a report, it also criticised Vatican attitudes towards homosexuality, contraception and abortion.
Catholic Church sets up committee to fight child abuse
Blog by Anna Vesterinen , Friday, 6th December 2013
Any action to prevent abuse by priests is to be welcomed, but the Vatican's evasion of difficult questions at the UN suggests there are still reasons to doubt the Church's transparency
On Thursday, the Archbishop of Boston announced that Pope Francis is to set up a committee to fight sexual abuse of children in the Catholic Church. The committee will keep the Pope informed about the programmes in place for the protection of children, and formulate new initiatives to prevent abuse. The pontiff promised shortly after his election to take "decisive action" on clerical child abuse – a scandal that has rocked the Church all over the world.
Read more
Catholics to tackle the hard questions
November 4, 2013, The Age, by Barney Zwartz
Catholics around the world are being asked their opinions of church teachings on divorce, same-sex marriage and contraception to inform a Vatican synod on the family next October
Church 'healing' is strangling victims
October 5, 2013, Judy Courtin, The Age
The Catholic Church's Truth, Justice and Healing Council has submitted a 200-page submission to the Royal Commission on Institutional Responses to Child Abuse. At first glance, it reads well: compassionate, understanding and victim-focused. It acknowledges criticisms and proposes changes to the church's Towards Healing process.
But, when dissected, much damaging rhetoric emerges.
Read more

Pope Francis denounces abortion as George Pell clarifies church stance on social issues
September 22, 2013, ABC news/wires – online
Pope Francis has denounced abortions as a symptom of a modern "throwaway culture", a day after criticising the Catholic Church's "obsession" with social issues, such as contraception and homosexuality.
Time for 'Catholic spring' and Vatican III: bishop
June 1, 2013, Barney Zwartz, The Sydney Morning Herald
The bishop who designed Australia's Catholic clergy sex abuse response wants a "Catholic spring", a people-power movement to force the Vatican to tackle the abuse crisis at its source.
Retired Sydney bishop Geoffrey Robinson has launched a petition for ordinary Catholics to seek another global church council like the 1960s reforming Vatican II council. But at "Vatican III", he says, there must be as many lay people as bishops to make sure the hard questions get asked.
He believes that only a "Catholic spring" like the revolutions that ended the Marcos regime in the Philippines, totalitarian governments in the Arab world and communism in eastern Europe will move the Vatican to make the changes that are needed.
Church victims win $1m
May 29, 2013, Jane Lee and Barney Zwartz, The Age
Eleven victims of child abuse, most at the hands of paedophile Christian Brother Robert Best, have won more than $1 million in compensation from the Catholic order.
The victims have collectively received more than $1.1 million in private settlements with the Christian Brothers since they began negotiating last November, their lawyer, Viv Waller, said.
The Christian Brothers told the state inquiry into child abuse earlier this month that they had spent more than $1 million defending Best. In 2011, Best was sentenced to 14 years and nine months in jail for sexual crimes against 11 boys at schools in Ballarat, Box Hill and Geelong during the 1970s. Most of the boys were also abused by other Brothers.
Pope Francis urges global leaders to end 'tyranny' of money
By Nick Squires, Rome, The Telegraph, 16 May 2013
Pope Francis has attacked the "dictatorship" of the global financial system and warned that the "cult of money" was making life a misery for millions.
He said free-market capitalism had created a "tyranny" and that human beings were being judged purely by their ability to consume goods.
Money should be made to "serve" people, not to "rule" them, he said, calling for a more ethical financial system and curbs on financial speculation.
Countries should impose more control over their economies and not allow "absolute autonomy", in order to provide "for the common good".
The gap between rich and poor was growing and the "joy of life" was diminishing in many developed countries, the Argentinian Pope said, two months after he was elected as the successor to Benedict XVI.
Religious Remark Confirmed in Irish Abortion Case
By DOUGLAS DALBY, New York Times, 11 April 2013
DUBLIN — A woman who died after being refused a potentially lifesaving abortion even while she was having a miscarriage was told that her repeated pleas could not be granted because Ireland is a Catholic country, an inquest has confirmed.
In a case that has reignited tensions over Ireland's strict abortion laws, Ann Maria Burke, the midwife who attended to the pregnant woman, said at the inquest in Galway on Wednesday that the remark "had come out the wrong way" and that she had not meant it to be hurtful.
Abortion plea fell on deaf ears in Irish hospital
The Age, Damien McElroy, April 10, 2013
Savita Halappanavar died at an Irish hospital after she was allegedly denied an abortion.
An Indian dentist who died in an Irish hospital after she was refused an abortion had already been told by medical staff during her ordeal that the foetus could not survive, an inquest has heard.
Savita Halappanavar died after a consultant told the couple an abortion was not allowed because "this is a Catholic country", her widower Praveen Halappanavar told the court in Galway city.
At the start of the inquest on Monday, Mr Halappanavar said his wife was taken to hospital in Galway in great pain after beginning to miscarry.
She had gone to the bathroom and "felt something hard come out and had to push it back".
The widower told the court how his wife cried loudly as the couple were told by a doctor that the cervix was open and the baby would not survive.
Pope urges determined action against sex abuse
Agence France-Presse | Saturday, April 6th, 2013
VATICAN CITY – Pope Francis has given his first pronouncement on the Catholic Church's pervasive paedophile priest scandal, urging Vatican disciplinarians to act "with determination" against the scourge.
Meeting on Friday with Monsignor Gerhard Ludwig Mueller, the head of the Vatican department that disciplines predator priests, the pope asked him to "act with determination in cases of sexual abuse," the Vatican said in a statement.
It was the first official word on the issue from the new pope, who was elected March 13 to succeed Benedict XVI whose papacy was marred by relentless paedophilia scandals with tens of thousands of victims over several decades.
Church must end the silence on child abuse
Peter Rolfe, Herald Sun, April 05, 2013
CHILD safety commissioner Bernie Geary has called for changes to Victorian law to force priests to report sex offenders to police, even if they learn of crimes at confession.
Mr Geary told a parliamentary inquiry into child abuse he would lobby the State Government to make all church staff legally bound to report sex crimes or face stiff penalties.
He said criminal law must be "strengthened" to incorporate mandatory reporting to police by religious groups where there is reasonable suspicion of child abuse.
"Churches should not be exempted from this obligation, regardless of where or how this knowledge of abuse is gained," he said.
Catholic Church can be more receptive to gays, says cardinal
2 April 2013, The Age
Weeks after returning from Vatican City, where he helped elect a new Pope for a worldwide church that is struggling with declining numbers and controversy over social issues, Cardinal Timothy Dolan said the Catholic Church could be more welcoming of gays and lesbians, even as he defended its opposition to gay marriage.
The interview came days after the US Supreme Court held oral arguments on the question of same-sex marriage, which is legal in nine states but not recognised nationally because of a 1996 federal law defining marriage as between a man and a woman.
Church used 'blackmail, secrecy'
Barney Zwartz, Religion editor, The Age, 27 March 2013
Sexual abuse in the Catholic Church gets covered up through a system of blackmail and "sacred silence", according to the founder of the Broken Rites advocacy group, Chris Wilding.
She said sexual activity by priests and bishops set up a pattern of institutional secrecy and a system of blackmail that reached the highest corridors of the Vatican.
Ms Wilding told the Victorian inquiry into how the churches handled sex abuse that celibacy was a myth, and that when a priest was promoted his sexual partners could also advance.
No forgiveness in silence
March 23, 2013, The Age, Andrew Purcell
As Catholics around the world celebrate the election of Pope Francis, a new film exposes the extent of the Vatican's complicity in covering up sex crimes against children. Mea Maxima Culpa: Silence in the House of God is the clearest indictment yet that Pope Francis' predecessor, Benedict, formerly Cardinal Joseph Ratzinger, shielded abusers, resisted turning over paedophile priests to the civilian authorities and sanctioned huge payouts to victims if they would keep quiet.
Last July, ABC's Four Corners exposed a cover-up in the Armidale diocese in which a known sex offender, referred to as "Father F" in church correspondence, was transferred between parishes rather than being prosecuted or defrocked. Two of his victims later committed suicide.
Vatican defends Pope from Dirty War accusation
March 17 2013, Daniel Wakin Vatican City, The Sunday Age
For the first time since the election of Pope Francis, the Vatican has formally defended him from accusations that, decades ago, in the so-called Dirty War in his home country of Argentina, he knew about human rights abuses but failed to do enough to halt them.
Vatican spokesman Father Federico Lombardi said there had "never been a credible accusation against him" relating to the period in the 1970s when he was the superior of the Jesuit order in Argentina.
Read more
Abbott urged to follow Pope against gay marriage, abortion
Daily Mercury, 14th Mar 2013
CATHOLIC politicians including Tony Abbott and Bob Katter have been urged to join the new Pope in making a stand against abortion and gay marriage.
Bernard Gaynor, who resigned from Bob Katter's party because it failed to oppose abortion, said Pope Francis was a powerful example to all Catholic politicians.
"Pope Francis has shown great courage to lead political opposition in Argentina against gay marriage and abortion," Mr Gaynor said in a statement today.
"Pope Francis has also warned Catholic legislators that they cannot support abortion or gay marriage and continue to receive Holy Communion."
New Pope: Francis believes gay adoption is child abuse
13 MARCH 2013 | BY JOE MORGAN, GSN
Argentina's Jorge Mario Bergoglio was chosen by the conclave of cardinals as the next leader of the Roman Catholic Church.
Pope Francis was elected as the leader of the Roman Catholic Church today (13 March).
Argentinian Jorge Mario Bergoglio, 76, was chosen by the conclave of 115 cardinals as a successor to Benedict XVI.
Tens of thousands of faithful Catholics broke into cheers as the white smoke indicated the new pontiff had obtained the required two thirds majority, which happened in the fifth round of voting over two days.
Retired priest charged with child-sex offences
By Elise Worthington, ABC NEWS, 12th March 2013
A retired Catholic priest has been charged with more than 50 historical child-sex offences, south of Brisbane.
Detectives from the Child and Sexual Crimes Unit have charged the 77-year-old man following an investigation that began last year into the alleged indecent treatment of children between 1977 and 1988.
Police allege more than a dozen children were molested in the Brisbane, Logan and Gold Coast areas during that time.
Tainted Pell out of race after lobbying
March 11, 2013, Barney Zwartz, Religion editor, The Age.
Cardinal George Pell, tainted by sex abuse scandals, has no chance of becoming the 266th pope after Australian critics campaigned to publicise allegations that have long dogged him to Italian media and voting cardinals, according to Australian commentator Paul Collins.
Following traditionalist guardians quick to report Australian infractions to Rome, progressive Catholics have lobbied overseas journalists and cardinals to make sure they are aware of the 2002 inquiry into allegations the Sydney Archbishop molested a 12-year-old boy several times in 1961.
New Atheism is dead
By ED WEST on Monday, 4 March 2013, Catholic Herald
The public has moved on from the anti-religious vitriol of the 2000s
Amid all the warm words expressed by public figures after Pope Benedict announced his retirement one comment rather stood out. "I feel sorry for the Pope and all old Catholic priests. Imagine having a wasted life to look back on and no sex," wrote Richard Dawkins on Twitter.
Even with the generally low standards of decorum on the site, the 71-year-old biologist's comment caused groans. For while he still has his fans and admirers, Prof Dawkins has been preaching to the choir for some time, and the choir shrinks as embarrassed followers slink away from the scene. New Atheism has finally had its day.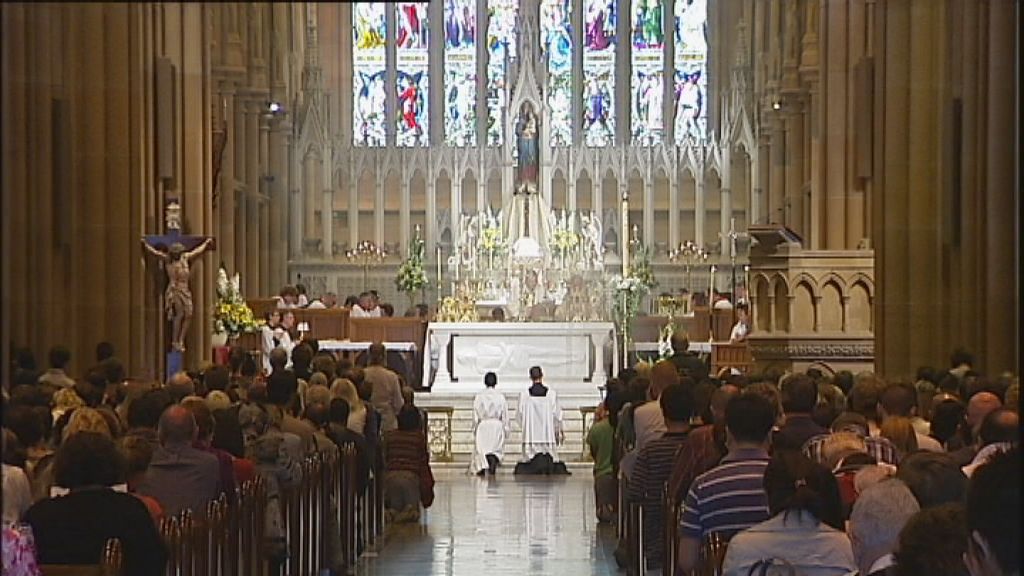 Catholic Church's attempt to evade responsibility for child abuse liability is stymied by Supreme Court
National Secular Society (UK), Thu, 28 Feb 2013 13:53
The Supreme Court has this week refused to hear a case from the Catholic Church that it could not be held responsible for abuse committed by one of its priests because he was not an 'employee'. This means the Catholic Church can now be financially liable for child abuse by priests working under its control.
The case arose when a Portsmouth woman brought a civil action against the Church after claiming she was abused by a priest at a children's home run by the Church.
The woman, identified in court as Miss E, was seven years old when she was admitted to the Firs Children' Home in 1970. She alleges she was sexually abused by Father Wilfred Baldwin, a priest of the Roman Catholic Diocese of Portsmouth, who died in 2006.
Questions over police role in church abuse handling process
ABC News, by Suzanne Smith, updated Thu Feb 28, 2013 7:42am AEDT
New South Wales police are facing fresh questions over whether they forged an unhealthy relationship with the Catholic Church in dealing with sexual abuse allegations against priests.
Lateline can reveal that for eight years to 2004, a senior police officer was an integral part of Towards Healing, the church's internal process for handling sexual abuse cases.
The state's former director of public prosecutions says that was a serious conflict of interest for police and should never have been approved.
In the mid-1990s, the Wood royal commission into police corruption was highlighting the need for greater child protection measures in the church.
As the level of disquiet grew about the church's handling of complaints, in 1996 it set up an expert panel known as the NSW Professional Standards Resource Group.
On that expert panel was a police officer from the sex crimes squad.
Sexual abuse 'in the DNA of Roman Church'
Australian Broadcasting Corporation, Broadcast: 26/02/2013, Reporter: Emma Alberici
Former monk and priest, and now advocate for victims of sexual abuse within the Catholic Church, Patrick J Wall, says sexual abuse of children has been part of the culture of the Catholic Church as far back as 60 AD and despite constant attempts by the Popes to curtain the problem, it has never been snuffed out.
Churches protected by trust laws
26th February 2013, Hamish Fitzsimmons
The Victorian inquiry into sexual abuse in religious organisations is likely to recommend a reform of property trust laws which allow churches to avoid being sued.
Cardinal Keith O'Brien resigns amid claims of inappropriate behaviour
Severin Carrell and Sam Jones, guardian.co.uk, Monday 25 February 2013 11.57 GMT
Pope accepts resignation of UK's most senior Roman Catholic cleric, who has been accused of 'inappropriate acts'
Cardinal Keith O'Brien is to resign amid allegations of inappropriate behaviour.
Cardinal Keith O'Brien, the UK's most senior Roman Catholic cleric, has resigned with immediate effect after being accused of "inappropriate acts" towards fellow priests.
News that Pope Benedict had accepted the cardinal's resignation as archbishop of St Andrews and Edinburgh came after the Observer disclosed a series of allegations by three priests and one former priest.
O'Brien has denied the allegations and had been expected to continue in his post as head of the Scottish Catholic church until mid-March, when he was due to retire at age 75.
Will you champion the anti-discrimination bill?
Petition: All Out – equality everywhere, February 2013
TO: ATTORNEY-GENERAL MARK DREYFUS
The proposed Anti-Discrimination Bill must be passed, with the recommended amendments of the Senate inquiry, before the 2013 federal election.
We, the undersigned, are committed to stand with Attorney-General Mark Dreyfus in sponsoring this bill to bring it through parliament.
See petition
New Study: Religion Helps Criminals Justify Their Crimes
February 20, 2013 By Hemant Mehta
A new study by Georgia State University criminal justice professor Volkan Topalli says that — wait for it — religion may not actually help criminals.
In fact, they just use Jesus to justify the shit they already do… Making them no different, really, from all other Christians.
Schools in doubt: Fears over funding, Canberra hearing told
16 Feb 2013, Herald Sun, Phillip Hudson national political editor
PLANS to build 12 new Catholic schools in Victoria have been thrown into doubt because of uncertainty about federal education funding.
And parents could face higher fees at Catholic schools if there is a shortfall in the Federal Government's multi-billion-dollar school funding overhaul.
Catholic Education executive director Stephen Elder issued the warnings at a federal parliamentary committee hearing in Canberra on school funding.
''We actually can't commit to those schools because we don't know what capital we're going to get,'' he said.
"Pope Benedict is human"
by Sean Faircloth posted on February 13, 2013 03:10AM GMT
Pope Benedict is human.  There are millions of good, kind, decent people who call themselves Catholic.  There have been many jokes about Pope Benedict not faced by Pope John Paul II.  Sometimes Pope Benedict has been unfairly attacked.  The fact that he was in the Hitler Youth should not be held against him for example; he was a child forced by German law to join.  Pope Benedict had a cousin who was killed by Nazis, a cousin killed because his only crime was to live with a disability.  The Pope comes from an incredibly religious childhood.  Many people who visit this page, ex-religious and sometimes currently religious, can perhaps relate to the Pope's early life.
What's God got to do with it? Remove religions' right to discriminate
Campaign created by Kimberley Ivory – January 2013
To: The Hon Julia Gillard MP, Senator the Hon Penny Wong, the Hon Nicola Roxson MP, the Hon Tanya Plibersek MP
Dear Prime Minister and Cabinet Ministers
You are to be commended for consolidating and expanding the breadth of Australia's Human Rights and Anti-Discrimination legislation. Without doubt this is an important step in making Australia a fairer place for all.
However, in order to do real justice to this progressive legislative, we believe the Government must also take this opportunity to remove the 'right' of religious groups to discriminate without justification against those they deem to 'offend their religious sensibilities'. This 'right' is afforded to no other group and the grounds on which this 'right' is demanded by and provided to such groups are unclear.
Calls to overhaul legal status of Catholic Church
Emily Bourke reported this story on Monday, November 19, 2012 08:13:00
TONY EASTLEY: There's renewed scrutiny of the legal status of the Catholic Church and how it avoids being sued by victims of abuse.
A court case in New South Wales five years ago found that the Church could not be held legally liable for abuse cases because the Church doesn't exist as a legal entity and it's also not liable for its priests nor their actions.
As Emily Bourke reports there are now moves now to change the laws, making the Church legally responsible and its assets subject to damages claims.
Disclaimer: we have links on our website that we think will be of interest to our members but we do not necessarily endorse the views and opinions expressed on those linked web-pages.