Articles in order of date – most recent at the top
Please email us with relevant news articles or petitions
******************
CBD rooms at a premium as Jehovah's Witnesses flock to Melbourne for convention
October 7, 2014 | Beau Donelly
The grand final is over, the Melbourne Cup still a month away. So why would the cost of a city hotel room in mid-October rival prices set during some of the nation's biggest sporting events?
The Jehovah's Witnesses are coming to town. About 70,000 of them.
From next week, pilgrims from the Christian denomination best known for door-to-door preaching will descend on Melbourne from 60 countries for their largest-ever gathering in Australia.
If ISIS Is Not Islamic, then the Inquisition Was Not Catholic
By Jerry A. Coyne | 13 September 2014
There is no such thing as 'true' religion
As ISIS slaughters its way though Syria and Iraq, it became inevitable that we'd hear from apologists who claim that ISIS is not in fact "true Islam," and that its depredations are due to something other than religious motivation. Those motivations, say the apologists, are political (usually Western colonialism that engenders resentment), cultural (societal tradition), or anything other than religion.
Religion "mustn't cause violence"
Posted: Wed, 10 Sep 2014 12:41 by Alistair McBay
Both media commentators and politicians seem keen to claim religion as a cause for good deeds but determined not to acknowledge it as a contributing factor to bad ones, argues Alistair McBay.
An article in the Scotsman in May by Joyce McMillan ran with the headline "Religion mustn't cause violence".
It reviewed the plight of the Christian girls in Nigeria captured by Boko Haram and sought an explanation for the "pseudo-Islamic" rationale the terrorists used to justify their violence and "ferocious misogyny". McMillan claimed this rationale tried "to make itself strange and fearful by calling on invented gods and twisting religious language to serve its own deepest impulses of violence, resentment, and hate."
Christian and Jewish leaders campaign to support Muslim community
Gabrielle Chan | theguardian.com, Friday 22 August 2014
Multi-faith religious declare 'We'll love Muslims 100 years' initiative to publicly support Australian Muslims
Christian and Jewish leaders have rallied to support the Muslim community, asking members of the Australian public to join them in a campaign called "We'll love Muslims 100 years".
Rabbi Zalman Kastel will join Australian Christian Churches pastor, Brad Chilcott, Tim Costello and other denominational leaders in three events in New South Wales, South Australia and Western Australia on Friday to declare their support for Australian Muslims.
Religious Freedom in Peril
JULY 9, 2014 | Nicholas Kristof
A Sudanese court in May sentences a Christian woman married to an American to be hanged, after first being lashed 100 times, after she refuses to renounce her Christian faith.
Muslim extremists in Iraq demand that Christians pay a tax or face crucifixion, according to the Iraqi government.
In Malaysia, courts ban some non-Muslims from using the word "Allah."
In country after country, Islamic fundamentalists are measuring their own religious devotion by the degree to which they suppress or assault those they see as heretics, creating a human rights catastrophe as people are punished or murdered for their religious beliefs.
This is a sensitive area I'm wading into here, I realize. Islam-haters in America and the West seize upon incidents like these to denounce Islam as a malignant religion of violence, while politically correct liberals are reluctant to say anything for fear of feeding bigotry. Yet there is a real issue here of religious tolerance, affecting millions of people, and we should be able to discuss it.
The devil's advocates
June 28, 2014 | SMH
You'd think getting a barbecue to heat up would be a breeze for Satanists. But when Tim Elliott attends a Church of Satan ritual, he finds the members surprisingly normal.
Despite the rain and the fact that we're standing in the middle of nowhere, in the dark, on the semi-rural outskirts of Brisbane, and despite the unexpected arrival of the police and the reality that the "altar" is actually just a tree, I'm pleased to report that my first officially certified Satanic ritual goes pretty much to plan.
According to the 2011 census, there are now more Satanists in Australia than Scientologists. This could be seen as cause for alarm, until you actually meet some Satanists, who, judging by the ones I'm standing with right now, are only marginally more intimidating than my daughter's primary school debating team.
Religion declines in well-run, trusting societies
April 26, 2014 | Posted by: Douglas Todd
"It turns out that some of the most cooperative, trusting and well-to-do societies on earth, such as those in Western Europe and Scandinavia, are also the least religious in the world and the most reliant on government," says Ara Norenzayan, author of Big Gods.
Imagine there's no countries
It isn't hard to do,
Nothing to kill or die for
And no religion too.
Imagine all the people
Living life in peace.
– John Lennon
John Lennon was a dreamer. But he was not the only one.
In his famous song, Imagine, Lennon was not alone in being convinced institutional religions – and nations – are the key causes of war and impediments to universal peace.
People Who Believe In Hell Tend To Be Less Happy, New Survey Shows
LiveScience | by Wynne Perry | Posted: 02/25/2014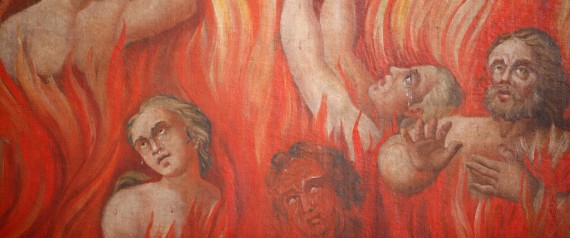 Fire, brimstone, eternal suffering — hell is not a pleasant concept. But research has pointed to the societal benefits of a belief in supernatural punishment, including higher economic growth in developing countries and less crime.
But there are also drawbacks, even in this life. A new study links believing in hell, and perhaps even thinking about it, with lower levels of happiness and satisfaction in life.
"It seems there is this trade-off," said Azim Shariff, an assistant professor of psychology at the University of Oregon.
On the importance of the right to offend
By Kenan Malik | THURSDAY, 30TH JANUARY 2014
'Thank you @Channel4News you just pushed us liberal Muslims further into a ditch'. So tweeted Maajid Nawaz, prospective Liberal Democratic parliamentary candidate for Hampstead and Kilburn, last night. He had every right to be incandescent. Channel 4 News had just held a debate about the Jesus and Mo cartoons and about the campaign to deselect Nawaz for tweeting one of the cartoons, not finding them offensive. Channel 4 decided that they were offensive and could not be shown. It would have been bad enough had the channel decided simply not to show the cartoon. What it did was worse. It showed the cartoon – but blanked out Muhammad's face (and only Muhammad's face).
Read more
The Danger of Banning Religious Garb
JAKE FLANAGIN | JAN 23 2014
The Canadian province of Quebec is debating whether to prohibit public employees from wearing clothing with "overt" spiritual symbolism.
"That's it, I'm moving to Canada." It's probably one of the most consulted entries in the modern American liberal's phrasebook. That, or, "I'm moving to France." Although it's far easier said than done (visas can be tricky), it's not hard to see why the sentiment is so popular among fed-up Democrats. Canada and France, home to universal healthcare, state-funded arts, and rigorous gun control, are generally havens of progressive values. One would think the province of Quebec, which stands at the cultural intersection of French and Canadian progressivism, would be the ideal liberal locale.
But Quebec could soon follow France's lead on government-enforced secularism and depart even more than it has previously from the policies of tolerance and multiculturalism that Canada is known for, all in the name of "values."
Religion on slide
30 Dec 2013 | Herald Sun | PETER MICKELBUROUGH peter.mickelburough@news.com.au
Young and educated reject church
WE love Christmas and spend billions celebrating the birth of Jesus Christ, but according to a new report, Australians are losing their religion.
In the past 100 years, the number of Australians reporting on the national census that they have "no religion" has jumped from one in 250 in 1911 to more than one in five in 2011.
In addition, many of those who nominate a religious affiliation do not actively participate in religious activities.
Supreme Court authorises Scientology wedding… and offers new definition of religion
By Ian Dunt, Wednesday, 11 December 2013
A woman has been allowed to marry in a Church of Scientology by the supreme court, in a move which saw the judges offer a new legal definition of religion.
Five Supreme Court judges slapped down a High Court ruling barring Louisa Hodkin from marrying in a Scientology chapel and said the building was a "place of meeting for religious worship".
The ruling overturns a 1970's judgement in which the court of appeal said Scientologist practices did not comprise religious worship because there was no "veneration of God or of a supreme being".
Deal with mosque, pastor told
March 12, 2013, The Age, Catherine Watson
SUPPORTERS of a mosque in Doveton's industrial area have urged anti-Islamic cleric Pastor Danny Nalliah and his followers in the Catch the Fire Ministries to learn to live with it.
Outside Casey Council chambers on Tuesday night, supporters were quietly jubilant after Casey councillors ticked off the mosque in accordance with a recommendation from their planners.
But Mr Nalliah who has led the campaign against the mosque, described the decision as "a sad day for Australia" and said his group would appeal to the Supreme or Victorian Court to overturn the decision.
A spokeswoman for the applicants, Sherene Hassan, urged Mr Nalliah and his followers to follow Jesus' precept and "love thy neighbour".
Disclaimer: we have links on our website that we think will be of interest to our members but we do not necessarily endorse the views and opinions expressed on those linked web-pages.