Articles in order of date – most recent at the top
Please email us with relevant news articles or petitions
**************
Iceland is great for women, but it's no feminist paradise
Annadís Greta Rúdólfsdóttir | theguardian.com, Wednesday 29 October 2014
Though we have the smallest gender gap between men and women, pay disparity proves we are not yet equal.
On Tuesday it was reported that Iceland has topped the charts for the sixth consecutive year as the country with the smallest gender gap between men and women, taking into account four key measures: political empowerment; educational attainment; economic participation and opportunity; and health and survival. Why is the country doing so well, and what should we read into this?
Overt or covert, sexism at work causes real harm
10 October 2014 | Victor Sojo
It is fairly common for media to report incidents of overt sexism and sexual harassment at work. Colleagues demanding sexual favours and verbal and physical abuse are examples of behaviour that have been called to account.
But the nature and impact of sexist actions that are more subtle, insidious, and frequent are less well-understood.
To close the gender pay gap we need to end pay secrecy
16 September 2014 | Michelle Brown
Women in full-time work take home A$283.20 per week less than their male counterparts, according to the Workplace Gender Equality Agency, which puts the gender pay gap at 18.2%. Put another way, Australian women have to work an extra 66 days each year to take home the same amount as a man. More disturbing is that the gender pay gap is increasing. Ten years ago the gap was 14.9%.
Why Norway says No Way to gender segregation in the military
13 August 2014 | Leah Ruppanner | Lecturer of Sociology at University of Melbourne
Earlier this year, Norwegian sociologists Ulla-Britt Lilleaas and Dag Ellingsen released a report on their country's armed forces entitled The Army: The Vanguard, Rear Guard and Battlefield of Equality. Counter to expectations, the study found that the recent introduction of unisex dormitories in the Norwegian army was associated with a decline in sexual assault.
Unisex dorms eroded gender divisiveness, which was replaced by a shared status as soldiers. Soldiers in these units developed a shared fraternity. This is not to say that some soldiers did not develop romantic relationships, but when they did they were separated from shared dormitories.
Not missing in action: the enduring penalty of 'being female'
23 July 2014 | Liz Temple | Lecturer in Psychology at Federation University Australia
While many aspects of working life have changed in recent decades, the inequality of outcomes experienced by male and female employees has been remarkably resistant.
Within corporate Australia the proportion of female chief executives in ASX200 companies only increased from 1.3% in 2002 to 3.5% in 2012. Executive management positions held by women increased from 8% to 10% while, for board directors, the proportion increased from 8% to 12%. The stats get worse when looking at the full ASX500: only 2.4% of CEOs are women, and they fill just 9% of executive positions and company directorships.
Australian women must hold their nerve until justice is served
27 January 2014 | The Conversation | Maree Keating
Australian men and women in relatively equal numbers obtain undergraduate and postgraduate degrees in political science, law, medicine, business and economics. There is no shortage of women academics, doctors, lawyers, political advisers or business strategists. But their numbers dwindle in the higher echelons.
Women hold far fewer professorships, parliamentary seats, board positions, senior corporate law jobs and top business leadership roles than men. When women do get into high-status positions, they often face a range of challenges that men do not. Even once they overcome these, senior women can draw criticism for operating in ways that replicate the norms of the male-dominated professional culture, rather than challenging them.
Women's human rights in contemporary Australia: how are we faring?
Magdalena McGuire, Social Policy Researcher, Good Shepherd Youth & Family Service
Good Policy Vol 9 No 2 summer 2013
Gender equality is, first and foremost, a human right. Women are entitled
to live in dignity and in freedom from want and from fear. – United Nations
The last few years have proved to be invigorating – and challenging – times for
advocates of women's human rights.  On the one hand, Australian women have made
significant gains in the area of equality. We have had our first female Prime Minister, Julia
Gillard, a leader who, despite the challenges she faced, remained incredibly productive
throughout her term in office. Indeed, it has been reported that Julia Gillard had the highest rate of passing legislation compared to any other Australian Prime Minister.
Like FGM, cut foreskins should be a feminist issue
November 18, 2013, The Conversation, by Rebecca Steinfeld

Making a comparison between male and female genital cutting is usually dismissed or condemned. When, for example, the Council of Europe recently passed a motion declaring both female genital cutting (FGC) and the circumcision of young boys for religious reasons "a violation of the physical integrity" of children.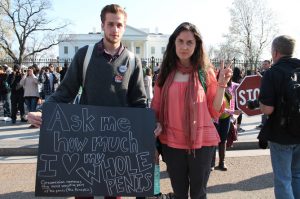 Read more

Saving women and girls
May 28, 2013, Michael Short, The Age
The violence committed against women and girls by men is a global scourge. And it is only one of the barriers to women and girls attaining their full human rights and achieving their potential.
In so many places around the world, the access of women and girls to economic and political participation and to basic reproductive health measures is blocked by outdated systems and structures controlled by men.
One might like to think that in liberal democracies such as Australia, women do not suffer discrimination. But that is not so. Women are sorely under-represented in positions of power here, continue to carry an unfair share of domestic responsibilities, earn less than men and are the victims of widespread violence.
Disclaimer: we have links on our website that we think will be of interest to our members but we do not necessarily endorse the views and opinions expressed on those linked web-pages.