Articles in order of date – most recent at the top
Please email us with relevant news articles or petitions
*****************************
Does God belong in school?
Thursday 5 February 2015
Australia pioneered the concept of free secular education in the 1800s, and the rest of the world followed. But today, around one third of Australian children attend private schools that are mostly Christian.
Is the dream of our forefathers to ensure an egalitarian and secular education slipping away? Does God belong in the classrooms of our public schools? Kylie Grey examines the future of religious education in Australia, and whether God still has a role to play in state schools.
Progressive Christians oppose Chaplaincy Program
Reverend Dr Ray Barraclough 25 November 2014
While the Government can't find money for the ABC and SBC, it continues throwing it at school chaplains. A group of progressive Christians says there are valid questions about the administration, ethos and very existence of the Government-funded Chaplaincy Program, writes the Reverend Dr Ray Barraclough.
A group of progressive Christians is calling for a fundamental reshaping of the government-funded Chaplaincy Program in state schools. This is no minor issue for up to $700 million has been spent or earmarked for the program.
Finding common ground between faith and freethought … ?
25 November, 2014 by Meredith Doig
Over the past year or so, a number of us within the freethought movement have reached out to the "interfaith" community, challenging them to think beyond the confines of faith and begin talking with those of us who follow no faith.
As a result, RSA President Meredith Doig was invited to join a panel at the Australian Association for Religious Education conference in November 2014. Others on the panel were Elida Brereton (Chair of ACCESS Ministries), Adel Salman (director of Arkan Toledo, Islamic Special Religious Instruction), Naomi Swindon (Scripture Union) and Gersh Lazarow (Senior Rabbi of Temple Beth Israel).
Why is this happening in public schools in 2014?
Katherine May | Sunday 23 November 2014
As a parent you want to protect your child, wrap them up and keep them safe, shelter them from the storms that lie ahead. I have a four year old and at the moment I am lucky enough that he talks to me about his problems, his fears and his hopes. But I am acutely aware that I won't always be his confident. A day will come when problems arise and he needs others to talk to, friends, his father, a teacher, a school counsellor perhaps. And I welcome this because emotional support, sharing, and brainstorming problems is healthy, it's the best way to move forward.
Church of the Flying Spaghetti Monster aim for school smorgasbord
November 16, 2014 | Sam de Brito
A battle of, dare I say it, biblical proportions is taking place in schools as an unjustly derided religious minority fights to take its place beside the more established faiths taught to our children.
The Church of the Flying Spaghetti Monster (FSM) has millions of "Pastafarian" followers worldwide preaching peace, dressing as pirates and embracing the contradictions of their faith (though they're not Robinson Crusoe in that regard). Crusoe, by the way, was Pastafarian, a fact confirmed by his mode of dress.
Elwood Primary School parents turning away from religious education classes
DANA MCCAULEY PORT PHILLIP LEADER NOVEMBER 11, 2014
RELIGIOUS education has become so unfashionable that Elwood Primary School no longer teaches the subject.
While last year the school had pupils enrolled in Jewish, Catholic and Christian studies, this year not one child has participated in faith-based lessons.
Principal Rob Csoti said parental support for special religious instruction had dropped to just 15 per cent of the school community, making it "impractical to facilitate the program" this year.
Schools to lose student welfare officers under chaplaincy program
November 5, 2014 | Jewel Topsfield
Student welfare officer Prue Robertson never knows exactly what her day will entail. A child may have had a tough weekend because his pet died. Year six students might be anxious about the transition to secondary school. Or a child whose parents are separating may need counselling. "Every day is different," Ms Robertson says.
A qualified social worker, Ms Robertson was employed under the national school chaplaincy program after the Gillard government allowed schools the option to choose a secular welfare officer or counsellor.
Ron Williams versus the school chaplains
October 31, 2014 | By Madonna King
Ron Williams has had two High Court wins against the school chaplaincy program, yet the Abbott government is pressing on, writes Madonna King.
On Williams watches his coffee turn cold. The 66-year-old is dressed in black pants and a dark-blue shirt, and with hair that boasts its own personality he looks more an ageing rocker than a suited-up High Court applicant – let alone victor in not one but two sensational cases against the Commonwealth of Australia.
Victorian school fights to keep its welfare support worker secular, not religious
By Karen Percy | Sun 26 Oct 2014
A central Victorian school is taking on the Federal Government over its policy to fund religious chaplains in public schools.
Parents at Campbells Creek Primary School, near Castlemaine, have gathered 1,600 signatures in support of their student welfare officer Prue Robertson.
Ms Robertson has held the position – which has been in place for two years – since March, assisting the school's 150 students and providing support for the teachers and giving parents advice.
Review of religious instruction at schools
By JOANNE McCARTHY Oct. 23, 2014
THE NSW Department of Education is to conduct an independent review of scripture and ethics in state schools.
It will survey the nature and extent of scripture and ethics in schools, how parents are advised of their choice of scripture or ethics, their right to opt out, how complaints are handled, and the need for annual confirmation by parents of their right to choose scripture, or opt out.
NSW Education Minister Adrian Piccoli accused of insulting religious schools
October 23, 2014 | Amy McNeilage
The head of Christian Schools Australia has berated NSW Education Minister Adrian Piccoli for insulting religious schools by suggesting some turn their back on needy students despite their wealth.
Mr Piccoli outraged Stephen O'Doherty, a former state Liberal education spokesman, by reigniting the debate about the responsibilities private schools have to support students with behavioural problems or disabilities.
Parents complain about religious seminars leaving their kids upset
OCTOBER 27, 2014
CHILDREN left out of religious seminars have been made to pick up papers instead, or have become upset when told they had missed out on ice cream, parents say.
Some parents have complained that if they opt to take their children out of the events — arranged by the same people who run the chaplaincy program in South Australia — their kids are discriminated against.
National Curriculum Review: the place of religion, belief systems and values
26 October, 2014 by Meredith Doig
The Donnelly/Wiltshire Review of the National Curriculum was released in October 2014. Below is a section of the Report called "The place of religion, belief systems and values in the Australian Curriculum" (pp 155 to 162 of the report) with our comments interspersed in gold.
Uniting Church threatens withdrawal from Access Ministries' religious instruction program
September 24, 2014 | Benjamin Preiss
The Uniting Church will withdraw from religious instruction in state schools unless the group responsible for the controversial program improves instructor training and abandons compulsory volunteer payments.
Uniting Church moderator Dan Wootton said church members held "deep concerns" about Access Ministries' policies and practices.
UNITING CHURCH OUTLINES FIVE REQUESTS FOR ONGOING
SUPPORT OF ACCESS ministries
Uniting Church Victoria | 23 SEPTEMBER 2014
The Uniting Church in Australia Synod of Victoria and Tasmania has resolved to issue five requests to ACCESS ministries, and if not satisfied with evidence of a positive response, will withdraw as a Supporting Church from 1 July 2015.
View Uniting Church Media Release
Greens MP John Kaye says school scripture figures are an 'utter fiasco'
By JOANNE McCARTHY Sept. 16, 2014
THE NSW Department of Education has shown a remarkable lack of faith in Hunter state high schools by refusing to release school-supplied scripture figures to the Newcastle Herald because it doesn't believe them.
Basic information about the number of children attending scripture classes at Hunter state high schools, the times of day classes are held and the religious denominations running them remain hidden, in a major vote of no confidence in the local schools implementing scripture guidelines, and the churches providing scripture figures.
Christian groups call on ACT and SA to accept school chaplains
September 8, 2014 | Primrose Riordan
The largest provider of school chaplains in the ACT is campaigning to push the ACT government to accept the federal government's school chaplain program.
In late August, Senator Scott Ryan, Parliamentary Secretary for Education, was forced to redesign the $244-million religious-only scheme so it was administered by the states after the High Court ruled its design invalid in June for the second time in two years.
Green Pastoral Support Workers
Posted on September 5, 2014 by Mr Brennan
I'd like to propose sending Green Pastoral Support Workers (GPSWs) in to our high schools, to encourage good values within our schools. Because members of other political parties, or no political parties, have no good values.
Only members of the Greens party would be eligible to apply for these taxpayer-funded jobs, of course. You'd need to prove that you're a signed-up member of the Greens party, and you'd need to attend regular party meetings before you'd be eligible. Anyone from any other political party (or no party) would be ineligible to apply. We only want dyed-in-the-wool, whole-hearted Greens supporters to become Green Pastoral Support Workers. There's nothing wrong with that, because they'll be Greens Pastoral Support Workers.
Read more
Black Dog Institute rejects dollars for chaplains proposal
September 1, 2014 | Primrose Riordan
The Black Dog Institute and mental health academics have come out against the federal government's religious-only school chaplain proposal, saying it lacks evidence compared to existing programs.
The comments follow the release on Monday of a study by the Black Dog Institute, which found its mental health awareness program was better at battling mental health stigma in schools than normal PDHPE classes.
Faith schools a 'religious affront' say coalition of religious leaders
Published 01 September 2014 | Ruth Gledhill
Faith schools are "a religious affront" and discriminate against children in ways that are incompatible with religious teachings about equality, openness and fairness, according to a coalition of religious leaders.
Such schools make religious faith seem "tarnished by discrimination" and lead to it being perceived as divisive, according to senior representatives from the Anglican, Catholic and other churches and faiths who today launched the first ever manifesto for faith schools.
Parents flee Access Ministries religion classes
Sunday 31 August 2014 | Background Briefing
The government's school chaplaincy program has already faced two High Court challenges and may soon face a third. Victoria's special religious instruction classes are just as controversial, with hundreds of parents withdrawing their children in recent months. Hagar Cohen reports.
South Australia, ACT reject Federal Government's offer to fund $250m school chaplaincy program
Lateline By John Stewart | Sat 30 Aug 2014
South Australia and the Australian Capital Territory have rejected the Federal Government's offer to fund a school chaplaincy program worth nearly $250 million, after non-religious counsellors were excluded from the scheme.
Across the nation 580 of the 2,300 school counsellors working for the chaplaincy program are not religious and will not be funded next year.
At Canberra's Dickson College, the school has a secular counsellor.
Hot topic: Religious instruction in schools
August 30, 2014 | Jacqueline Maley
Imagine this: A Muslim zealot hands out offensive brochures in a public school. The material tells impressionable children that girls who do not cover themselves invite sexual assault by tempting men (who are famously weak of flesh – it's the way God made them).
It also mentions that sex before marriage and masturbation are sinful, and a person who engages in them is akin to cookie dough being tainted with faeces. Any child experiencing homosexual feelings should seek counselling, just as you would for thoughts of self-harm, or you know, any other kind of mental illness. The Muslim organisation responsible later says these pamphlets were given out mistakenly. An investigation is launched.
A year in, Pyne's radical education changes have ignored evidence
28 August 2014 | Peter McPhee | Glenn C. Savage
Education Minister Christopher Pyne was appointed at a time of innovation, contention and uncertainty at all levels of schooling and higher education. One year in, his distinctive agenda is becoming clearer, even if the pathway to its implementation is studded with speed humps.
Pyne's vision for schools
In contrast to Labor's "education revolution", the Coalition's approach to schools has been more subdued since taking office a year ago.
ACT to demand secular counsellors in chaplaincy scheme
August 27, 2014 | Matthew Knott, James Massola and Primrose Riordan
The Abbott government is pushing ahead with a religious-only school chaplaincy scheme following a cabinet debate over whether secular welfare workers should be included in the program.
The ACT government has responded saying it will not administer the scheme unless schools can choose secular counsellors.
ACT Education Minister Joy Burch said the territory was willing to negotiate with the Commonwealth and welcomed any additional funding for schools.
Tony Abbott to keep secular workers out of school chaplaincy program
August 27, 2014 | Matthew Knott, James Massola
The Abbott government is poised to announce a revamped school chaplaincy program following two High Court rulings that the program is constitutionally invalid.
Fairfax Media can reveal the scheme will remain restricted to religious workers despite a cabinet discussion on Monday about including a secular option for schools. Prime Minister Tony Abbott argued against a change in the cabinet meeting.
School principals retain power to cancel religious instruction
August 25, 2014 | Benjamin Preiss
The state government insists principals retain the power to withdraw controversial religious instruction despite removing that provision from the latest direction to state schools.
The government has faced immense pressure from various groups on religious instruction in recent months. Earlier this year a ministerial directive sent to schools said principals did not have to provide special religious instruction (SRI) if there were "insufficient resources".
Call for review on scripture lessons
By JOANNE McCARTHY Aug. 20, 2014
THE NSW government should hold a review of scripture in state schools after Department of Education figures from Hunter schools raised serious concerns about possible guideline breaches, according to a human rights group.
Figures published in the Newcastle Herald raised questions about whether some schools tried to minimise the number of students who opt out of scripture, or provided misleading or confusing information about parents' right to have their children opt out, Human Rights Advocacy Australia said.
Students miss out as Christian group Generate Ministries moves in
By JOANNE McCARTHY Aug. 15, 2014
A CHRISTIAN group whose values include "entrepreneurial, servant-hearted leadership" has gained exclusive access to hundreds of Hunter high school students, and forced hundreds of others to lose many hours of teaching time.
The recently "rebranded" Generate Ministries, formerly known as Genr8 Ministries, has denied that students at nine Hunter high schools are taught its views against homosexuality, or its "repugnance" of same-sex marriage, during scripture classes in school time of up to one hour per week.
Schools face please explain on religious instruction
August 12, 2014 | Jewel Topsfield
Schools that stop offering special religious instruction this term will be ordered to provide an explanation after Education Minister Martin Dixon said they may not be complying with legislation.
Mr Dixon has also ordered his department to revise its new guidelines on religious activities in schools saying he never intended a ban on student-led prayer groups.
A new ministerial direction, which came into effect this term, said parents must clearly "opt-in" if they want their children to attend special religious instruction.
Cassowaries and chaplains: how to stop Canberra's conservation overreach
11 August 2014 | Allan Dale | Professor in Tropical Regional Development, The Cairns Institute at James Cook University
What do school chaplains and cassowaries have in common? Both highlight the degree to which federal governments struggle to devolve quality public decision-making to the right level.
Our schools and our wildlife both need good governance. But just as the chaplaincy program was slapped down by the High Court as an example of federal government overreach, the Commonwealth also needs to tread carefully to foster better regional and local conservation efforts.
School chaplain sacked over Facebook post calling homosexuality 'not normal'
By Tyson Shine | Fri 8 Aug 2014
A Hobart school chaplain has been sacked for re-posting a comment on Facebook that described homosexuality as "not normal".
Troy Williams was employed by the Scripture Union, Tasmania's main provider of school chaplaincy services which appoints and trains state and private school chaplains.
Mr Williams was stood down from his role at the Hobart College over the post, which also makes the claim that "no-one is born gay".
Mr Williams issued an apology after his Facebook post drew widespread condemnation earlier this month.
Let's stop trying to teach students critical thinking
9 August 2014 | Dennis Hayes | Professor of Education at University of Derby
Many teachers say they strive to teach their students to be critical thinkers. They even pride themselves on it; after all, who wants children to just take in knowledge passively?
But there is a problem with this widespread belief. The truth is that you can't teach people to be critical unless you are critical yourself. This involves more than asking young people to "look critically" at something, as if criticism was a mechanical task.
As a teacher, you have to have a critical spirit. This does not mean moaning endlessly about education policies you dislike or telling students what they should think. It means first and foremost that you are capable of engaging in deep conversation. This means debate and discussion based on considerable knowledge – something that is almost entirely absent in the educational world. It also has to take place in public, with parents and others who are not teachers, not just in the classroom or staffroom.
Religion should be taught secularly in our schools
6 August 2014 | Anna Halafoff | Lecturer in Sociology at Deakin University | Cathy Byrne | Sociology Tutor at Southern Cross University
Religion in schools is being debated once more in anticipation of findings from the controversial Review of the National Curriculum. This is a challenging topic locally and internationally. Can, and should, religion be taught in a secular context?
Conversation author Gary Bouma recently described the difficulties some groups are experiencing – adapting to the reality that Australia is increasingly both a religiously diverse and non-religious secular society.
God save me from those who think I'm lost
August 4, 2014 | Chris Fotinopoulos
Despite constitutional efforts to protect one's freedom from religion, God and religion continues to be imposed on Australians who do not wish to receive Him.
The last time I was instructed to observe God was at my state primary school in the early 1970s when all students were required to sing God Save the Queen at the beginning of assembly. And although God disappeared from school assemblies when Advance Australia Fair became our official national anthem in 1984, His presence persists to this day in certain state primary schools.
I, for instance, was surprised to discover that my nephew's state school instructs its students to recite the school pledge, which begins with the words "I love God" at the beginning of every assembly.
When a parent raised her concern with the school's principal, she was dismissed as "being petty". Adding: "We are, after all, a Christian society."
Read more
Anger over school prayer group ban
July 30, 2014 | Jewel Topsfield
Lunchtime prayer and bible study groups run by teachers or volunteers have been banned at state schools in Victoria under a new education department policy.
The new policy has angered Christian groups who say it could be in breach of human rights and religious freedom.
The ban, which has taken many by surprise, came into effect on July 14, as part of changes to the controversial special religious instruction requirements.
Students could learn more religion in schools
July 28, 2014 | Benjamin Preiss
State schools may soon be teaching more about religion, with a review to be carried out on the curriculum for primary and secondary students.
The Education Department has confirmed the Victorian Curriculum and Assessment Authority is reviewing the curriculum to better identify where religion is currently taught in schools.
An Education Department spokesman said learning about different religions built tolerance and cultural understanding. All students would be taught about religion as part of the curriculum, which is separate from special religious instruction conducted by religious groups. Religious instruction sessions must be supervised by a teacher but cannot exceed 30 minutes a week.
More schools opt out of religious education classes
By RACHAEL HOULIHAN July 28, 2014
AT least three more district schools have dropped religious instruction programs.
Allansford Primary School was believed to be the first school in Victoria to scrap the classes following a ministerial directive in May and other south-west schools have received a mixed response to the opt-in classes.
After the directive, all schools running the special religious instruction (SRI) lessons were required to obtain new consent forms from parents before the start of term three. Previously the SRI was an opt-out program.
Access Ministries revamps training for religious instructors in schools
July 25, 2014 | Benjamin Preiss | Education reporter for The Age
The main provider of the controversial Christian religious instruction in state schools has revealed plans to shake up training for instructors, with accredited courses offered through a private college.
Access Ministries' entry into the private training market comes after the resignation of chief executive Evonne Paddison.
Acting chief executive Dawn Penney has outlined her plans for the provider, including a more open and communicative relationship with the 12 Christian denominations that belong to the group.
Scripture in schools: it is "special" for a reason
By Chris Ashton | Thu 24 Jul 2014
Chris Ashton says it is a straw man argument to suggest religion is being woven into our public school system. Special Religious Education is "special" because of its limited participation.
Tim Dean's recent article is certainly a spirited defence of secular ethics classes, but as an attack on scripture classes it hardly lands a punch.
"Scripture" is the old name for Special Religious Education (SRE) in NSW, Special Religious Instruction (SRI) in Victoria and Religious Instruction (RI) in Queensland. Dean's attack misses the mark for a number of reasons.
Religious instruction at risk
15 Jul 2014 | HELEN VELISSARIS
Policy changes to the Special Religious Instruction program in state schools might endanger Greek Orthodox classes
Opt-in Greek Orthodox religion classes in state schools are being threatened as government changes favour scrapping the special religious instruction program (SRI) in schools that can't resource it properly.
Currently, schools are able to offer students a 30 minute religious class every week, with classes taught by an accredited instructor in a religion of choice.
Kew Primary School ends religious instruction classes
774 ABC Melbourne By Simon Leo Brown | Thu 19 Jun 2014
Kew Primary School has told parents it will no longer run Special Religious Instruction classes.
The classes, provided by Christian organisation ACCESS Ministries, will cease after the second school term ends on June 27.
Jacqui Tomlins, whose children attend the school, said the decision is a cause for celebration.
The old schoolyard, when raising cane was the norm
July 20, 2014 | Warwick McFadyen
It was just another school assembly at my high school in Newcastle. Impatient rows of kids from years 7 to 12 lined up in the quadrangle, fidgeting, listening, not listening, to teachers impart into a microphone messages, commands, warnings and reminders.
Then, something different happened: the principal ordered the girls back to their classrooms. The boys were to stay. This had never happened before. A buzz started gathering volume: what's going on?
Ethics classes rolled out to kindergarten students in New South Wales public schools
Lateline By John Stewart | Wed 16 Jul 2014
Ethics classes are being introduced to kindergarten students in New South Wales public schools this week.
This expansion of the schools ethics curriculum comes after a rapid rise in the number of state schools teaching the program.
"We are very much driven by demand," said the general manager of Primary Ethics, Alyssa Kelly.
"We are not evangelising ethicists. We actually require parent contact with us to say we want the classes."
Christopher Pyne's education adviser Kevin Donnelly has 'no problem' with corporal punishment
July 15, 2014 | Alexandra Smith
The conservative education academic Kevin Donnelly, hand-picked by Education Minister Christopher Pyne to review the national schools curriculum, says he has "no problem" with corporal punishment in schools.
Dr Donnelly said although the days of the cane were long gone from schools, corporal punishment could have a place in schools "if it is done properly" and "if the school community is in favour of it".
Commenting on figures that show suspension rates in NSW schools have risen 35 per cent over the past five years, Dr Donnelly said he knew of one or two schools in Australia that used corporal punishment.
Opportunity to consider a broader approach to religious study
July 11, 2014
ALLANSFORD and District Primary School is breaking new ground by announcing it is scrapping its religious program. It won't be the last.
Under new state government requirements, schools running the Special Religious Instruction classes have to seek consent from parents, asking if they want their child to participate. Previously parents had to sign a form to opt out of the program.
The subtle shift from opt out to opt in resulted in just 18 children, or 16 per cent, of pupils at Allansford being given permission to participate in the program when term three begins next week, leaving the school with little choice.
Our society places a heavy emphasis on individual freedoms, including choice, even on controversial subjects like religious education. It is right parents are given a say.
OPINION: Public school chaplains breach the faith
By JOHN KAYE July 8, 2014
THE Baird government should immediately remove chaplains from NSW public schools after the High Court ruled the national program unconstitutional last month and removed all regulation. There is no evidence that the chaplains add any benefit to schools.
Parents send their children to public schools expecting a secular education and not to be preached at by a minister of religion.
It is a breach of faith to have their children exposed to proselytising, made all the more galling because it is paid for by their taxes.
SCHOOL CHAPLAINS – A PSYCHOLOGIST'S PERSPECTIVE
FRIDAY, 04 JULY 2014 | WRITTEN BY Jacques Rizk
Having trained for eight years to become a psychologist and having spent the last 11 years working in the area of child and adolescent mental health, I have been watching the developments of the National School Chaplaincy Program with interest.
For the uninitiated, chaplains are employed by the Federal Government to provide spiritual guidance for those students seeking it in a secular environment; however, they often end up in essentially counselling roles. To quote from a Queensland chaplaincy employment agency's website, a requirement of chaplains is to: "demonstrate a living and personal relationship with Jesus Christ" and "provide social, emotional and spiritual support to students, parents and staff".
Read more
Jewish group fears new religious instruction rules threaten diversity in schools
July 4, 2014 | Benjamin Preiss
The Jewish instruction provider for state schools is seeking legal advice to ensure its lessons remain available amid concerns new conditions will undermine cultural diversity.
The United Jewish Education Board has told parents it is exploring "all avenues, including legal options" so Jewish children can continue to receive special religious instruction.
Remake school chaplaincy as a proper welfare program or scrap it
4 July 2014 | William Isdale | Research Assistant, T.C. Beirne School of Law at University of Queensland | Julian Savulescu | Uehiro Professor of Practical Ethics at the University of Oxford and Louis Matheson Distinguished Visiting Professor at Monash University
The High Court of Australia, for the second time, recently found that the National School Chaplaincy and Student Welfare Program (NSCSWP) is funded unconstitutionally, and so is invalid in its current form. The program, though, can be reconstituted through tied grants to state governments. The question is, should it be?
While the NSCSWP serves some legitimate policy objectives, the program in its pre-existing form is objectionable for at least two reasons. It should either be revived as a secular student welfare program or left extinguished.
Unlawful sex discrimination exposed in Muslim faith schools
Issue 57 Summer 2014 | national secular society (UK)

Following concerns raised by the NSS, three Muslim state schools have been told not to discriminate against job applicants on the basis of gender.
In January, we submitted evidence to the Department for Education (DfE) of a number of adverts placed by the Leicester-based Madani Schools Federation that prohibited women from applying from teaching and non-teaching jobs at an Islamic boys' school. Additional adverts were placed for the Madani Girls' School requiring 'female only' teachers.
George Brandis ignores his own insights into chaplains ruling
June 30, 2014 | George Williams
Attorney-General George Brandis is doing his best to hose down reactions to the High Court's finding that federal funding for school chaplains is unconstitutional. He has even described a statement that other programs are now at risk as "erroneous and ignorant".
On this point, the Attorney-General is wrong. Indeed, constitutional lawyers have been scratching their heads wondering how he can make the statement. It is true the only formal finding of the court is that the chaplaincy program is invalid. However, the reasoning used to reach that result undoubtedly has large implications for other federal schemes.
Casting the first stone on chaplaincy program
June 29, 2014 | Letters
Terrifying impressionable young people with arrant nonsense about eternal damnation should be regarded as child abuse and tackled accordingly. That it also undermines their trust in science, reason and healthy scepticism reinforces the urgency.
Jeremy Gilling Sydney
Chaplains appeal for donations to keep working in schools after funding stops
June 27, 2014 | Amy McNeilage
The NSW government will allow chaplains to continue working in public schools even without government funding, provided the school or church organisation can raise enough money to support them.
The state's main provider of school chaplains, Genr8 Ministries, is already appealing for tax-deductible donations in preparation for federal government funding to expire at the end of the year.
In an email newsletter this week, the Genr8 Ministries chief executive, Peter Robinson, said the organisation would seek to continue partnering schools with chaplains whether government funding was available or not.
God in the classroom – no thanks
June 28, 2014 | Tim Elliot and Alexandra Smith
Two years ago, Blue Mountains couple Ross and Kathryn Jarrett were woken in the middle of night by their six-year-son, Lucius, who was sitting bolt upright in bed, weeping inconsolably. "When I went in, he was saying 'I am a sinner, daddy, I am a sinner'," says Ross. "He was also clutching to his chest a colouring-in book that he had been given by his scripture teacher."
The book had a black cover, which Lucius said "is the colour of my heart, because I am a sinner". The next page was red, which, he said, "is me when I sin." The following pages were all different colours – green, which was meant to represent Lucius when he talked to God and asked for forgiveness; white ("for when I get closer to God"), and on the back cover, orange, which was intended to somehow signify, as the boy put it, "that I can never be as good as God".
Time to give chaplaincy money back to schools
June 26, 2014 | Sonia Hunt
With debate raging about the school chaplaincy program, it seems there is little understanding about the role chaplains play in our schools, compared with school counsellors.
In NSW, to be eligible to become a school counsellor a candidate must have a minimum of two years' teaching experience. In practice, most school counsellors, like myself, have had many years of teaching experience within the public education system. The teacher must also have a major in psychology, which involves three years of academic study.
School chaplains left to work without oversight
June 25, 2014 | Amy McNeilage
Chaplains will continue to work in NSW public schools for at least six months without the regulation or oversight of the federal government, after the High Court ruled the national program was unlawfully funded.
Despite the ruling, chaplains will remain in hundreds of the state's schools until at least the end of the year when existing funding dries up. In the interim, no government body is managing the scheme.
Anglicans: No chaplains, scripture in public schools
June 24, 2014 | Alexandra Smith

NSW public schools should spend government funding on tackling obesity and promoting wellness and positive psychology rather than the untested chaplaincy program that are in hundreds of the state's schools, the head of Sydney's Anglican Education Commission has argued.
As the Federal Government considers the fate of its National School Chaplaincy Program after the High Court ruled the commonwealth could not fund it, the executive director of the commission, Bryan Cowling, said there was no evidence the chaplaincy program was effective.
Expose kids to all views
Letters to The Age | Marion Harper | June 25, 2014

Supporters of Christian-based religious classes in schools seem to miss the point that our constitution so cleverly articulates. "Free, compulsory and secular" is what our sensible forefathers proclaimed, quite rightly. Those who select a religious-based school have that choice, albeit one they should pay for.
State schools that cater for Catholic, Protestant, Muslim and Jewish students and those whose parents have other views should provide a comparative religions course that teaches the history of religion and respect for all views. We are a multicultural society.
Showdown looms over chaplains in schools
June 20, 2014 | Jewel Topsfield | Education Editor for The Age
The federal government faces a showdown with some states over whether to allow schools to appoint secular welfare workers instead of chaplains in the wake of the High Court decision invalidating the existing funding agreement.
Schools across the nation – including Greensborough Primary School in Melbourne – fear they will be forced to sack non-religious welfare workers after the Abbott government announced in the budget that only chaplains would be funded under the program from next year.
But the federal government will now have to grant the $245 million directly to the states and territories and the ACT and South Australian governments have already flagged schools should be able to choose if they wish to appoint secular welfare workers or chaplains.
High Court school chaplaincy funding ruling forces Tony Abbott to rely on states
June 20, 2014 | Jane Lee, Benjamin Preiss, Matthew Knott
The Abbott government will have to grant $243.5 million to state and territory governments to continue its national schools chaplaincy program after a Queensland father successfully challenged its funding in the High Court.
Prime Minister Tony Abbott reaffirmed his commitment to the program within hours of the High Court's unanimous decision that federal funding for school chaplains via the Scripture Union of Queensland was unlawful.
Ron Williams took on school chaplaincy program and won in High Court
June 20, 2014 | Alexandra Smith | Education Editor
Ron Williams, a jazz singer and father of six, took on God and won.
The Toowoomba man can quote, almost verbatim, the press conference from 2006 when the former prime minister John Howard announced a national school chaplaincy program. It riled him then, and it still does now.
Religion being forced on kids
June 14, 2014 | D. SOMERS
PARENTS need to be informed about what special religious instruction, being delivered in our Victorian government primary schools by the Christian group ACCESS Ministries, involves.
Special religious instruction is indoctrination aimed at primary schoolchildren.  ACCESS makes it clear their mission is to convert as many to the Christian faith as possible.  Two recent assessments of the material delivered during special religious instruction deem it of little educational value.
Safe Schools program, chaplaincy scheme don't mix: esperts
June 8, 2014 | Jill Stark
A national program to protect gay high school students from bullying and discrimination is being undermined by the Abbott government's chaplaincy scheme, according to campaigners who fear religious-based counselling puts gay pupils at risk.
Some chaplain providers have been linked to homophobic views, and critics claim the government's decision to scrap funding for secular student welfare workers is directly at odds with its funding of the Safe Schools Coalition, to be rolled out nationally on Friday.
Over 170,000 sign petition opposing Budget commitment to school chaplaincy program
By: Rachel Ford | Wednesday, 4 June 2014
In last month's Budget announcement, Education Minister Christopher Pyne revealed that a total of $243.8 million will be made available over four years for 2900 schools to engage a chaplain.
The largest provider of school chaplains, Scripture Union Queensland, recently defended the chaplaincy program before the High Court for a second time after an attempt by a Toowoomba resident to prevent funding. The decision is yet to be handed down.
The National School Chaplaincy Program is set to replace the existing National School Chaplaincy and Student Welfare Program from January 1, 2015.
School chaplains: the Church of England's latest plan to evangelise in schools
Posted: Tue, 03 Jun 2014 12:49 by Stephen Evans | UK
School chaplains: the Church of England's latest plan to evangelise in schools
With the majority church schools now employing Christian chaplains, Stephen Evans questions whether public money intended for education should be used to fund the Church of England's missionary work.
A new study on school chaplaincy, published last week by the Church of England, has revealed that the majority of Church controlled secondary state schools and academies now employ a Christian chaplain, or team of chaplains, as a permanent presence on site. The majority are ordained ministers. Almost all are directly funded by public money through the school's own budget.
School Chaplains and Science Cuts
Monday 2 June, 2014 | Q&A
SCHOOL CHAPLAINS
Martin Boers asked: My 10 year old daughter has a congenital physical disability, is a wheelchair user, and attends a mainstream NSW public school. The cuts in education, healthcare and welfare will hurt our family badly enough, but the real kick in the guts during this "budget emergency" is the $245m being wasted on a National School Chaplaincy Program that will result in Christian preachers, who are supposedly not allowed to proselytise or provide counselling, displacing highly qualified secular social workers and psychologists. Why can't the government think of a better way to spend $245m on supporting some of the most vulnerable children in our public education system?
Victorian Department of Education to overhaul religious education after Access Ministries breach
By Karen Percy | 30 May 2014
The way religion is taught in Victorian primary schools will be overhauled after a report found that volunteers from the state's key provider Access Ministries breached its guidelines.
A Department of Education investigation found that Access Ministries volunteers gave out between 16 and 18 copies of Refuel 2, a so-called "Biblezine", at a Christmas performance at Torquay College in December last year.
CHAPLAINCY PROGRAM TO FUND GROUPS WITH LINKS TO HOMOPHOBIA
MONDAY, 26 MAY 2014 | WRITTEN BY James Findlay, Rachel Cook
Several organisations running chaplaincy programs in Australian schools have connections to homophobic campaigning and will benefit from the funding allocated in the Government's proposed budget, MCV has revealed.
Tony Abbott's Coalition has allocated nearly $250 million to Chaplaincy Programs over four years in the latest budget, which offers schools up to $24,000 per year to pay for a chaplain approximately two days a week.
ACCESS Ministries is one of the providers of chaplains in Victoria, providing approximately 330 schools with Special Religious Instructors, and came under scrutiny in February when it was revealed one of their educators was distributing homophobic materials.
Read more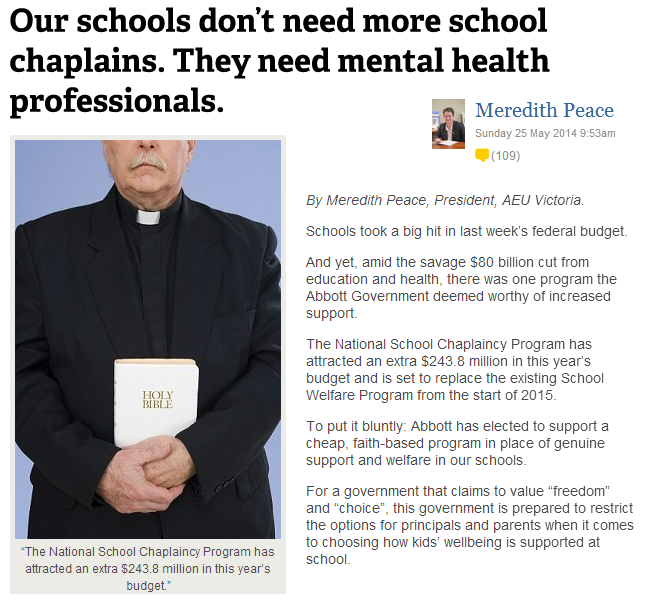 Read more
School Chaplaincy, the High Court and the Constitution
Wednesday, 21 May 2014 | Written by Chrys Stevenson
The pachyderm in the Parliament: what National School Chaplaincy reveals about government spending
An ardent secularist, Ron Williams is unequivocal about his motive for challenging the Federal government's right to fund the National School Chaplaincy Program.
"We're not religious, and I don't want my kids exposed to religious mumbo-jumbo," says the Toowoomba father-of-six.
"You can bring Santa to school. You can bring the Tooth Fairy, for all I care", he told The Australian in 2008. "What you cannot do is tell the children that any of this is true."
Budget: it will be chaplains, not secular social workers, at schools
Daniel Hurst, political correspondent | Wednesday 14 May 2014

National school chaplaincy program given $245m in funding, despite cuts to future school spending
Schools will lose the option of appointing secular social workers under the national school chaplaincy program, for which the Abbott government has found an extra $245m in budget funding.
While flagging big cuts to future school spending growth, the Coalition's first budget earmarks the funding over five years to continue the chaplaincy scheme originally put into place by John Howard.
SECOA opposes 2014 federal budget's sectarian policy on school chaplaincy
Posted on May 23, 2014 by Jaye Christie | SECOA Media Release
The Secular Coalition of Australia (SECOA) is vehemently opposed to the Federal Government's recent allocation of $245 million to the National School Chaplaincy Program in the 2014 budget. The government's intended action here is contrary to its own "independent" National Commission of Audit recommendation that the program be axed as part of its broader response to the alleged budget emergency. An appropriate response would be to allocate this funding for legitimate and much needed educational resourcing and evidence-based mental health care programs in our public schools.
"http://secoa.org/national-school-chaplaincy-program-media-release/" – Article no longer available
Brisbane school chaplain being investigated for proselytising after claiming his mission is to disciple school children and their families
TANYA CHILCOTT THE COURIER-MAIL MAY 18, 2014
A BRISBANE school chaplain who declared it was his mission to disciple students and their families is under investigation over the statement.
The investigation comes as the Abbott Government this week faced a barrage of criticism over its decision to extend the controversial School Chaplaincy program at a cost of $245 million amid savage budget cuts. But the program also has the strong support of principals across the state.
Scripture Union QLD has confirmed it is investigating the activities of a Brisbane chaplain after being contacted about his blog.
"Discipleship … is ultimately a journey deeper into a relationship with Jesus, and to becoming more effective at seeing and establishing the Kingdom of God in our world," the chaplain blogged earlier this year.
Children allocated places at Sikh academy offered alternatives – but faith school allocations continue to cause resentment
Posted: Thu, 15 May 2014 | National Secular Society (UK)
Parents who were allocated places at a controversial Sikh school against their wishes have all been found alternative places, the local authority has confirmed.
Bucks County Council have said 17 children have now been offered alternative places and 3 are holding out for schools they especially want, though alternatives are available if needed.
Future of religious instruction in schools depends on teacher supervision
May 15, 2014 | Benjamin Preiss
State school principals must offer special religious instruction when accredited instructors indicate they are available, the latest ministerial directive says.
The state government has clarified principals' responsibilities in special religious instruction, with an Education Department memo saying the sessions are "clearly opt-in" for parents.
The directive said principals must offer parents the "opportunity" for children to be given religious instruction if the principal received notification that an accredited instructor was available.
Concerns over religious hardliners inspecting independent 'faith schools'
Posted: Sun, 11 May 2014 09:13
Concerns over religious hardliners inspecting independent 'faith schools'
The National Secular Society has expressed concern that inspectors with extremist views are working for the body responsible for inspecting Muslims and Christian independent schools.
An investigation carried out by the Sun on Sunday found that the Bridge Schools Inspectorate, which inspects schools belonging to the Christian Schools' Trust and the Association of Muslim Schools throughout England, contains a number of fundamentalist Christians and Muslim hardliners.
Liberty and Equality: Australia's History of Schooling that Marion Maddox Doesn't Tell
David Hastie | ABC RELIGION AND ETHICS | 5 MAY 2014
"There is only love. There are no Arcadias. Whatever its variants of meat-cuisine, worship, divorce, human order has at its heart an equanimity." I love the poetry of Les Murray. He captures the endless sibling rivalry between Liberty and Equality in our national character.
When Liberty and Equality waltz in time, full of dry humour, this is Murray's state of national grace, a grace that is distinctly Australian. He calls it the "quality of sprawl," and "equanimity"
Abbott government expected to extend school chaplaincy program
May 2, 2014 | Matthew Knott
Chaplains are confident the Abbott government will reject the Commission of Audit's recommendation to abolish the $222 million school chaplaincy program.
The chaplaincy program, announced by the Howard government in 2006 and expanded by Labor, is due to expire at the end of this school year and is facing a second High Court challenge next week.
National School Chaplaincy Association secretary Peter James said he expects the government to keep its election promise and announce new funding for the scheme in the May budget.
Exempt children still receiving religious instruction in state schools
MAY 04, 2014
CONTROVERSY over religious instruction in state schools is set to reignite, with new figures showing up to 400,000 children should not be taking part in the program.
Principals are being accused of ignoring their own policies and allowing kids to participate in religious instruction (RI).
Civil libertarians and secular organisations maintain RI has no place in the state system.
Sex education failing say high school students
May 2, 2014 | Jill Stark
Teenagers say sex education in schools is inadequate, uses "scare tactics" and focuses too much on biology instead of issues such as the emotional challenges of relationships, sexual pleasure and consent.
Almost half of year 10 to 12 students believe the instruction they received was either irrelevant or only somewhat relevant to their lives, with one in 10 saying they had received no sex education at all.
Ethics program aims to teach children to 'think well'
April 23, 2014 | Konrad Marshall
Is it right to lie to protect someone's feelings? What should happen to people who light bushfires? Is war always wrong?
Starting in term three of 2014, primary students from three Victorian state schools will ponder these sorts of questions in a trial of a new after-hours class that could one day form a secular alternative to the controversial program of weekly special religious instruction.
The Humanist Society of Victoria is inviting primary schools to take part in "The Community of Ethical Inquiry" – an extracurricular enrichment program for students in grades 4, 5 and 6, which aims to develop "ethical understanding and clear thinking".
Religious educators in schools should not be misleading children
Dee Broughton | February 25, 2014
Once, I had no issue with it. My son was receiving Special Religious Instruction at school, just as I had in the '70s. I believed it was innocuous enough – he would be learning about such things as being a good friend, being a good person and colouring in pictures of Jesus. No big deal. And it was only half an hour a week.
One day, at our usual conversation at the dinner table, my son exclaimed, "Mrs Smith* said that there was no such thing as dinosaurs!" What? He went on to say that when he said that there must have been because there are dinosaur fossils all over the world, she responded, "God put them there". My son was confused. He had read countless books that told him dinosaurs roamed the earth millions of years ago, long before humans. While I did feel a little touch of pride that he had questioned her claim, her response was unpalatable and unacceptable to me.
Children do not deserve this kind of religious instruction
February 23, 2014 | The Age
A questionable code of Christian conduct is being peddled.
Zealotry is alive and well in Victoria. Its targets, however, are not anyone or any group who can bring their life experiences to bear in coping with its attention. The zealots are those who believe it appropriate to peddle their interpretations of the New Testament. The targets were grade six pupils at Torquay College.
The strand of religion is not the point of concern. There is no argument against the Christian faith. It is the manner of its delivery and the content of its message that deserves opprobrium. It is fundamentalist claptrap masquerading as some sort of moral Christian code that will lead to a virtuous life. It is nothing of the sort.
Priests Educate School Children on the Sin of Homosexuality
Fairness In Religions In School | 23 February 2014
Dear Ministers
"Biblezine" material in Government Schools We are writing to bring your attention the dissemination of homophobic material in public schools and seek an urgent meeting with you to discuss the steps to be taken to address this issue.
A parent of children currently attending Torquay College has approached us because she became aware of the content of a "Biblezine" handed to her child by ACCESS Ministries volunteers accredited to perform special religious instruction. The Biblezine contains material that discusses the "sinful" nature of homosexuality and speaks of God's disapproval of homosexuality. See this example below:
Blab (p364)
Q. I have known for a long time that I am gay, but I know the Bible says it is wrong. Still, I can't make these feelings go away. What can I do?
A. The Bible is very clear that homosexuality is a sin. Some people's gay feelings never go away, but you can choose not to act on them. Still, this is very serious. You need to find a trusted counselor to talk about this issue right away.
http://religionsinschool.com/wp-content/uploads/2014/02/FIRIS-BIBLEZINE-LETTER.pdf – No longer available
Access Ministries asserts its right to teach religion in schools
February 22, 2014 | Konrad Marshall
The main provider of Christian instruction in Victorian government schools contacted primary principals this week in an attempt to assert its right to deliver religious education.
Faced with general declining interest in special religious instruction, leading chaplaincy organisation Access Ministries sent a "clarification" email to all schools offering the program, while disputing its decline in popularity.
Primary school principals shut down religious education classes
Konrad Marshall | February 17, 2014
Hundreds of primary school principals have stopped offering weekly religious education in schools, despite a department requirement to offer the classes.
Current Education Department guidelines state that principals "must" schedule the contentious "special religious instruction" (SRI) classes in the school timetable when accredited and approved instructors are available, but Education Department figures suggest the number of Victorian state schools delivering SRI programs declined by almost a third in the past two years.
Philosophy is not religion. It must not be taught that way
Charlie Duncan Saffrey | theguardian.com | 30 January 2014
A new draft syllabus for A-Level philosophy has been published. Out goes free will and aesthetics – in comes compulsory philosophy of religion
For A-level students in the UK, there is only one exam board that runs a real philosophy course. And that's about to be changed into yet another religious education course.
For the last nine years, I have taught the AQA's A-level philosophy course. It's a good course, and the only one to represent the breadth of philosophy as a discipline in its own right. So I was somewhat surprised to learn that the AQA have this week, without warning or consultation, published a completely new draft syllabus, which is now just waiting to be rubber-stamped by Ofqual.
Intelligence Squared Debates: Faith-based Religious Education Has No Place in Public Schools
Melbourne Town Hall | 6:30PM – 8:30PM | Wednesday 26 February 2014
In the late 19th Century, the Australian government decreed that education should be compulsory, free and secular. Over time, most states have seen the 'secular' provisions in their education acts amended, insisting that Primary schools must allow for special religious instruction.
In this incendiary first debate of 2014, our speakers will examine what it means to move away from the secular model and towards a spiritual one; debating the merits of our current model of volunteer church run instruction, as opposed to a balanced study of comparative religions, and contesting where such religious instruction sits within the central tenet of Australian democracy – the separation of church and state. Participants will include Professor Marion Maddox, author of Taking God to School: The end of Australia's egalitarian education?, award-winning author David Vann, and Baptist Minister and World Vision Australia CEO Tim Costello, amongst others.
Victorian schools warned following complaints about religious education
Daniel Hurst, political correspondent | theguardian.com | Wednesday 22 January 2014
Concerns raised over evangelical Christian group prompts education department to remind principals of guidelines
Parents' complaints about a Christian group running religious seminars in public schools have triggered a warning from the Victorian education department to principals about potential policy breaches.
OAC Ministries – whose presentations often feature puppetry, music, games and storytelling – confirmed it was seeking legal advice on its continued ability to visit schools in Victoria, having attended at least 200 last year.
The group said it previously believed its members could present educational seminars in schools if those individuals were accredited by Access Ministries, the organisation authorised by the department to provide Christian religious instruction in Victorian schools. The public school visits were intended to educate students about what Christians believed in "fun and engaging ways" without breaching state guidelines.
Education authority denies that curriculum pushes Gaia worship
Bianca Hall | Political Correspondent | January 19, 2014
The national curriculum authority has dismissed reports by a federal Liberal MP that students are being "indoctrinated" into neo-pagan "Gaia worship" in schools.
Western Sydney MP Craig Kelly, a former rugby union player and small business owner, claimed on his Facebook page that the teaching of "Gaia worship" was proof that the national curriculum should be urgently reviewed. "This ideology, this neo-pagan religion is set to be indoctrinated into all Australian children," he warned.
Let's get "Secular" back in the Queensland Education Act
Posted link to website 17th January 2014
ATTENTION PARENTS – 'OPT OUT' is a myth!
According to Education Queensland centrally databased enrolment information, 91% of Queensland state school students are statutorily ineligible for placement into lay volunteer-provided evangelical Christian Religious Instruction without signed parental authorisation—they are required to 'opt-in'.
Should you be experiencing any difficulties whatsoever in having your child removed from illegal placement into Christian Religious Instruction in 2013, don't get mad—get furious! Please contact the BITA team immediately. We will act upon your behalf with absolute discretion and you will not be identified if that is your wish:
spel@secularpubliceducation.com
Ethics and Religious Culture School Curriculum – Quebec
Posted 14th January, 2014
Progression of Learning in Secondary School
Ethics and Religious Culture
Competency 2 – Demonstrates an understanding of the phenomenon of religion
At the secondary level, an understanding of the phenomenon of religion is based on acquired knowledge about the religious traditions that are present in Québec and about representations of the world and human beings that define the meaning and value of human experience outside the realm of religious beliefs and affiliation.
The following tables further describe the knowledge to be acquired for each compulsory theme of the religious culture component. The students work with this knowledge in learning and evaluation situations that incorporate the practice of dialogue. They use it to analyze various forms of religious expression, to make connections between forms of religious expression and the social and cultural environment as well as to consider various ways of thinking, being and acting.
Read more
Australia's 'Judeo-Christian heritage' doesn't exist
Tony Taylor, theguardian.com, Monday 13 January 2014 09.55 AEST
Christopher Pyne's newly appointed curriculum reviewer was quick to argue for more recognition of Australia's Judeo-Christian tradition in schools – never mind that it's a fallacy
Last week, federal education minister Christopher Pyne gave a totally deadpan promise of "balance" and "objectivity" when he launched a two-man review of the Australian national curriculum. The review process instantly provoked widespread criticism.
It was largely described as a political stunt, a point of view seemingly justified by the appointment of business academic Ken Wiltshire and education consultant Kevin Donnelly as reviewers. Both are regarded as outspoken conservative culture warriors with links to the Liberal party and Donnelly has had educational connections with the tobacco company Philip Morris . Donnelly has also published education articles for News Corp's The Australian newspaper, the most revealing of which was a muddled tirade entitled Conservative values need championing. Regarding Wiltshire, there will be more later.
Education reviewer Kevin Donnelly makes case for more religion to be taught in public schools
By Andrew Greene, 11th January 2014
There should be more religious education in Australian schools, says one of the men tasked with reviewing the national curriculum.
Former teacher and ex-Liberal Party staffer Kevin Donnelly says Australian education has become too secular, and the federation's Judeo-Christian heritage should be better reflected in the curriculum.
The review was announced yesterday by Federal Education Minister Christopher Pyne, after concerns the curriculum had become too left-leaning and was failing students.
ARE YOU CONSIDERING A CATHOLIC PLACE OF EDUCATION FOR YOUR CHILD IN 2014?
By JohnB, posted 2nd January 2014
Being born and raised in a Catholic home helped bring many insights into the religion of my birth, the following is what my Catholic education taught me.
Finding a balance between protecting and nurturing a child is difficult – religions such as Catholicism provide what they say is an unquestionable way to provide all of that through their religion.
That they are and have been wrong for centuries can not be questioned and cannot be denied or covered up when presented with the evidence.Catholicism teaches that it is the one true way while also teaching if you do not follow the way then it is right, just and proper to punish any who do not conform with their obviously false premises.
Read more
Private schools and the art of ripping off parents
Sally Young, 4th September 2013
Perceived advantages of private schools have led to a gradual exodus of students from state education, a trend out of step with the world.
It hasn't been highlighted during the election campaign, but the "education revolution" has already occurred in Australia, rapidly and quietly, over the past 30 years. Just one ABS statistic sums it up. In 1982, 76 per cent of Australian students attended government schools. In 2012, only 65 per cent did.
The move away from public schools to private, independent and Catholic schools began in the 1980s. The drift has been so consistent and uncritically accepted that, based on current trajectories, Professor Brian Caldwell of the University of Melbourne says our education system will have witnessed the private sector "go from a small minority to the preferred model of choice in fewer than 80 years".
Faith in schools: The dismantling of Australia's secular public education system
Chrys Stevenson | ABC RELIGION AND ETHICS | 22 OCT 2012
The Separation of Church and State Schools was the theme of a conference hosted in Brisbane by the Humanist Society of Queensland on the weekend of 13-14 October 2012.
With conference speakers including academics and representatives of teacher and parent groups, the conference focused on four key areas of concern:
The teaching of creationism and/or intelligent design as "science" in the science classroom
As Hugh Wilson from the Australian Secular Lobby noted, "Queensland's 1875 Education Act brought us "free, compulsory and secular" public education, of which only the compulsory element survives." The dismantling of Australia's secular public education system is a nationwide phenomenon. Although, as Catherine Byrne from Macquarie University said:
"Queensland has ended up with the least secular system in the country. It discriminates against those who do not want state schools to be centres of protestant conversion. It is undemocratic in that it supports particular denominations and blocks others; it is unsound in that it instils in children the idea of religious autocracy; and it is unwise because the division that it once aimed to alleviate it is now ensuring."
Byrne discusses religious education
Posted Fri 13 Jul 2012, 10:41am AEST, Source: ABC News | Duration: 4min 23sec
Dr Catherine Byrne from Macquarie University says children who opt out of religious instruction are being discriminated against in schools as they have no subject to take to replace it.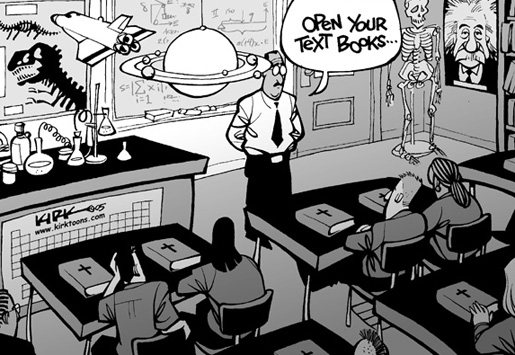 Rich enough? Do church schools really need government money?
Posted 9th June 2013
Australian churches are supported by the taxpayer though tax-exemptions as "charities" and their tax-exempt schools also receive substantial direct grants from the taxation citizens pay: a double whammy. The church schools always want more, but the churches themselves are not prepared to reveal their accounts to show that additional public funds are in fact needed. Author of The Purple Economy, Dr Max Wallace* reveals what is known about this murky situation and suggests a way to clear up the financial secrecy.
Introduction
This paper poses a paradox: the post-Gonski situation appears uncertain for mainly low SES government schools as the apparent government-in-waiting, the Coalition, have made a number of ominous statements as to whether they will follow through on the Gillard government's embrace of the Gonski funding reform.
Women at the back: Giving in to Islam at Melbourne Uni
Herald Sun, By Andrew Bolt, 26 April 2013
In principle, we should be free to associate as we choose.
The Left is furious when private clubs exercise that freedom. From four years ago:
Private clubs enjoy an automatic exemption from anti-discrimination laws and are free to restrict membership on attributes including gender.
Attorney-General Rob Hulls has indicated he would like to change the situation when state cabinet considers a rewrite of the Equal Opportunity Act, passed in 1995.
Major changes up for consideration include ending the automatic exclusion for private clubs and allowing the Victorian Equal Opportunity and Human Rights Commission to initiate its own anti-discrimination actions.
Ethics come in from the cold after Labor U-turn
Sydney Morning Herald, Amy McNeilage, Education reporter, 8 April 2013
EXCLUSIVE
Providers of ethics classes will be given the same tax deductions as for scripture classes, alleviating the threat of the lessons becoming financially unviable.
The federal government will announce on Monday that it has reversed its decision not to grant deductible gift recipient status to ethics providers, which means they will now be able to collect tax deductible donations.
Primary Ethics, which provides the classes in NSW schools, said the decision would enable it to train more volunteers and reach more students.
Last month Fairfax Media reported that the Labor government had rejected Primary Ethics' request for gift recipient status and the organisation warned that lack of funds threatened the future of its program.
Ethics class injustice sets wrong example for schoolchildren
The Sydney Morning Herald, David Hill, 28th March 2013
When I worked as the head of several of Australia's leading organisations, I was confronted with ethical dilemmas almost daily.
As ABC managing director, I once authorised the broadcast of a Four Corners program that reported on the workings of our overseas spy network, the Australian Secret Intelligence Service. The federal government said it would threaten what they claimed was the national interest but we thought there was a stronger argument for broadcasting in the public interest.
Without Jesus, our students are lost
March 6, 2013, Jacqui Tomlins Blog
A couple of weeks ago my kids came home from school (a local state primary) with a letter asking whether I would like them to undertake Special Religious Instruction (SRI). No, I wouldn't, I told the school – three times in heavily circled biro. It's not the first time I've been asked this question and every time it really, really annoys me.
So this year I thought I would undertake a little research of my own about SRI; about what goes on in other schools and about how other parents have dealt with this issue. To start with I looked at the legislation that governs this area, the Education and Training Reform Act (2006); section 2.2.10 Education in Government schools to be secular states that:
(1) Except as provided in section 2.2.11, education in Government schools must be secular and not promote any particular religious practice, denomination or sect.
(2) Sub-section (1) does not prevent the inclusion of general religious education in the curriculum of a Government school.
(3) A Government school teacher must not provide religious instruction other than the provision of general religious education in any Government school building.
(4) In this section "general religious education" means education about the major forms of religious thought and expression characteristic of Australian society and other societies in the world.
Ethics class provider denied tax deductible donations
2nd March 2013, ABC News
The Federal Government has rejected a request from the provider of ethics classes in New South Wales schools to be eligible for tax-deductible donations.
Ethics classes were introduced as an alternative for students who opt out of scripture lessons.
Primary Ethics currently runs the classes for 7,000 primary school students in New South Wales.
The organisation was seeking deductible gift receipt status, which is a provision available to groups running scripture classes.
But Assistant Treasurer David Bradbury has written back to Primary Ethics, arguing that he did not think the concession was warranted.
Ethics classes at risk as plea for tax relief refused
March 2, 2013, Josephine Tovey, Education Editor, The Sydney Morning Herald
THE future of ethics classes in NSW is in doubt, the provider says, after the federal government refused to allow it to collect tax-deductible donations in the same way providers of scripture classes in state schools do.
Funds established for providing religious instruction in public schools in Australia can claim Deductible Gift Recipient (DGR) status, a provision that is used by some religious groups to fund training and support for scripture classes in NSW.
The provider of ethics classes, Primary Ethics, which receives no government funding, made a special application to the federal government to also be granted DGR status, to fund ongoing training of its own volunteers and to develop its curriculum.
Appeal denied on religion classes
The Age, Jewel Topsfield, February 26, 2013
THREE parents have been refused leave to appeal a decision that special religious instruction at state primary schools did not discriminate against their children.
The Court of Appeal of the Supreme Court found that none of the proposed grounds of appeal had prospects of success.
Psychologist Sophie Aitken and two other parents alleged their children had been discriminated against because they were segregated from their peers on grounds of their religious beliefs when their parents opted them out of the classes.
But the Victorian Civil and Administrative Tribunal last year ruled no discrimination had been established against the parents' eight children.
Chaplains safe despite High Court ruling: Roxon
June 20, 2012, Dan Harrison and Bianca Hall, The Sydney Morning Herald
The High Court has ruled that the national school chaplaincy program is constitutionally invalid because it exceeds the Commonwealth's funding powers.
But Attorney General Nicola Roxon has told reporters in Canberra the government would continue funding the program, despite the landmark ruling.
The judgment could have implications for a raft of other federal government initiatives, from roads funding to arts grants and even private school funding
In its decision, one that could cast doubt on other areas of Commonwealth funding, the court this morning upheld a challenge to the scheme by Queensland father Ron Williams.
Toowoomba man wins court case challenging federal government funding of school chaplains
Steven Scott, Michael Madigan and AA, The Courier-Mail, June 20, 2012
A QUEENSLAND dad has won an historic court case that has overruled federal government funding for chaplains in schools.
In a case described as an attempt to "sue God", Toowoomba father Ronald Williams argued the school chaplaincy program was unconstitutional.
Mr Williams objected to the chaplaincy program at his children's school, Toowoomba's Darling Heights State School.
After a long-running legal battle, the High Court this morning backed Mr Williams' claims that the program is invalid under the Constitution.
The case could have huge implications for federal funding of other programs and organisations, including councils.
The majority of the court also ruled that payments the Commonwealth made to Scripture Union Queensland were not supported by section 61 of the constitution, which defines executive power.
Disclaimer: we have links on our website that we think will be of interest to our members but we do not necessarily endorse the views and opinions expressed on those linked web-pages.