On the 11 September 2014 Progressive Atheists joined with others from Equal Love, WACA and concerned individuals to protest against ACCESS Ministries provision of Special Religious Instruction and Chaplaincy in public schools.
Facebook Event | Religion in Schools | STOP Chaplaincy | Education News
********************
Protest Report
Speakers talked about shared concerns regarding ACCESS Ministries provision of Special Religious Instructors and Chaplains to public primary and secondary schools in Victoria.  Issues raised included concerns regarding negative treatment of LGBTI youth, the pushing of religious views regarding family planning and secular concerns regarding the Christian indoctrination of children in public schools.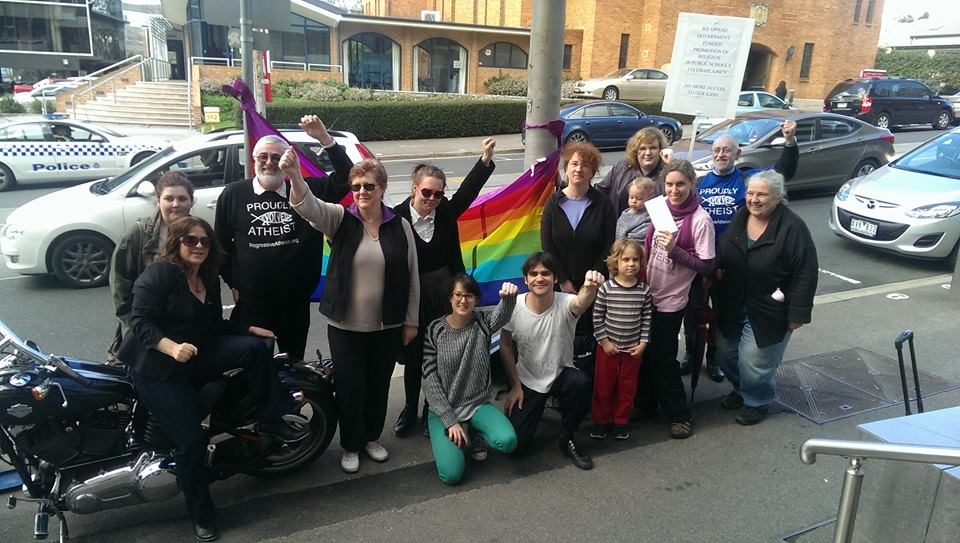 After the protest Progressive Atheists President – Alice Carr, along with a police escort delivered an Open Letter to ACCESS Ministries representative Rob Ward.  Mr Ward assured us that ACCESS Ministries would reply to our letter.
Open Letter to ACCESS Ministries | Protest Leaflet