Campaign Ends: Saturday, 28th March 2015
Posted: 24th March 2015
Survey Results
Result Charts for each Questions – See below (click to enlarge)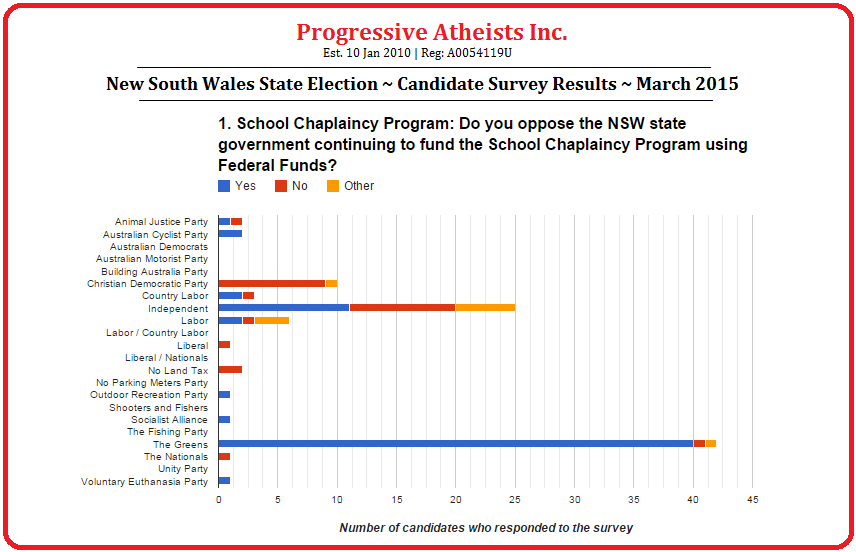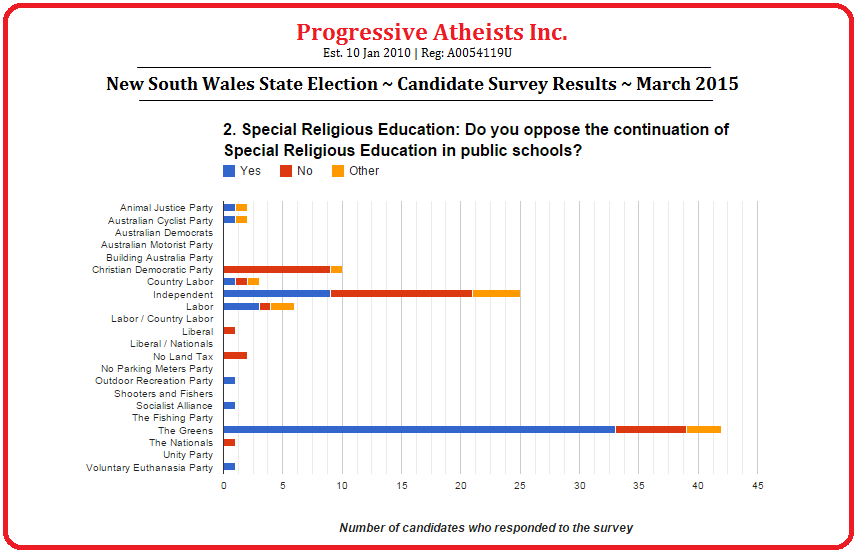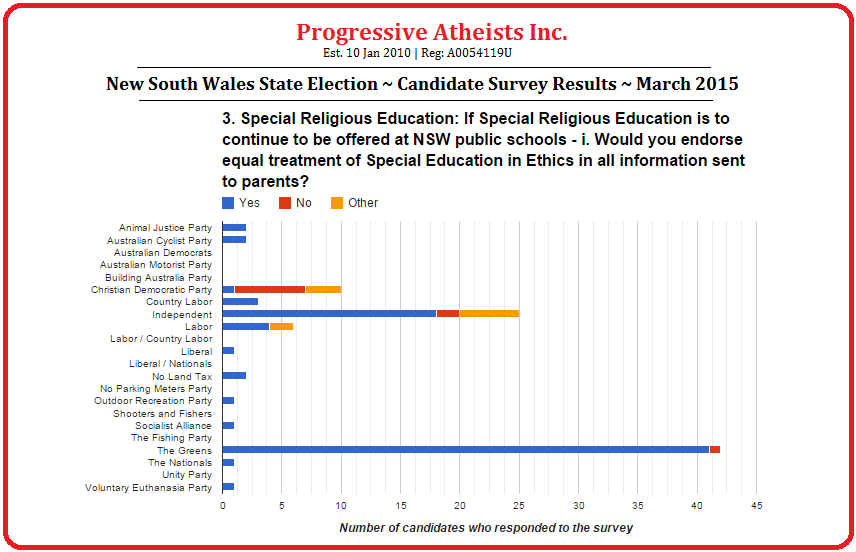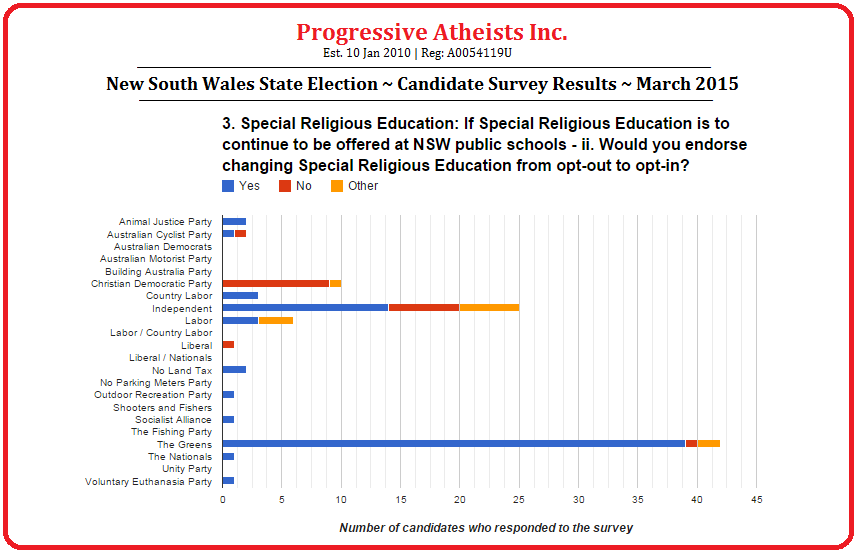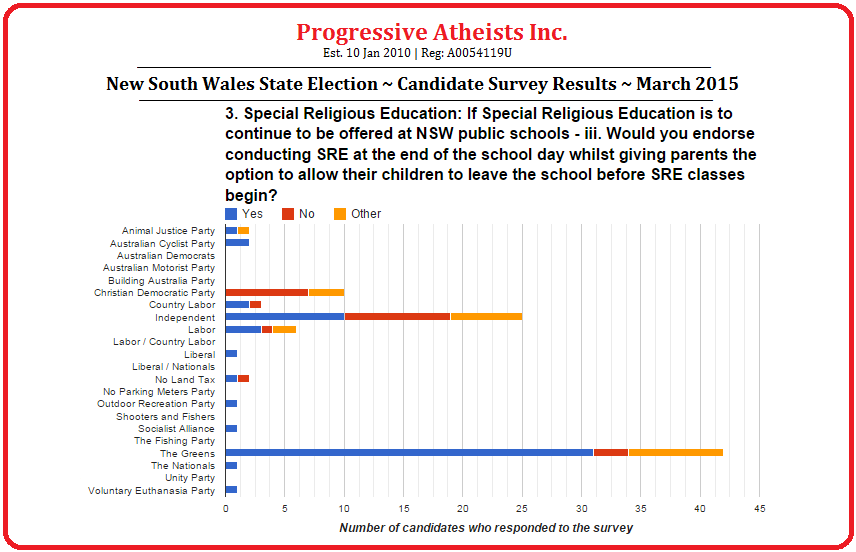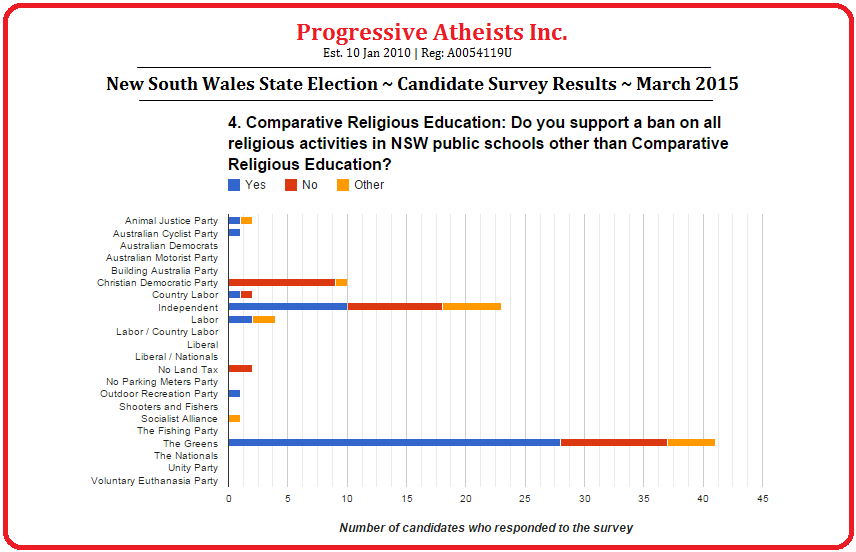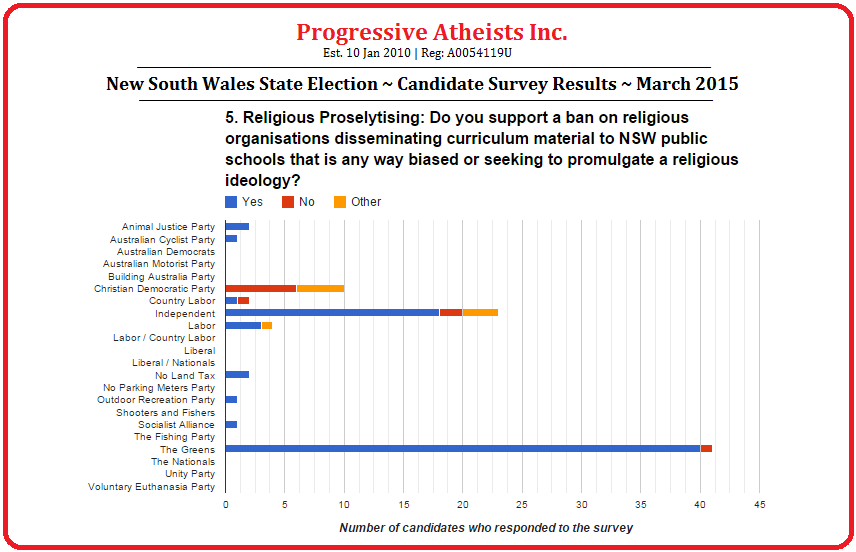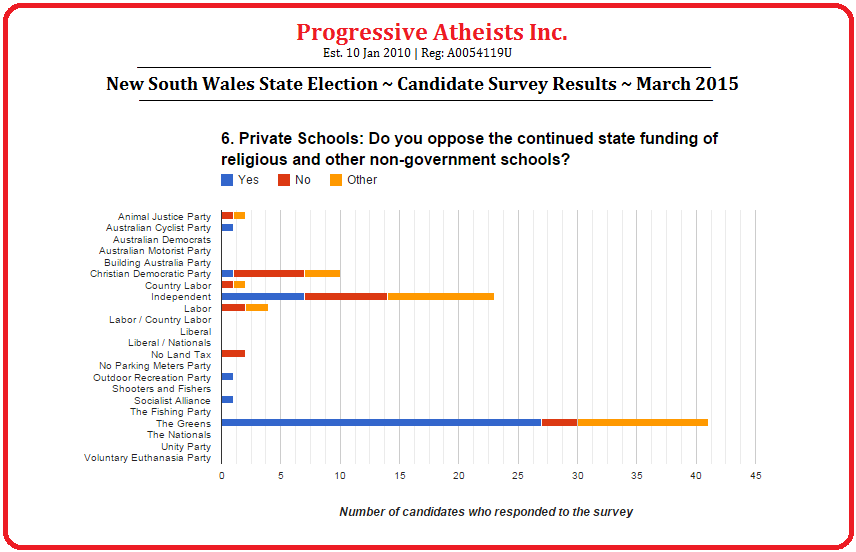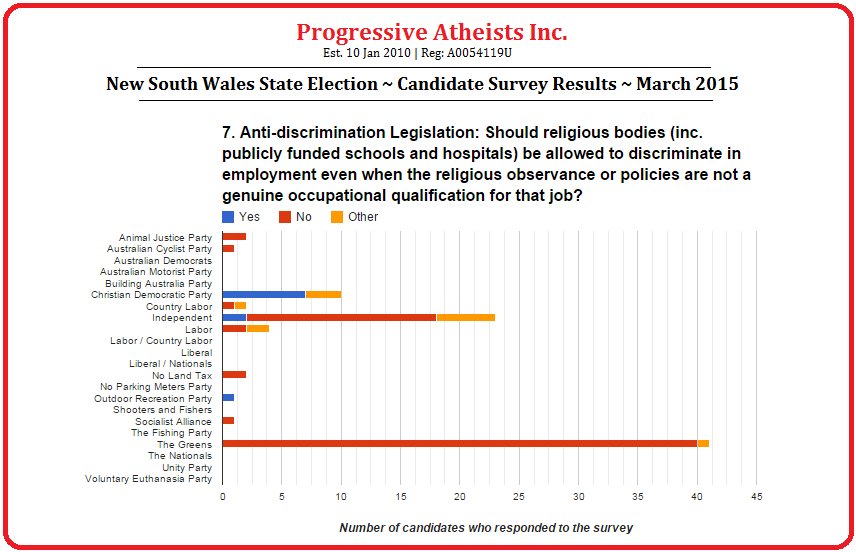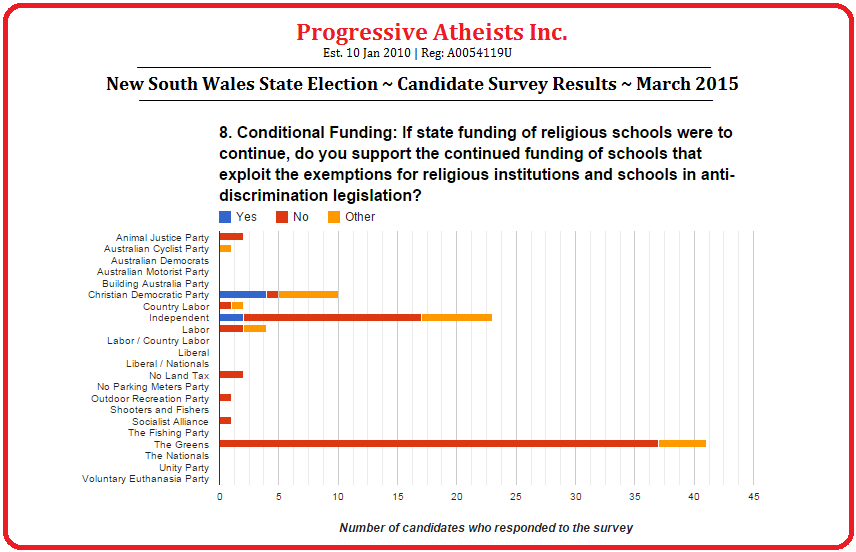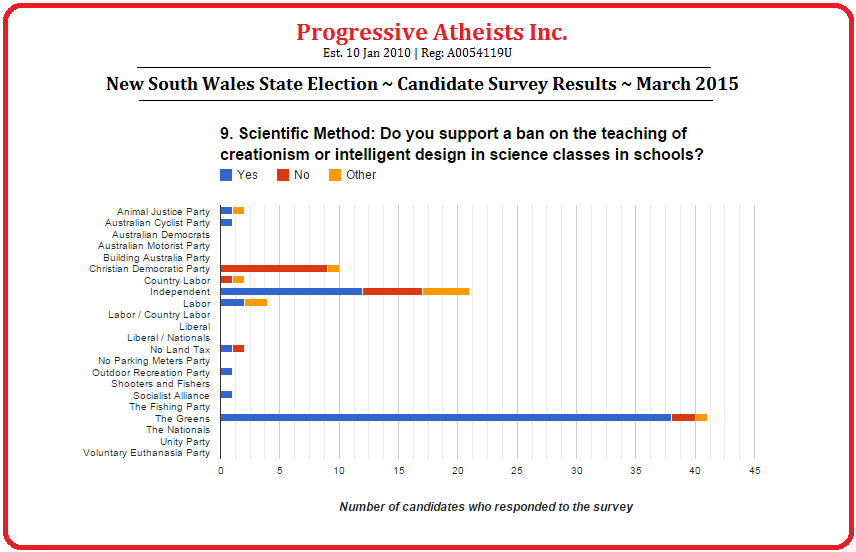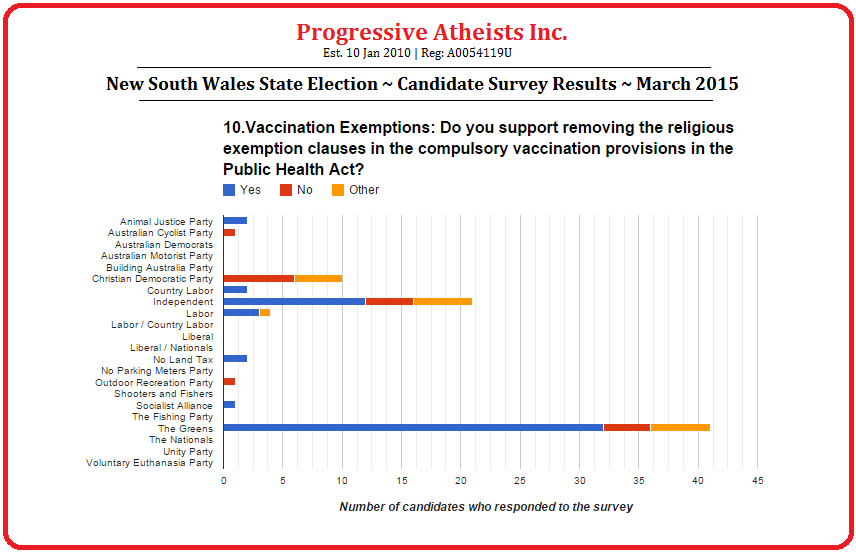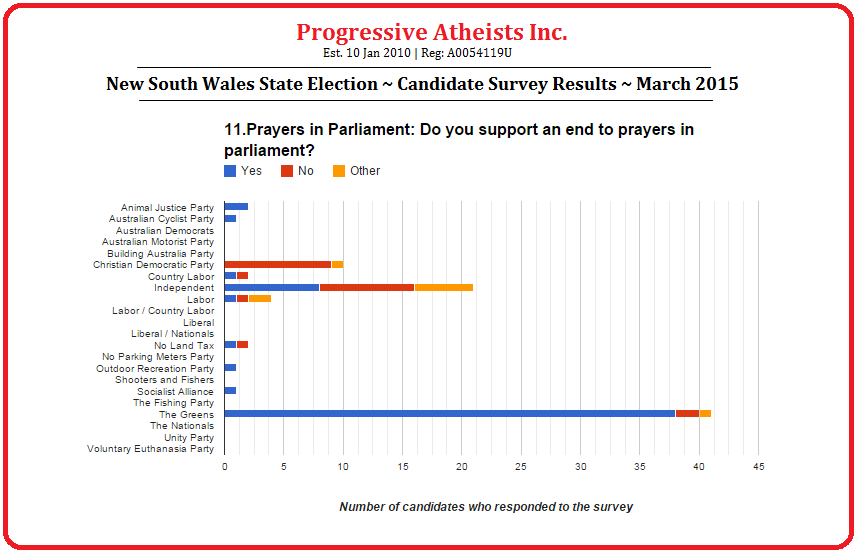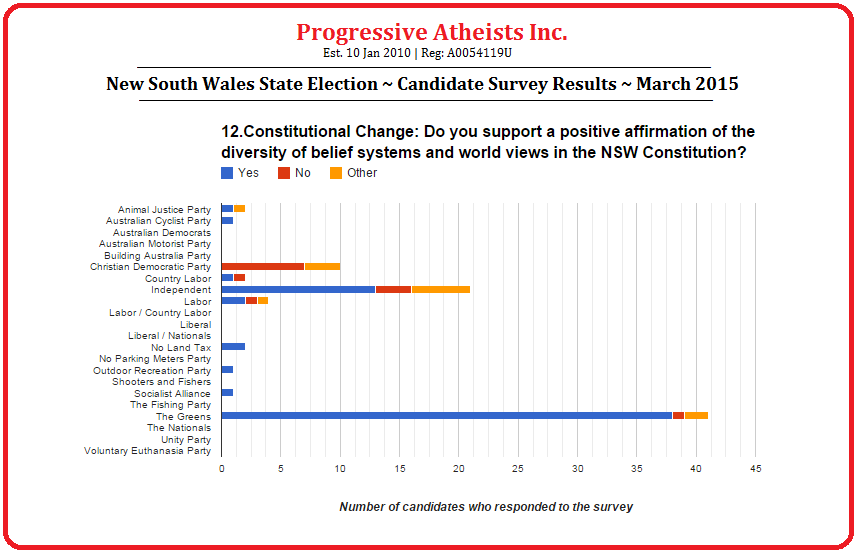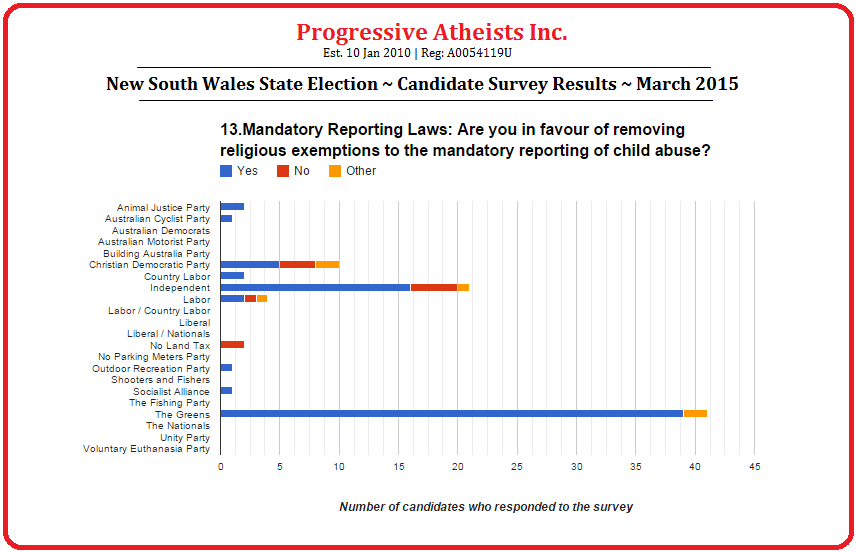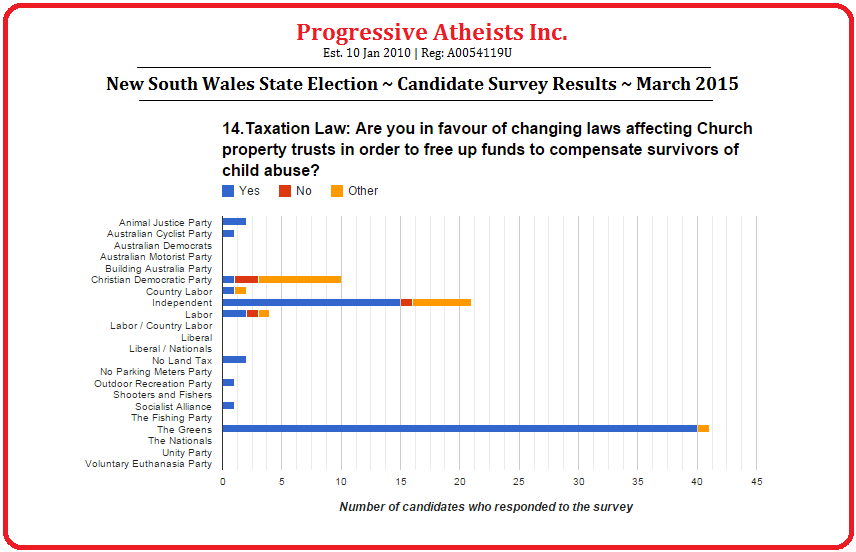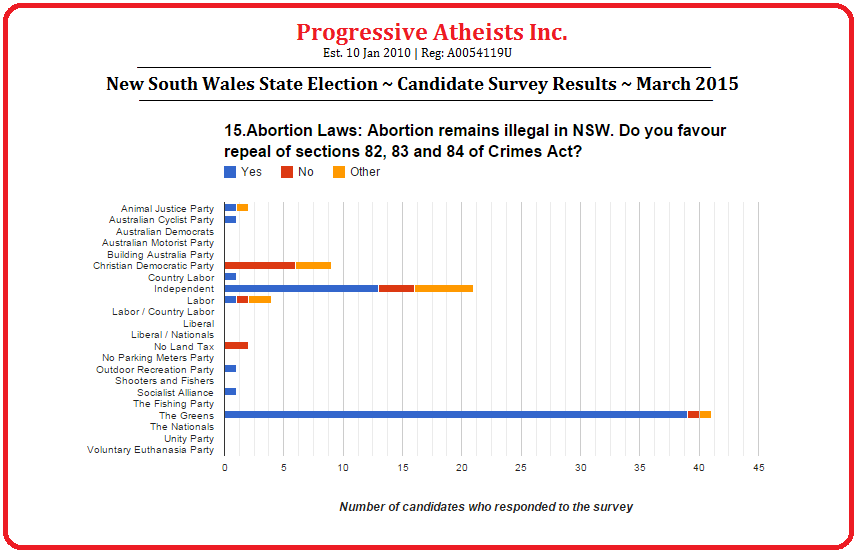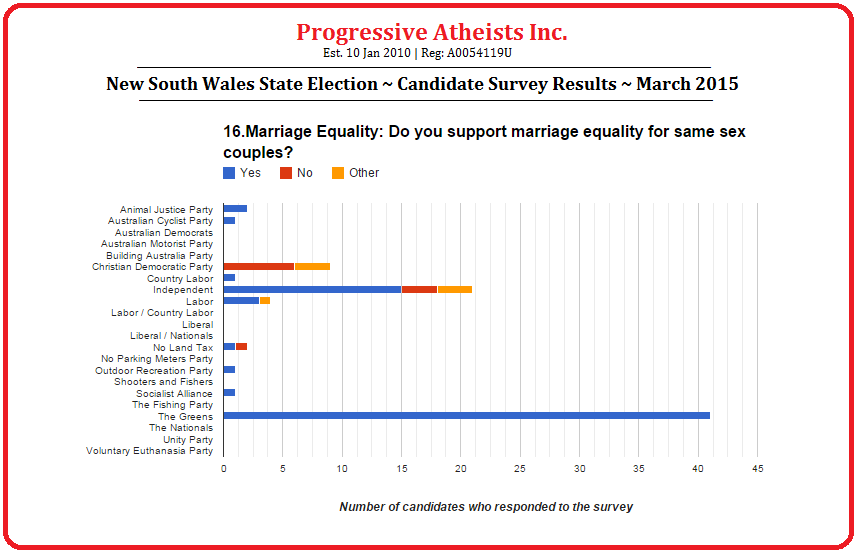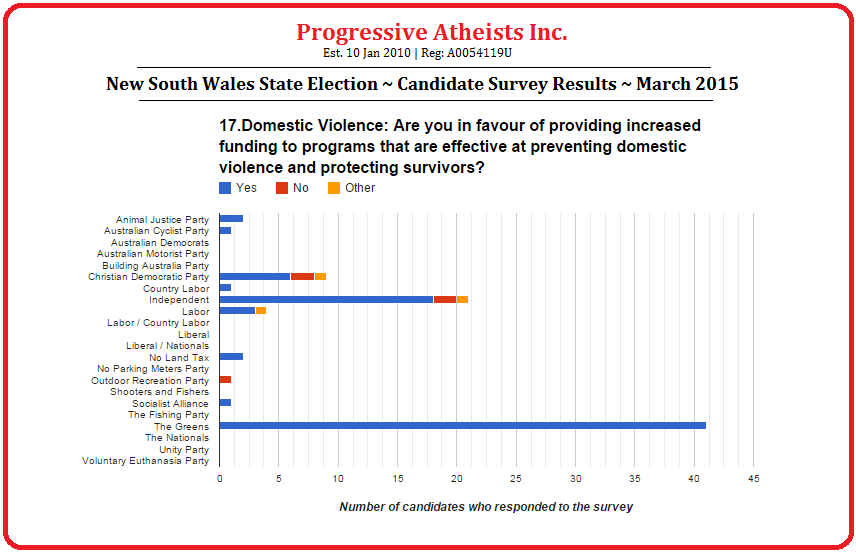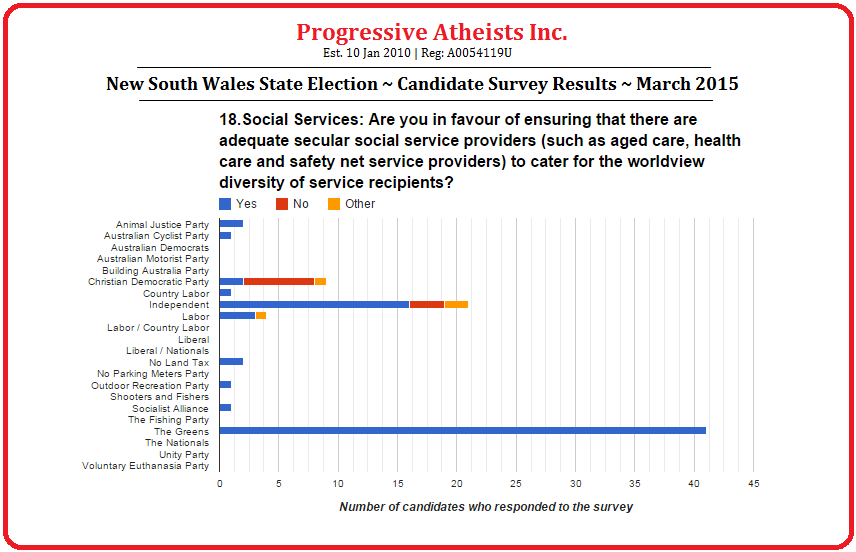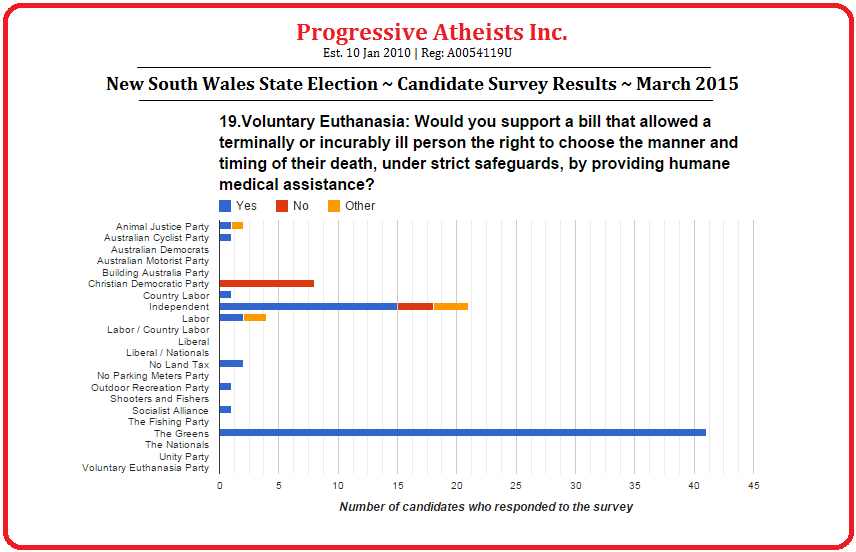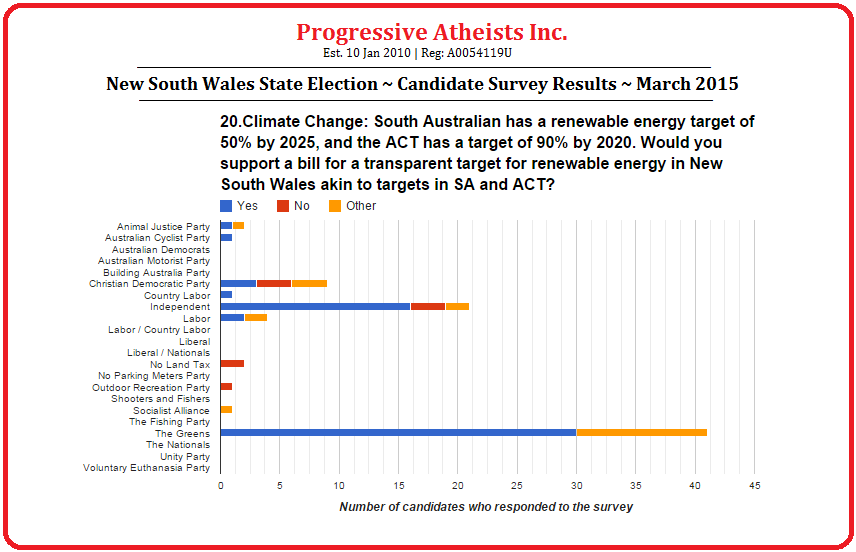 ————————————————————
In the Legislative Assembly:
* Labor (67)/Country Labor (26) = total 93
* Liberal Party (74)/National Party(19) = total 93
* Greens (93)
* Christian Democratic Party (93)
* No Land Tax (93)
(Those above account for 465 candidates.)
* The Australian Cyclists Party (6)
* Animal Justice Party (5)
* Socialist Alliance (2)
* Outdoor Recreation Party (2)
* Unity (1)
(Those minor parties account for another 16 candidates.)
* Independents (46)
* Unaffiliated/Others (13)
(These are the other 59 to make a total of 540 candidates.)
All 93 electorates have between 5 candidates (~50% of electorates) and tapering off to a few with 8 candidates contesting them.
In the Legislative Council:
Group A. No Land Tax
16 candidates
Group B. Outdoor Recreation Party
15 candidates
Group C. Animal Justice Party
16 candidates
Group D. (unnamed)
16 candidates
Maybe the face of the Palmer United Party or maybe they are dis-united from PUP.
Group E. Liberal / Nationals
16  candidates (Liberal=11 /The Nationals=5)
Group F. Australian Motorist Party
17 candidates
Group G. Building Australia Party
17 candidates
Group H. (unnamed)
15 candidates
This is the 'Strata Party' (SP) – not a registered political party in NSW.
Group I. No Parking Meters Party
21 candidates
Group J. (unnamed)
15 candidates
This group lacks publicity (at least in the English language media).
It is Asian possibly mainly Chinese.
Religious affiliation maybe none, or some, or all Buddhist.
Group K. Labor / Country Labor
21 candidates (Labor=16 /Country Labor=5)
Group L. Voluntary Euthanasia Party
15 candidates
Group M. (unnamed)
16 candidates
This is the 'Future Party' – not a registered political party in NSW.
Group N. Shooters and Fishers
21 candidates
Group O. Socialist Alliance
16 candidates
Group P. (unnamed)
15 candidates
I don't know yet what links these candidates.
Group Q. Christian Democratic Party (Fred Nile Group)
20 candidates
Group R. The Fishing Party
20 candidates
Group S. The Greens
21 candidates
Group T. Australian Democrats
15 candidates
Group U. (unnamed)
2  candidates
(Why a group of two?)
Has or had PUP connections.
Group V. (unnamed)
14  candidates
(Only 14 candidates in this group?)
This is the 'Country Party of Australia' – not a registered political party in NSW.
Group W. (unnamed)
2  candidates
(Why a group of two?)
Ticket leader Warwick Erwin is apparently a 'rail trail enthusiast'.
Group X. Australian Cyclists Party
15 candidates
Group Y/UnGrouped. (all unallocated/mixed/independent candidates)
17  candidates
(Most but not all, call themselves 'independent'.)
One candidate is from the 'Arts Party' – not a registered political party in NSW.
---
Posted, 7th March 2015
On Saturday, 7th March, NSW Governor David Hurley issued writs for the NSW State Election.
This means that candidate nominations have opened and will close on 'Nomination Day'.
Exactly when is 'Nomination Day' appears to be a closely guarded secret but a guess is Friday, 13th March.
This also means that at 6pm on Saturday officially the 'rolls have closed' but I'm told that being NSW you can still enrol and vote until 6pm on polling day.
For official election details, see:
http://www.vote.nsw.gov.au/
And this website is the same.
http://www.votensw.info
---
Posted: 20th February 2015
A very useful resource is Antony Green and the ABC website.
http://blogs.abc.net.au/antonygreen/
http://www.abc.net.au/news/nsw-election-2015/
A list of Survey Questions & Notes will be published soon.
---
Posted: 1st January 2015
Part of our Campaign is survey all candidates.
Once we have surveyed the candidates, we will publish:
* Survey Results – Raw Data
* Survey Results – Candidate Comments
* Survey Results – Result Charts for each Questions
You can make a difference.
To support a campaign in your electorate please email our Campaign Team at <elections@progressiveatheists.org> with the name of your electorate.
If you are unable to contribute time then your donation to the expenses of the Campaign will be of great value.
Electoral Authorisation: Election Campaign Material on this webpage is authorised by Andrew Rawlings on behalf of Progressive Atheists Inc., 25 Banksia Street, Blackburn, VIC 3130
Disclaimer:

we have links on our website that we think will be of interest to our members but we do not necessarily endorse the views and opinions expressed on those linked web-pages.