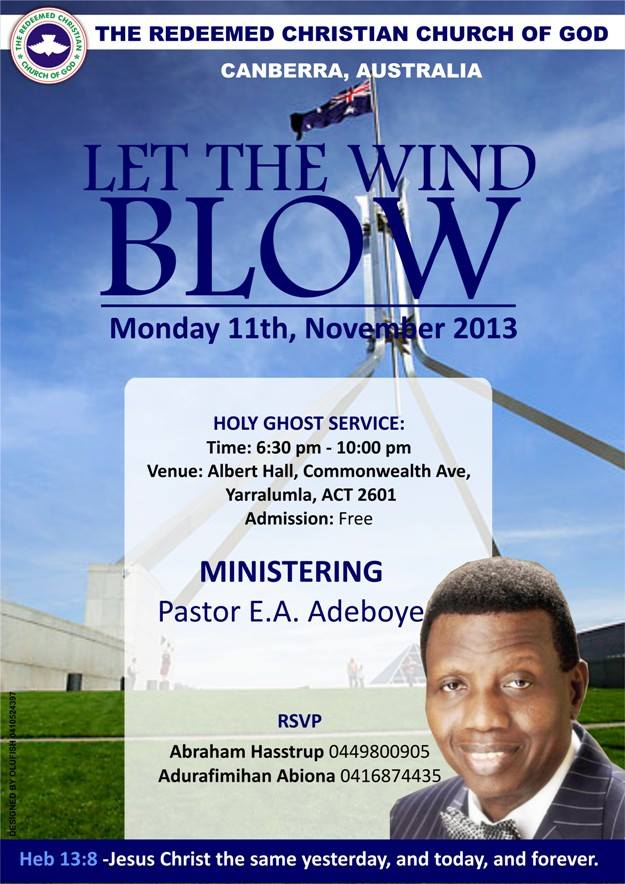 Enoch Adeboye is an evangelical pastor from Nigeria who promotes the existence of witches and wizards, resulting in the torture and death of young children and others in Nigeria, the wider African continent, and has also spread into Europe. (See Ref#1)
Response from Australian High Commission Pretoria
Final Report – January 2014 – PDF
***********
Evangelical Tour of Australia & Pacific November 2013 Report
Leo Igwe, activist and humanist born in Nigeria, alerted his contacts in the Pacific Region to the upcoming Tour of Pastor Enoch Adeboye and his Church. Our then President Andrew Rawlings was moved by the request of Leo Igwe to act on this Evangelical Tour of Australia by a Church who had a reputation for promoting superstitious beliefs surrounding witchcraft and vilification of the LGBTQI community.
A petition to prevent the tour access to Australia was drafted, published and shared. The petition grew quickly to over 900 signatories. Follow up letters to politicians were sent and a response was received from the high commission of Australia. They were unable to do anything to prevent Pastor Enoch Adeboye from entering Australia.
Support was given via a Facebook Group to organisations and groups in cities around Australia and the Pacific. Action was taken in Fiji to promote awareness. Action in PNG was limited do to local laws. The Sydney Atheists, Humanist Society of WA and UWA Atheist & Skeptic Society were able to host protest events in Sydney and Perth. All parties contributed to the production of a leaflet to hand out to attendees of the events in an effort to raise awareness and education regarding the potential harms of superstitious thinking.
Evangelism, Superstition & Accusations of Witchcraft
On Christmas Day, 2010, 15-year-old Kristy Bamu was found by paramedics in the bathroom of an East London high-rise flat. His body had been mutilated, teeth were missing, and he was covered in deep cuts and bruising.
He had been starved and deprived of water and sleep, punched and kicked repeatedly, floor tiles smashed over his head, his teeth knocked out with a hammer, and a pair of pliers had been used to twist his ear.
In the last four days of his life, he had suffered acts of unspeakable savagery, viciously inflicted upon him by a man he called "uncle" and one of his own sisters.
Why?
Because Eric Bikubi and Magalie Bamu, the boy's family members, were convinced that he was a "witch". Debbie Ariyo, executive director of Africans Unite Against Child Abuse … explains that a boom in Pentecostal churches was leading to more children being accused of witchcraft.
An average of eight children a year in Greater London are victims of abuse based on witchcraft-style exorcisms, but this only reflects cases resulting in police investigations.
According to UK Church Statistics, 670 Pentecostal churches opened between 2005 and 2010, taking the total to 3,900 – that figure is expected to rise to 4,600 by 2015. As a result, Ariyo fears that "witch-branding" will increase.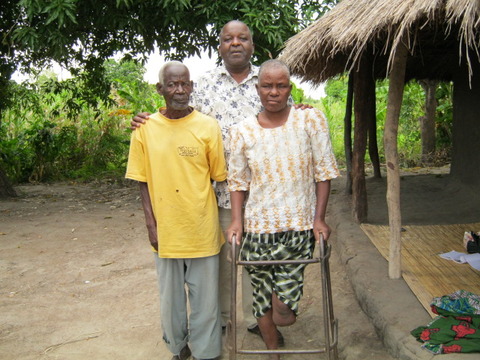 Photo left:
Margaret Wisele (50) who has her leg chopped off with a machete because she was accused of witchcraft. This happened on 21st January 2013. The local hospital had to finally amputate her on 25th January 2013. This was done at Zomba Hospital.
"It is spreading like bushfire because it is a source of income," says Ariyo.
"If you can charge £500 for an oil that is going to 'cure' a child of evil spirits, you are going to make money."
Whilst Adeboye's primary aim may be to exert power over his congregation and to extort money from relatives for cures, many people take the matter into their own hands.
His preaching will increase the likelihood of people in a segment of the Australian community being accused of witchcraft by radical evangelicals. Subsequently, this will increase the chance of acts of torture and murder being committed like the case in the UK, referred to above.
If torture and murder are the result of this sort of evangelical preaching in a developed Western nation like England, then there is every reason to expect heinous acts to be committed here if the Australian government grants access to this man known for hate-mongering, acts of evil and causing great harm to others. (See Ref#2,3,4,5,6 and 12)
Anti- Homosexuals
Adeboye is currently campaigning, from the pulpit, for a proposed Nigerian law making Same Sex Marriage an offence punishable by up to 14 years in prison.
Additionally, he is increasing the danger to anyone seen as being 'pro-gay', potentially causing journalists to be too afraid to report the truth.
In effect (if not intentionally) Adeboyes campaigning will essentially lead to the outlawing of organizations that provide services for gay people, including HIV/AIDS clinics.
The Nigerian anti-gay law has already been passed by both Houses of Parliament. In addition to criminalising Same Sex Marriage, it also punishes public displays of same sex affection by up to ten years jail. The bill is only awaiting the President's signature to become law.
The U.S. ambassador to Nigeria has said that Enoch Adeboye is not in line with international human rights laws.
There are serious concerns in the Australian community that some of Adeboye's ignorant, vulnerable congregation will interpret what he is saying ("Same-sex marriage is an anathema to the will of God") to mean that it is 'god's will' for them to rid the world of homosexuals. (See Ref#7,8 and 9)
Exploiting the Poor and getting Rich
Adeboye aims to raise 10 billion naira ( approx. AUD$65 million) to build a 3km x 3km auditorium for 1 million so that huge numbers can hear him preach.
This will be one of the uses to which he will put money raised by his churches in Australia – subsidised by the Australian taxpayer.
Even in Nigeria, his church has been accused of being "already neck-deep in corruption and vanity" and Adeboye of "fraternizing with corrupt political leaders" and "of exploiting the poor". (See Ref# 10 and 11)
Progressive Atheists Inc. Petition:
STOP WITCH HUNTING & HOMOPHOBIC EVANGELICAL TOUR OF AUSTRALIA
Addressed To:
1. FEDERAL MINISTER FOR IMMIGRATION
2. AUSTRALIAN GOVERNMENT DEPARTMENT OF IMMIGRATION AND BORDER PROTECTION AND
3. AUSTRALIAN HIGH COMMISSION IN PRETORIA.
Stop the Evangelical Tour of Australia and Pacific
This group is to oppose the tour of Pacific (including Australia) by the evangelical Enoch Adeboye.
Please keep all posts and comments relevant.
The tour schedule is:
November 2013
10th-11th – Canberra
12th-13th – Melbourne
14th-15th – New Zealand
16th-17th – Fiji
18th-19th – Solomon Islands
20th-21st – Papua New Guinea
22nd-23rd – Sydney
24th-25th – Perth
References on Witch Killings:
Ref#1:
Accusations of witchcraft are part of growing pattern of child abuse in UK
The Guardian, Friday 2 March 2012, Alexandra Topping
African groups warn that boom in pentecostal churches and belief in 'kindoki' are causing more children to suffer in silence.
When 15-year-old Kristy Bamu left his parents in Paris on 16 December 2010, he was looking forward to spending the Christmas holidays with his siblings, visiting their sister and her boyfriend in London.
On Christmas Day he was found by paramedics in the bathroom of an east London high-rise flat. His body had been mutilated, teeth were missing and he was covered in deep cuts and bruising. In the last four days of his life he had suffered acts of unspeakable savagery, doled out by a man he called "uncle" and one of his own sisters.
Ref#2
Saving Africa's Witch Children
Reporter: Channel 4, Broadcast: 22/06/2009
The Niger River Delta in Africa is a living hell for many of its people. Massive industrial projects have poisoned the land and the water. Sickness and disease are rampant. The source of the region's problems is clear but many people do not blame the government, instead they have turned on their own children.
Encouraged by a group of evangelical preachers these parents are told to believe that their bad luck is the work of Satan, given human form in their own offspring. Their children are accused of making people ill, of poisoning food and polluting the drinking water.
Ref#3
WITCHES FOR CHRIST
Text Sermons : ~Other Speakers A-F : E.A. Adeboye
MEMORISE: 'Then Jesus said unto them, "Verily, Verily, I say unto you, Except ye eat the flesh of the Son of man, and drink his blood, ye have no life in you." (John 6:53)
READ: Acts 19:13-17
All around us, there is so much display of power at every level. Where there is opposition, the one with the greater power conquers his opponents and takes home all the spoils. It is a winner-takes-all situation.
Ref#4
A Summary of The Sermon By Pastor E A Adeboye RCCG October 2012 Holy Ghost Service "UNSTOPPABLE GENERATION"
Posted on October 10, 2012 by BUMMYLA
Romans 8:31 "What shall we then say to these things? If God be for us, who can be against us?"
-If God be for you, sickness cannot stop you!
According to John 1:3 the One who made you can repair anything and any part of your body. God is the great physician so if you're sick and the devil is trying to use that make you unstoppable, a word from the Great physician will get you healed John 9:1-7 1Peter 2:24, Matthew 8:1-3, Mark 2:1-12.
Ref#5
Sunday School … With Pastor Enoch Adeboye
Sunday, 01 September 2013, Pastor Enoch Adeboye
Ibru Ecumenical Centre
"Beloved, I wish above all things that thou mayest prosper and be in health, even as thy soul prospereth." 3 John 2
Bible passages: Genesis 39:1-3, 1 Kings 10:14-29.
Introduction
AS we pointed out last week, there is no getting round restitution in our quest for freshness in Christ Jesus. Today, we will see that even in the middle of a severe trial and lack, the new man's overflowing joy will result in charity and generosity Eph 4:2.
The needy
None is as prosperous as Almighty God – Ps. 50:1-15, 2 Cor. 9:11-12. He dwells in glory decorated with heavenly beauty – Rev. 21:18, I Tim. 6:16. He is never out of stock – Phil.4:19. The new man will prosper in like manner if he surrenders everything, even his very life to gain Christ – Genesis 2:20. Numerous examples are recorded in the Bible including: – Joseph – Gen. 39:1-3, Solomon – 2 Chr. 1:10-12, 2 Chr. 9:13-30, Abraham – Gen. 24:1, Isaac – Gen. 26:12-14. Prosperity is God's perfect plan for His own – 3 Jn. 2. However, all the prosperous children of God are worshipers who are always willing to share their substance with, especially the needy – 1 Kgs. 8:62-66; Lk.6:38; 2.Cor.9:5-8; Ps. 9:18.
"http://webcache.googleusercontent.com/search?q=cache:http://www.ngrguardiannews.com/ibru-ecumenical/131531-sunday-school–with-pastor-enoch-adeboye-&strip=1" – Article no longer available
Ref#6
OPEN HEAVENS BY PASTOR ADEBOYE: Wednesday 14 August, 2013: REFLECT JESUS
Posted on August 14, 2013
Memory Verse: Let your light so shine before men, that they may see your good works, and glorify your Father which is in heaven. Matthew 5:16
Read: 1 Thessalonians 5:4-9
4 But ye, brethren, are not in darkness, that that day should overtake you as a thief.
5 Ye are all the children of light, and the children of the day: we are not of the night, nor of darkness.
6 Therefore let us not sleep, as do others; but let us watch and be sober.
References on Anti-Homosexuals:
Ref#7
Same-sex marriage 'll wipe out humanity – Adeboye
JANUARY 22, 2013 BY TUNDE ODESOLA, OSOGBO
The General Overseers, Redeemed Christian Church of God, Pastor Enoch Adeboye, has said same-sex marriage will wipe out humanity.
Adeboye spoke at the Obafemi Awolowo University, Ile-Ife, during a thanksgiving organised by the Joint Christian Mission of the university.
A statement by the Head, Public Relations Department of the institution, Mr. Abiodun Olanrewaju, on Monday, said the cleric warned against the practice.
Read more
Ref#8
Gay Marriage Could End Humanity, Nigerian Pastor Says
Heather Murdock, January 24, 2013
ABUJA — A prominent Nigerian pastor this week said gay marriage could wipe out the human race within 20 years. This comes as the Nigerian parliament sends a bill to President Goodluck Jonathan that would make gay marriage an offense punishable by up to 14 years in prison.
Pastor Enoch Adeboye heads the Redeemed Christian Church of God, a mega-church in Lagos, Nigeria's largest city. The church has 6,000 parishes around the world and the president of Nigeria attends his sermons.
Read more
Ref#9
Nigerian Same-Sex Marriage Ban Infringes Individual Rights
December 16, 2011 1:12 PM ET
JURIST Guest Columnist Damian Ugwu, Executive Director of the Social Justice & Advocacy Initiative, says that the recent bill prohibiting same-sex marriage in Nigeria has ominous implications for a broad range of individual rights in the country…
Exploiting the Poor and getting Rich:
Ref. #10:
Three-kilometer auditorium: Angry Nigerians blast Adeboye, say N1billion per person donation is criminal
By Ameh Comrade Godwin on August 14, 2013
Controversies have continued to trail the recent plans by the General Overseer of the Redeemed Christian Church of God, RCCG, Pastor Enoch Adeboye to erect a new auditorium, stretching three kilometres in length and breadth at the camp ground, along Lagos-Ibadan Expressway, which is expected to run into billions of naira.
Adeboye has been at the receiving end of harsh criticisms by angry Nigerians over what they tagged, criminality on the ongoing move to embark on the new project.
"We can help the poor and disadvantaged in Australia by stopping further exploitation. Another use for Australian tax payers' money will be to fund his private jet."
Ref.#11
Private jet: Adeboye's defence stirs debate on social networks
APRIL 15, 2013 BY TEMITAYO FAMUTIMI
THE interview granted by the General Overseer of the Redeemed Christian Church of God, Pastor Enoch Adeboye, to Qatar-based private broadcasting channel, Al Jazeera, stirred a heated debate on social networks on Sunday.
In the interview conducted by Al Jazeera's Mohammed Adow, Adeboye justified his ownership of a private jet, saying it is necessary for efficiency in his assignment.
Adeboye is one of the increasing numbers of Pentecostal pastors in Nigeria that have acquired private jets. Many Nigerians have criticised these pastors arguing that they are being insensitive to the poverty among their members.
Read more
Ref. #12
Witch hunting and Adeboye's Evangelical Tour of the Pacific
By Leo Igwe, Posted: October 13, 2013 – 15:56
This is another reason why you should raise your voice in protest against Pastor Enoch Adeboye's planned tour of the Pacific in November. We need to end witch hunting around the globe. Witch persecution ended in Europe and most parts of western world centuries ago. But this violent campaign continues in many regions of the world mainly due to the activities of some Christian churches, pastors and other religious actors.. To stop witch hunting, witch hunters must be check mated and stopped. Witch finding initiatives must be nipped in the bud. Witch hunting movement must be exposed. Witchcraft claims must be challenged and critically examined. Any scheme to export witch hunting goods and services to other countries and regions must be opposed.
Other news Items:
Pastor's hate-filled message worries gay community (5:32)
TVNZ Breakfast via Group Sects -Wordpress
29 October, 2013, OneNews
Many people in the Pacific do not want Adeboye to bring his gospel of gay hate and intolerance, his anti-gay church and ministry to their region. They do not want an evangelical wind that will blow and role back the gains and progress they have made in critical areas of human rights and marriage equality.
Leo Igwe – Saving Nigeria's Witch Children
Drive with Rafael Epstein
August 25, 2011 , 6:32 PM by Sally Rope
It's hard to believe that in 2011, people are still being killed because they are believed to be witches. But that's exactly whats happening in Nigeria, and other parts of Africa. Leo Igwe works for the International Humanist and Ethical Union as it's director in West and Southern Africa, and he told Lindy about the work he has been doing, how the practice originated, and how it has become so entrenched in Africa…
Audio file
Nigerian Pastor to Visit Australia
By Mal Vickers
I'm not necessarily anti-religious. However, when a religious issue crosses into something so thoroughly against reason and potentially dangerous to human life, I think it's time to speak out.Melbourne is scheduled to play host to a Nigerian pastor named Pastor Enoch A. Adeboye who will speak at two evangelical events on 12 & 13 November 2013. The visit to Melbourne is part of a tour of other Australian cities and the Pacific Islands.
BACK TO TOP