Posted 22nd November 2017
Australian Atheists' Melbourne Long Weekend
Friday, 9th February, to Tuesday, 13th February 2018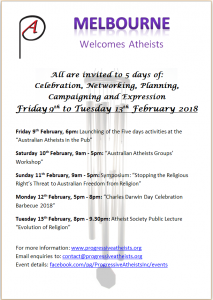 Melbourne Atheists welcomes Atheists from interstate and overseas.
All Atheists are invited to 5 days of celebration, networking, planning, campaigning and expression.
Each event is seperate and run by one or more organisations.
As usual, some Facebook and Meetup events may be created by people other than the organisers.
Please assist the organisers by RSVP'ing 'going' or 'interested' to the Facebook events.
And please share and invite your friends.
General Events:
Not the Global Atheist Convention
facebook.com/events/130820680953560
Reason to Hops (A Not the GAC meetup)
facebook.com/events/1753354581354919
More events will be added later but the first five are:
Friday 9th February, 6pm – late:
Launching of the Five days activities at the "Australian Atheists in the Pub"
The pub is open from 11am for those who wish to come earlier.
facebook.com/events/497714693935601
Saturday 10th February, 9am – 5pm:
"Australian Atheist Groups' Workshop"
For representatives of Atheist groups.
facebook.com/events/490985104619640
Sunday 11th February, 9am – 5pm:
Symposium: "Stopping the Religious Right's Threat to Australian Freedom from Religion"
This symposium is being organised by the Victorian Secular Lobby and some Atheist, Skeptic, Rationalist and Humanist organisations.
The exact title to be confirmed but the day will be about:
* How the religious-right in Australia has organised itself in 2017
* What are the objectives of the religious-right including getting more religious privileges, getting more exemptions from laws, watering down the recommendations of the Royal Commission, etcetera.
* How dangerous religious cults are protected under the religious cloak
* What can be done to counter the religious-right and dangerous religious cults
facebook.com/events/517679411918219
Monday 12th February, 5pm – 8pm:
"Charles Darwin Day Celebration Barbecue 2018"
Some Atheists (especially those flying out later in the day) will be there from breakfast time.
facebook.com/events/1992415680973137
Tuesday 13th February, 8pm – 9.30pm:
Atheist Society Public Lecture "Evolution of Religion"
facebook.com/events/1915390932114334
For email enquiries please use our contact page.
PDF flyer for printing.
Image of flyer to share.
---
Note: there are many Atheist events of the Progressive Atheists and other Australian Atheist groups in Australia, on the Progressive Atheists' Facebook page.
Facebook.com/ProgressiveAtheistsInc/events