The 'Freedom Of Thought Report' is an annual global report on discrimination against Atheists, Humanists and other non-religious people.
It has been published for the last four years (2012, 2013, 2014 and 2015) to mark the UN's international 'Human Rights Day' of December 10th.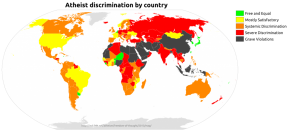 The Report focuses on current laws in a range of nations that discriminate against people on the basis of their Atheism, Humanism or other non-religious beliefs and limits people's freedom of expression.
It also documents recent cases that show the impact of these laws on specific individuals.
The report shows that many countries criminalise manifestations of Atheist and Humanist convictions or skeptical thoughts.
In prosecuting these 'crimes' it is not always necessary to accuse a person of Atheism and many states prosecute people who express religious doubts or dissent regardless of whether those dissenters identify as Atheist or Humanist.
More commonly, non-religious people experience discrimination when they manifest their beliefs by acting against the dictates of the religion of their family, community or country.
In some societies, allegations of religious dissent are manufactured for use against minority belief communities, or vulnerable individuals, or to settle personal vendettas.
In addition the report shows that there are several forms of legal measures found across many countries that either criminalise the expression of Atheist and Humanist beliefs or result in systematic discrimination against Atheists, Humanists and those who reject religion.
There is a dedicated website: http://freethoughtreport.com/
---
Freedom of Thought 2012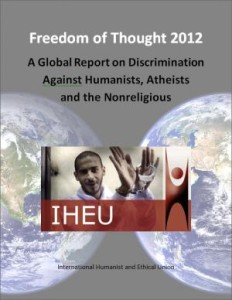 Download from:
http://iheu.org/newsite/wp-content/uploads/IHEU%20Freedom%20of%20Thought%202012.pdf
Or:
https://progressiveatheists.org/wp-content/uploads/2015/12/FOT2012.pdf
More Information:
https://humanism.org.uk/2012/12/10/new-report-shows-global-discrimination-against-humanists-atheists-and-the-non-religious/
http://iheu.org/new-global-report-discrimination-against-non-religious/
http://www.atheistalliance.org/news/other-aai-news/523-iheu-launches-freedom-of-thought-report-website
---
Freedom of Thought 2013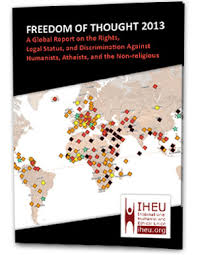 Download from:
http://freethoughtreport.com/wp-content/uploads/2013/07/FOTReport2013.pdf
Or:
https://progressiveatheists.org/wp-content/uploads/2015/12/FOT2013.pdf
More Information:
http://freethoughtreport.com/2013/12/10/2013-edition-now-available-and-it-covers-every-country/
http://freethoughtreport.com/2013/12/18/reactions-to-the-2013-report/
http://freethoughtreport.com/2014/02/13/bbc-world-covers-prejudice-against-atheists-and-our-report/
---
Freedom of Thought 2014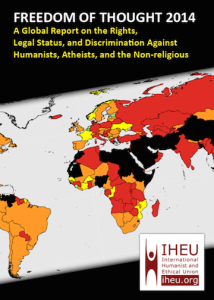 Download from:
An official website from which to download the 2014 report is not known.
Or:
https://progressiveatheists.org/wp-content/uploads/2015/12/FOT2014.pdf
More Information:
http://freethoughtreport.com/2014/12/09/2014-report-out-tomorrow/
http://freethoughtreport.com/2014/12/10/third-edition-published-today-and-its-personal/
http://iheu.org/fot14/
http://www.rationalskepticism.org/nontheism/freedom-of-thought-2014-report-is-out-t47744.html
http://www.michaelnugent.com/2014/12/11/belgium-netherlands-estonia-good-news-iheu-report-2014/
http://freethoughtreport.com/2014/12/12/silence-the-non-religious-and-you-silence-some-of-the-leading-voices-of-responsible-concern-in-society/
http://www.reuters.com/article/idUSnMKW7TTB7a+1dc+MKW20141215 – Article no longer available
---
Freedom of Thought 2015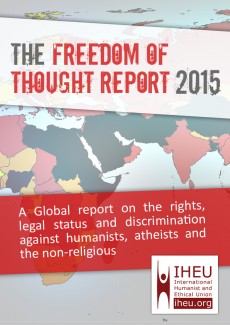 Download from:
http://freethoughtreport.com/download-the-report/
Or:
https://progressiveatheists.org/wp-content/uploads/2015/12/FOT2015.pdf
More Information:
http://freethoughtreport.com/2015/12/10/2015-edition-records-trend-toward-callous-violence-and-harsh-injustice/
http://iheu.org/freedom-of-thought-report-2015/
https://humanism.org.uk/2015/12/10/2015-freedom-of-thought-report-finds-escalation-of-non-religious-persecution/
---
Next: Freedom of Thought 2016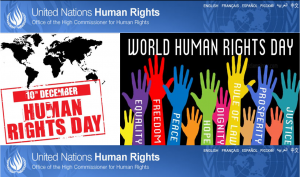 The next 'Freedom of Thought 2016' report will be published on the UN's 2016 international 'Human Rights Day', Saturday, 10th December 2016.
http://en.wikipedia.org/wiki/Human_Rights_Day