Victorian Election Campaign November 2014
Saturday, 29 November 2014
The Progressive Atheists are currently conducting a 10 Question Survey of all candidates standing in the Victorian State Election on 29 November 2014.
Online Enrollments to Vote in the Victorian State Election are now closed.
Candidate information, electorate areas, links to policies and candidate answers to our 10 Question Survey will be published on our website as well as having downloadable A5 leaflets to distribute at your local polling booth.
Victorian State Election Campaign – 2014
∞∞∞∞∞∞∞∞∞∞∞∞∞∞∞∞∞∞∞∞∞∞∞∞∞∞∞∞∞∞∞∞∞∞∞∞∞∞∞∞∞∞∞∞∞∞∞∞∞∞∞∞∞∞∞∞∞∞
Progressive Atheists Bulletin – December 2014
∞∞∞∞∞∞∞∞∞∞∞∞∞∞∞∞∞∞∞∞∞∞∞∞∞∞∞∞∞∞∞∞∞∞∞∞∞∞∞∞∞∞∞∞∞∞∞∞∞∞∞∞∞∞∞∞∞∞
Progressive Atheists Inc. Annual General Meeting
Held Monday, 27 October 2014 at 7 pm
Trotters Restaurant – 400 Lygon St, Carlton VIC 3053, Melbourne
Progressive Atheists hosted a lively meeting with a shared meal before hand coupled with much discussion.  The President of Progressive Atheists Inc. Alice Carr, presented the attending members and guests with the Progressive Atheists Inc. Annual Report July 2013 to June 2014 providing a summary speech of that report covering events, campaigns and projects completed by the committee during the previous financial year.
Attending members voted for a new committee of 10 members for Term 2015.  Members also voted for changes to our associations' model Rules that are as yet to be accepted by Consumer Affairs Victoria.
ACCESS Ministries Protest:
Keep Our Public Schools Secular
On Thursday, 11 September we protested the promotion of religion in our public schools by Victorian SRI and Chaplaincy provider ACCESS Ministries
The ACCESS Ministries teacher handbook asks Special Religious Instructors to take advantage of the innocence of children to indoctrinate them into Christian beliefs.  SRI classes in Victoria inform 5 year old children that "God loves them".
When SRI classes commence, children are segregated on the basis of religion, often the non-SRI children are placed at the back of the class within hear shot of the SRI class activities.   Children in schools that have SRI miss out on 20 hours of curriculum every year.
Protest Report | Religious Infiltration in Australian Schools | Education News
World Congress of Families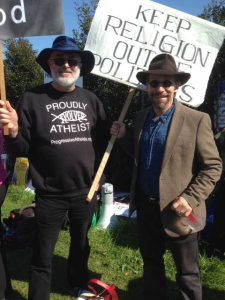 Progressive Atheists joined with Radical Women, Equal Love, The Block Party Against Hate, The Rainbow Army, The Council of Single Mothers and their Children, theoretical physicist Lawrence Krauss and many others, to protest the World Congress of Families at Catch the Fire Ministers in Hallam on Saturday, 30 August 2014.
Reports & Petitions | Related News Stories
Photo: Progressive Atheists Committee Member Peter Veitch and theoretical physicist Lawrence Krauss protesting the World Congress of Families August 2014
HALEA Youth Support Centre needs your assistance Make a donation TODAY
The offices of HALEA, a Humanist organisation in Uganda, have been robbed.
HALEA are hoping to raise $7,000 from supporters around the world. Please consider making a donation towards the rebuilding of HALEA in Uganda. All donations that we receive will be forwarded directly to HALEA.
Stop National School Chaplaincy Program
Ron Williams and his team won the 'Stop the School Chaplains' High Court Decision on the National School Chaplaincy Program funding
Queensland father Ron Williams went to the High Court twice, and historically he won twice (2012 & 2014), to stop the Federal Government funding the NSCP; the High Court judging the NSCP funding as illegal.
Read more on our NSCP Campaign page
Supporting Atheists Overseas
The International Humanist and Ethical Union (IHEU) has produced two annual reports now focusing on how countries around the world discriminate against non-religious people.
Freedom of Thought 2012: A Global Report on Discrimination Against Humanists, Atheists and the Non-religious was published to mark Human Rights Day, Monday 10 December.
Freedom of Thought 2013: A Global Report on the Rights, Legal Status, and Discrimination Against Humanists, Atheists, and the Non-religious was created by the International Humanist and Ethical Union (IHEU). The Lead Author is Matt Cherry, the Editor is Bob Churchill.
Please consider supporting the work of the IHEU. If you're downloading the 2013 Freedom of Thought Report today, a $20 donation could help them review and improve the information on a country next year; or a $50 donation could provide support for a day of Humanist advocacy by their delegation at the United Nations.
∞∞∞∞∞∞
∞∞∞∞∞∞∞∞∞∞∞∞∞∞∞∞∞∞∞∞∞∞∞∞∞∞∞∞∞∞∞∞∞∞∞∞∞∞∞∞∞∞∞∞∞∞∞∞∞∞∞∞∞∞∞∞∞∞
Progressive Atheists Inc.
Est. 10 Jan 2010
Reg: A0054119U
A progressive is someone who advocates progress, change, improvement or reform, as opposed to wishing to maintain the status quo, especially regarding social and political issues.  An atheist is a person who lacks a belief in the existence of gods.*
A progressive atheist is an individual in whom these two ideas are combined.
The Progressive Atheists Inc. is a grass roots action group. We value justice, equality, diversity and human rights.  We want to strengthen secularism, protect democracy and prioritise evidence based reasoning.
*This is not a position of certainty that there are no gods; rather that we withhold judgement while it remains obvious that gods exist in the minds of believers, but apparently nowhere else.
 ∞∞∞∞∞∞∞∞∞∞∞∞∞∞∞∞∞∞∞∞∞∞∞∞∞∞∞∞∞∞∞∞∞∞∞∞∞∞∞∞∞∞∞∞∞∞∞∞∞∞∞∞∞∞∞∞∞∞
Proud member of Atheist Alliance International
∞∞∞∞∞∞∞∞∞∞∞∞∞∞∞∞∞∞∞∞∞∞∞∞∞∞∞∞∞∞∞∞∞∞∞∞∞∞∞∞∞∞∞∞∞∞∞∞∞∞∞∞∞∞∞∞∞∞
Page visits since 17th January 2014:
∞∞∞∞∞∞∞∞∞∞∞∞∞∞∞∞∞∞∞∞∞∞∞∞∞∞∞∞∞∞∞∞∞∞∞∞∞∞∞∞∞∞∞∞∞∞∞∞∞∞∞∞∞∞∞∞∞∞
Unique visitors since 17th January 2014: