Merry Christ-Myth !
Warm wishes to all heathens (and fence sitters), here's to a festive fight for a secular ideals and freedom from religion!
Gift Membership for Freethinking Family & Friends
Only $20 to join the Progressive Atheists and contribute to progressive change in your local community!
Email inquires: membership@progressiveatheists.org
Get in before 1st December for $10 bargain on membership !
Perfect Gift for friends and family this Christ-Myth
*************Our NEW Design T-shirt*************
Only $15 each for members in all colours and sizes
Email inquires: tshirts@progressiveatheists.org
Spread the news it's

Secular Ideals

and


Freedom from Religion

 this Christ-Myth !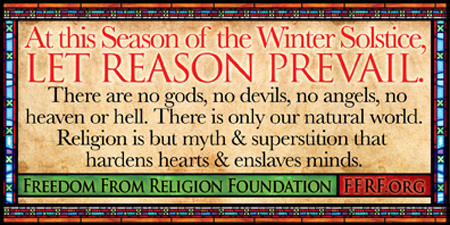 Evangelical Tour Report
Stop the Witch Hunting & Homophobic Evangelical Tour
Leo Igwe, activist and humanist born in Nigeria, alerted his contacts in the Pacific Region to the upcoming Tour of Pastor Enoch Adeboye and his Church.  Our then President, Andrew Rawlings was moved by the request to act on this Evangelical Tour of Australia by a Church who had a reputation for promoting superstitious beliefs surrounding witchcraft and vilification of the LGBTQI community.
Read more about this Campaign…
==========================================
Progressive Atheists Inc.
Est. 10 Jan 2010

Reg: A0054119U
A progressive is someone who advocates progress, change, improvement or reform, as opposed to wishing to maintain the status quo, especially regarding social and political issues.  An Atheist is a person who lacks a belief in the existence of God(s).*
As a progressive Atheist is an individual in whom these two ideas are combined.
The Progressive Atheists Inc. is a grass roots action group. We value justice, equality, diversity and human rights.  We want to strengthen secularism, protect democracy and prioritise evidenced based reasoning.
*This is not a position of certainty that there is no God(s) – that is 'anti-theism'.  Atheism is a position of
disbelief

 in the existence of deities.

 ==========================================
Proud member of Atheist Alliance International
===========================================